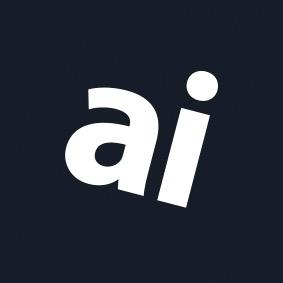 Why you can trust AppleInsider
Review: Google Wifi mesh networking solution easy to set up, configure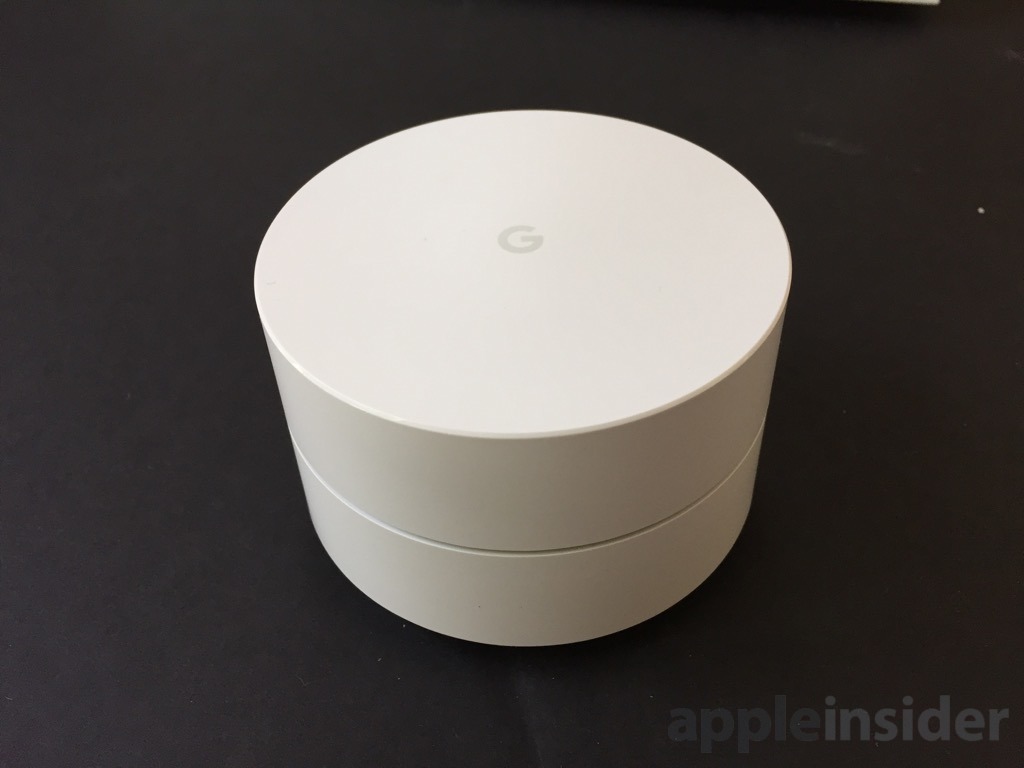 ---
Everyone seems to have their own way to fix poor Wi-Fi, from signal boosters to antennas, but mesh systems have risen to the top as one of the better solutions available. Google, being the internet-centric company that it is, entered the fray with a self-branded mesh product last year, and we put it to the test.
Google's system has the advantage of being linked, almost intrinsically, with Google's cloud services. For users, this equates to a seamless one-step setup: signing in with a Google account. This is a definite advantage over the hoops you have to jump through when setting up a Linksys or Netgear account. Plus Google has a deserved reputation for good uptime of its services.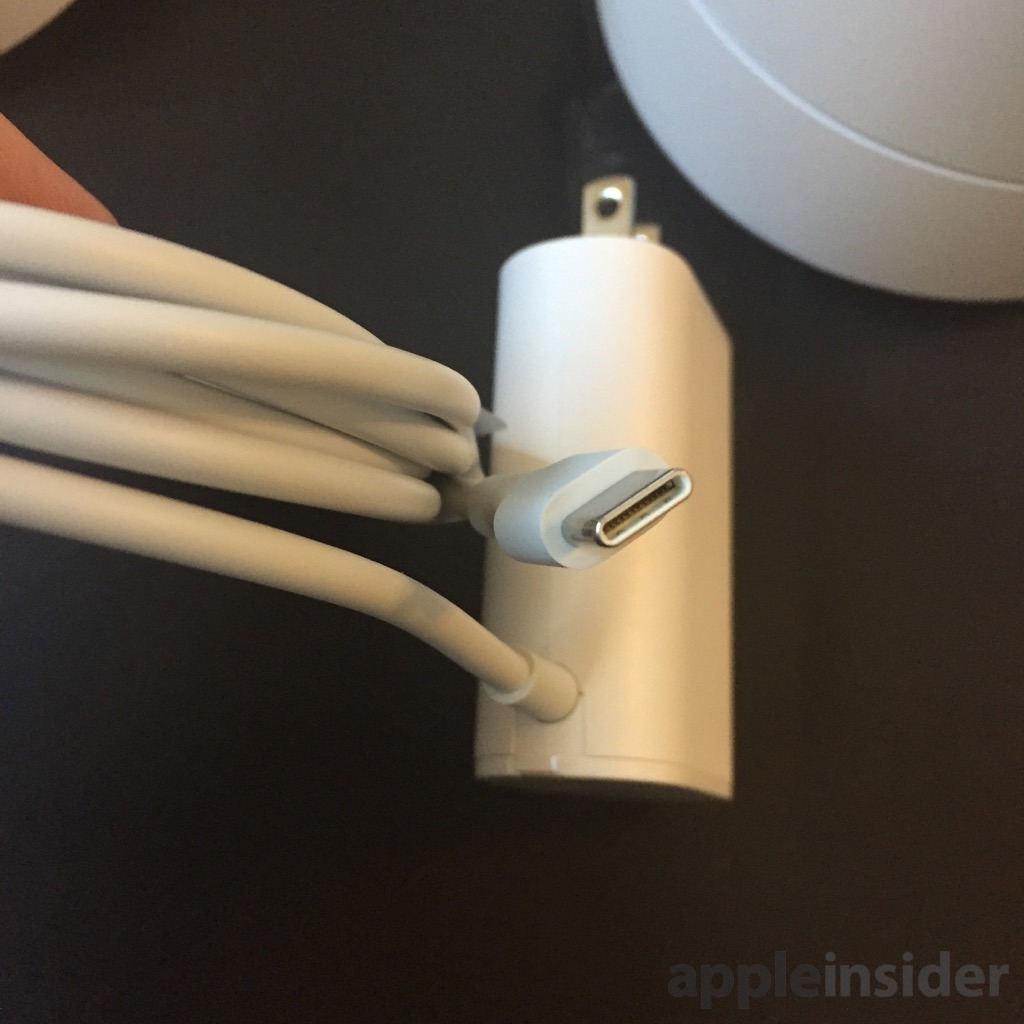 Requirements
First of all, if you're going to use Google Wifi, a Google account is required. It just is. If you're a hold-out rejecting any and all Google services on principle, you probably weren't considering a product named Google Wifi anyway.
As evidence of the mobile-first world we live in, an iOS or Android device is required in order to set up the mesh router array. Unlike routers of the past, or even a few from current manufacturers, there is no web interface for setting up Google Wifi.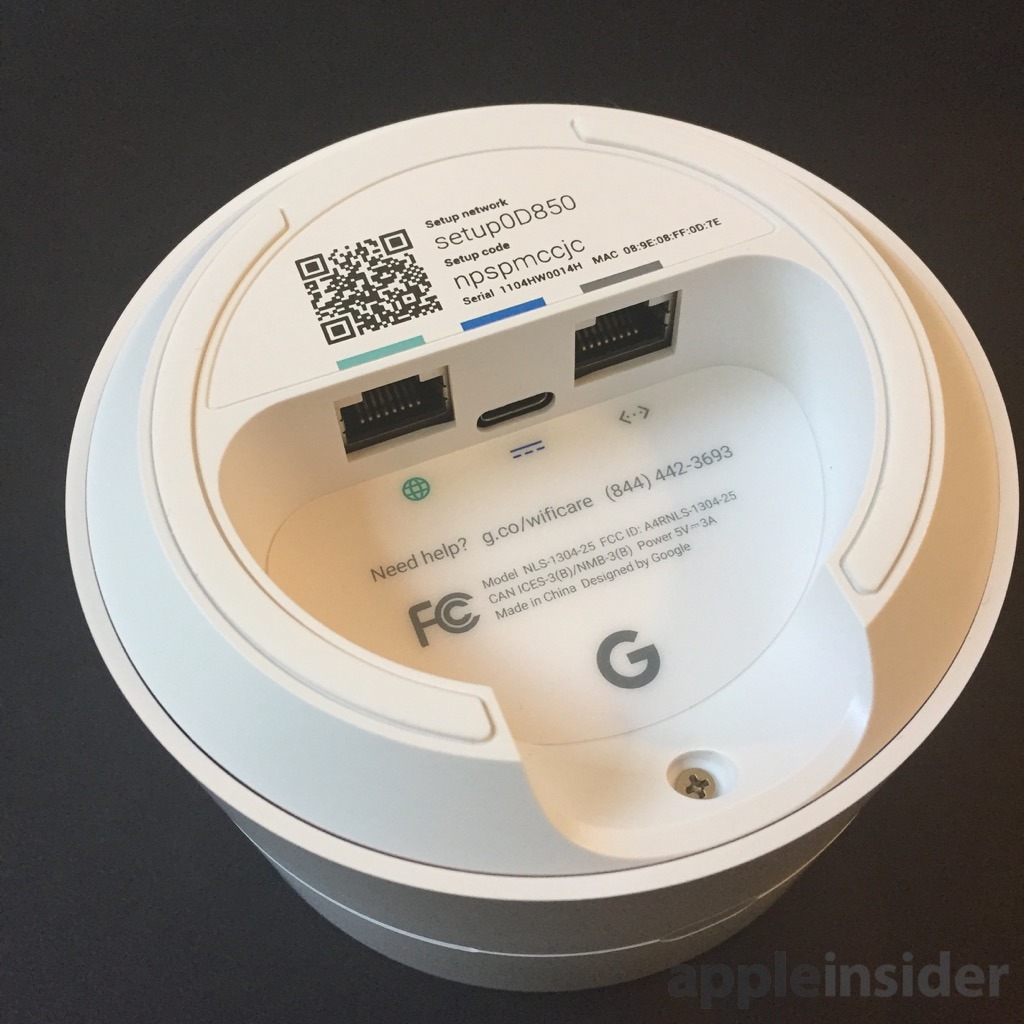 Setup
Setup is easy, and the Google Wifi app gives good guidance, from placing the first unit in a visible location and connecting it directly to the modem, to scanning its QR code on the base to connect your phone to the first unit.
Users answer some basic questions like, "What room is it in the house," and give it a network name. And setup is done. From there, add additional nodes while the system automatically downloads and installs firmware updates, and you're ready to go.
In use
The main interface for the Google Wifi app is arranged as a set of cards, an interface that exactly mirrors Google Now. It tells you the status of your network ("Everything looks good") and information about updates that have been installed.
You can set up a guest network, and there's a card for labeling devices as "family devices." This latter option lets you set up schedules to pause Wi-Fi for select devices as a means to manage screen time in the home. You can also manage the Wi-Fi node's light and its brightness, which is helpful if you choose to place one in a bedroom.
Administration
Administering the devices doesn't take place in a card interface. Instead, it's circles on a grid, laid out like an apps folder. There are shortcuts to check the network for problems, assign a priority device, show the password, and settings for Family Wi-Fi, Guest Wi-Fi, and home control.
We allowed it to send us notifications, and when the Wi-Fi was offline while we were away from home, it reported it to us via the app. When service was restored, it was possible to manage settings from the app when we were out in the world on the LTE network.
When you actually look at the main node in settings, it's possible to adjust the usual parameters — options for IP settings, port forwarding and so on — and make adjustments to how it's set up. That said, most Google Wifi buyers won't touch these "advanced" settings.
Google's intention is to solve Wi-Fi troubles. You buy Google Wifi, set it up and it works without issue — or reports to your phone if it does for any reason.
The point of this product is — like most of the mesh routers sold today — quick and easy setup, good Wi-Fi coverage and worry-free maintenance. Remember, there were routers hacked in the Mirai botnet last year because they had the default password set and were web accessible. Here, Google keeps the device secured and up to date, making management and maintenance seamless to the end user.
So how is the Wi-Fi?
We installed Google Wifi in our home where Wi-Fi coverage is normally pretty good using a single router. We do have some weak corners in the house, but on the whole coverage is generally acceptable. The point, then, would be to see if signal strength improves in the weak corners, to see that handoff between nodes functions well, and that it's able to hold up throughput when moving between nodes.
Signal strength beat the output by our ISP's provided modem-router, with the modem-router putting out 35db of signal, and the Google Wifi units showing 42db at the worst area of coverage in the home. In areas with strong coverage from both units, the numbers were nearly equivalent, at 56db and 57db, respectively.
Importantly, switching between Google Wifi nodes worked well. Google says that the units are constantly testing the air space to determine the best Wi-Fi channel to use, and their app can make location recommendations based on signal tests it runs between units. Speeds showed a pretty consistent sustained 470mbps throughput.
Google has made clear that their vision for the product is to add protocol support for Google Thread, have it integrate with Nest, and work with Google Home, the firm's voice assistant speaker. Google has also added support for OnHub, so if you had one of the two different OnHub routers, you can have them participate as equal citizens in a Google Wifi mesh (with some limitations. OnHub won't do Guest Network, or Priority Device.)
What could go wrong?
In an effort toward simplicity, there are a few compromises you may have to make as a user. There are no connectivity ports outside of the USB-C port used to provide power, so there'll be no connecting hard drives, flash drives, or printers to Google Wifi. You get one Ethernet port for Internet, and one for LAN. Where other systems have more ports, Google Wifi requires a switch if you have devices you wish to connect with Ethernet.
It appears that Google Wifi uses the 2.4GHz connection for data links to devices, and the 5GHz radio for backhaul between mesh nodes. If you have devices you prefer to connect at 5GHz, this product may not be for you. Further, you will have to trust Google's system for picking the least congested channel in the 2.4GHz range.
There are some user reports of 2.4GHz devices dropping connections, and for users who have an ISP that requires the ISP issued modem, Google Wifi will not do bridge mode. If you do try to enable bridge mode, you lose mesh networking. You can use the ISP issued modem to place the Google Wifi router in DMZ so that it will not be double NAT'd, but this defeats the purpose of making an easy to use router.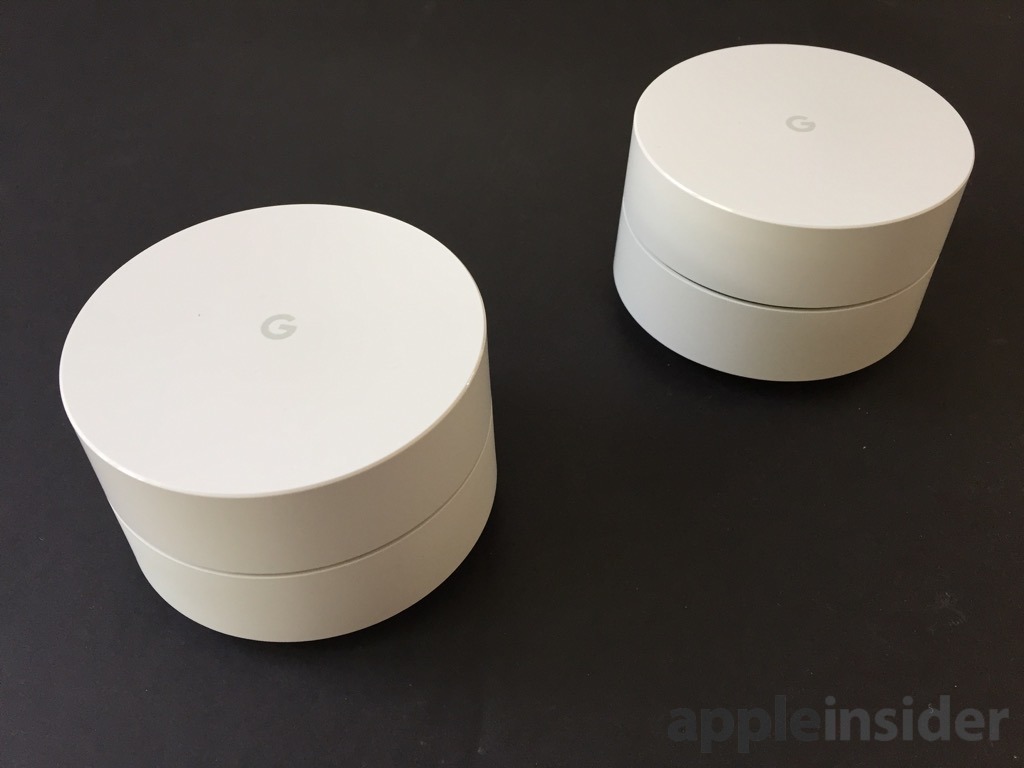 Conclusion
If you're looking for a router system with good notifications on outages, remote management and updates, Google Wifi is a good choice. Setup is easy and takes about 10 minutes on iOS. However, there are a number of potential wrinkles and reports of user problems that make us shy away from giving it a strong recommendation.
We do like the ease of setup, and if you have a very simple network and want to use Google's Wifi, it might work very well for you. We didn't experience any of the problems reported with 2.4GHz devices, but we did have the double NAT or DMZ choice to make in order to satisfy our ISP's requirement that their router be the priority device.
Score: 3 out of 5

Where to buy
Google's Wi-Fi 3-pack is available now at AppleInsider partner B&H Photo for $269, a discount of $30 off MSRP, with free expedited shipping and no tax collected on orders shipped outside NY and NJ. Amazon and Best Buy also carry the 3-pack for $269; however, both retailers collect sales tax in all applicable states.
Prefer a single unit over the 3-pack? B&H also has single access points in stock for $119 after a $10 cash rebate. Free expedited shipping to the lower 48 is included, along with no sales tax on orders shipped outside NY and NJ.