Apple sets new 150MB ceiling for over the air App Store downloads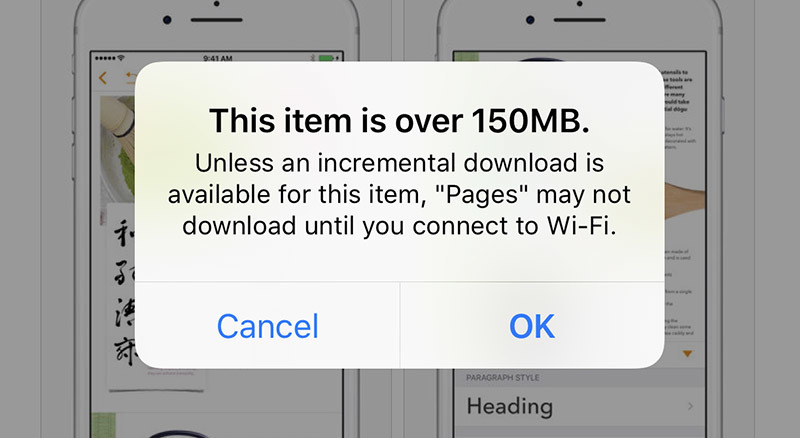 To go along with Tuesday's big iOS 11 release, Apple announced a change in App Store policy that allows users to download apps up to 150 megabytes in size when connected to a cellular network, up from a previous cap of 100MB.
The new download ceiling was revealed in a post to Apple's official webpage.
"We've increased the cellular download limit from 100 MB to 150 MB, letting customers download more apps from the App Store over their cellular network," Apple said.
Prior to the change, users conducting over-the-air purchases or updates were limited to 100MB packages, meaning they would have to connect to a Wi-Fi network to download larger apps like word processors. For example, Apple's recently updated iWork suite contains three massive apps in the 432MB Pages, 404MB Numbers and 637MB Keynote.
With the new cap, Apple is likely preparing for an onslaught of new augmented reality apps enabled by ARKit in iOS 11. The AR titles, a number of which are already live on the App Store, overlay rich graphics on top of real-world objects. For now, ARKit apps work on flat surfaces like tables and floors, but future implementations are expected to support more complex terrain.
The change in App Store download requirements is transparent to the end user and will only be noticed when attempting to download a 150MB+ app over a cellular network. The App Store OTA limit was last raised in 2013.