Apple's Lisa Jackson criticizes Trump EPA for lack of transparency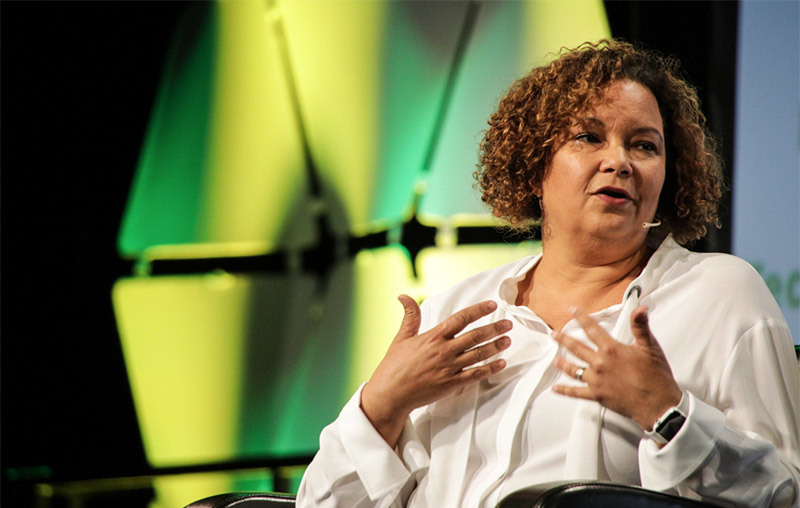 AppleInsider is supported by its audience and may earn commission as an Amazon Associate and affiliate partner on qualifying purchases. These affiliate partnerships do not influence our editorial content.
Apple VP of Environment, Policy and Social Initiatives Lisa Jackson in an interview on Tuesday said the Environmental Protection Agency, which she led from 2009 to 2013, is under threat from President Donald Trump's administration for a seeming lack of transparency.
On stage at TechCrunch Disrupt conference, Jackson took issue with Trump's pick for EPA administrator, Scott Pruitt, saying the agency is trending away from transparency.
Jackson said she thinks of the EPA as an extension of the Department of Defense because "it protects something really important in this country." With Pruitt in charge, however, the agency is under threat.
"The EPA has been run by Democrats, by Republicans, but has never, in its history that is 40-plus years old, been run by someone who seems to be determined to do the one thing that could destroy its credibility, which is not making it transparent," Jackson said.
She clarified that the agency itself is not becoming more opaque, but its leaders are. Jackson failed to provide specific examples of how Pruitt and the Trump administration are failing to meet those long-held standards, but the agency in April updated its website to remove research and data on climate change, reports Reuters.
"Every EPA administrator has committed to regulate transparently," she said. "We don't have that commitment anymore. It's not the EPA, it's that the leadership has decided to move away from the transparency that assures people that their health and their community come first rather than somebody else's bottom line."
Pundits have criticized Jackson's assessment as hypocritical, noting the former EPA administrator was herself embroiled in a controversy that directly involved agency transparency, or lack thereof. Before she resigned from her post at the EPA in 2013, Jackson used an agency-vetted email account under the alias "Richard Windsor" to communicate with parties inside — and allegedly outside — the EPA.
A series of Freedom of Information Act (FOIA) requests uncovered evidence of supposed correspondence with environmental activists, as well as other private citizens who would later serve on the Obama administration.
For its part, the EPA in a statement to The Hill in 2013 said internal email accounts are common, and in some cases necessary to communicate with staff and other government officials.
In any case, the revelations, along with evidence of continued use of alternate emails by Jackson's successor and other officials, raised questions as to whether the EPA was abiding by open-records laws.
Beyond politics, Jackson touched on consumer device repairability and product life cycles, both contentious topics in the world of technology. She said Apple focuses on designing devices with enhanced durability, which minimizes materials invested in repair and replacement.
On so-called "right to repair" proposals, which dictate Apple provide consumers and third-party repair shops access to service manuals and parts, Jackson said parties lobbying for such legislation are not "looking at the whole problem." On a macro level, from production to end of life, the most important facet of manufacturing should be making the most out of existing resources, Jackson said.
Though Apple products often see two or three life cycles, changing hands from one user to the next, they inevitably become obsolete and must be replaced. In response, Jackson noted Apple is committing substantial effort toward developing a "circular economy" approach to manufacturing in which new devices will be made from recycled components. The company has admitted it does not yet know how it will achieve a closed loop process, but potential solutions are in the works.
Editor's note: Due to its political nature, comments for this article have been disabled.