iPhone 8 unboxing & fast setup with iOS 11's new Quick Start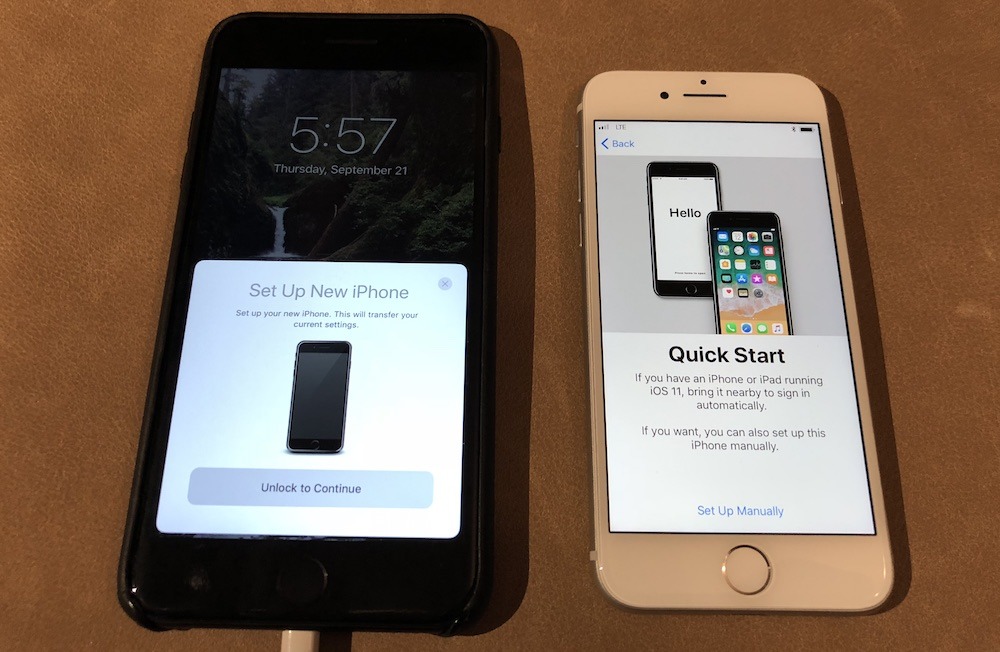 In iOS 11, Apple has made it even easier to set up a new iPhone with your existing phone with Quick Start, a new system that discovers your new device (similar to the setup of Apple Watch or AirPods) and transfers most of your settings and preferences automatically. Here's how it works.
What's in the iPhone 8 box
The packing list of iPhone 8 and iPhone 8 Plus is unchanged from last year. It includes a standard pair of Lightning EarPods and includes a Lightning to minijack headphones adapter to plug in any other corded minijack headphones. As with iPhone 7, there's no more plastic case, but rather just a disposable paper insert holding them.
There's also the regular square 5 watt USB power adapter and a Lighting to USB-A cable. You'll need a USB-C adapter to use the new phones with Apple's modern MacBook and MacBook Pro laptops, or with Apple's 29 watt USB-C power adapter (that ships with MacBooks and is sold separately), which supports iPhone 8's fast charging feature that can get it to 50 percent in just 30 minutes.
Note that just like iPhone 7, you can also charge iPhone 8 models noticeably faster using the 10 or 12 watt USB adapters that come with iPads (and are sold separately). In fact its disappointing that Apple still ships its high-end premium iPhones with inadequate 5 watt adapters that charge them so slowly— a particularly frustrating issue with the larger battery of the Plus models.
iPhone 8 and 8 Plus are Apple's first phones to ship with support for "wireless" (induction) charging. Apple previously shrugged off wireless charging as not being all that useful because you still needed to run a USB cable to your charging pad, which then transfers energy to the device laid on top of it without requiring a physical plug.
Apple doesn't include a wireless charging disc in the box, and the new phones don't work with the existing charging disc for Apple Watch. But because Apple supports the common Qi charging specification, there are a wide range of compatible charging pads available. Apple plans to introduce its own AirPower charging pad next year, with unique support for charging up to three devices at once.
Quick Start auto-configuration
Fresh out of the box, a new iPhone 8 boots up and asks you to select a display language and region, then offers to skip past the typical setup screens (where you'd normally set up you WiFi network, authenticate, set up a passcode and then log into and set up iCloud services) using Quick Start.
From this screen, all you need to do is present your existing phone, which should be freshly backed up and updated to iOS 11. Your old phone will discover the new one and pop up a panel offering to set the new phone up, just like a new pair of AirPods.
Once you select this option, the new phone displays a rotating ball of particles that serve as a target for your old phone to capture with its camera, effectively a complex, secure equivalent to barcode or QR code. Once scanned, the new phone asks you enter the passcode from your old phone, then completes its own setup.
After it finishes, it lets you choose between setting up the new phone as a fresh install, or restoring from an iCloud backup or an iTunes backup stored on your computer. You can also migrate data and settings from an Android phone. Restoring from a backup copies over all of your personal data and saved passwords (or just the basic settings, if your iTunes backup isn't encrypted), and begins downloading your purchased apps.