First look: Apple Watch Series 3 and AirPower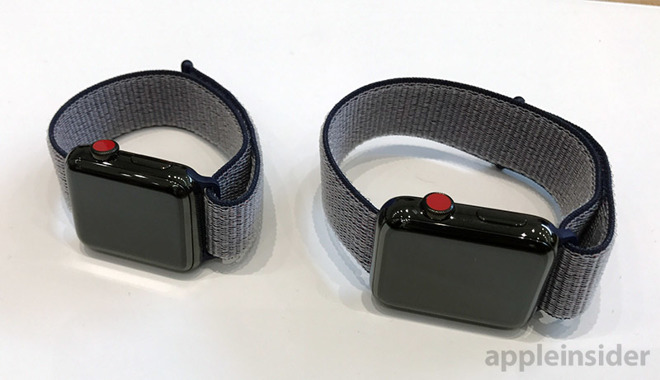 As expected, Apple unveiled a slew of new products at its special media event on Tuesday, including a revamped Apple Watch with LTE connectivity for true standalone operation. AppleInsider was on the scene to go hands on with the latest hardware.
Apple Watch Series 3
The most obvious enhancement potential for Apple Watch was the ability to connect to cellular networks without needing an intermediary iPhone. It's harder to say that Apple Watch Series 3 desperately needs to lose weight or thickness or needs new size or shape options (round watch fans should probably stick to devices with physical sweep hands).
The release of watchOS 2.0 previously enabled devices to connect to known Wi-Fi networks without the help of an iPhone, but being able to access cellular networks requires new hardware and involves tradeoffs in size and battery life.
As anticipated, Apple made use of emerging new eSIM technology to enable new Apple Watch Series 3 models to connect to the mobile network of their existing carrier using the same account and phone number, so incoming calls can ring on your watch and you can enjoy all the other benefits of essentially ubiquitous data networks: maps and directions, Siri assistance, messaging, app notifications, phone calls and streaming music from the cloud, either with Apple Music or iTunes Match.
In Series 3, Apple managed to add cellular connectivity without bloating the weight or girth of the device, and without destroying battery life or affecting water resistance. Battery life is essentially unchanged from the improvements gained in the last revision, which is impressive given the Series 3 gains new hardware.
3 is the new 2
The new Series 3 replaces the existing Series 2; Apple will also continue to sell Series 1, an enhanced version of the original "Series 0" model, at a lower entry price starting at $249.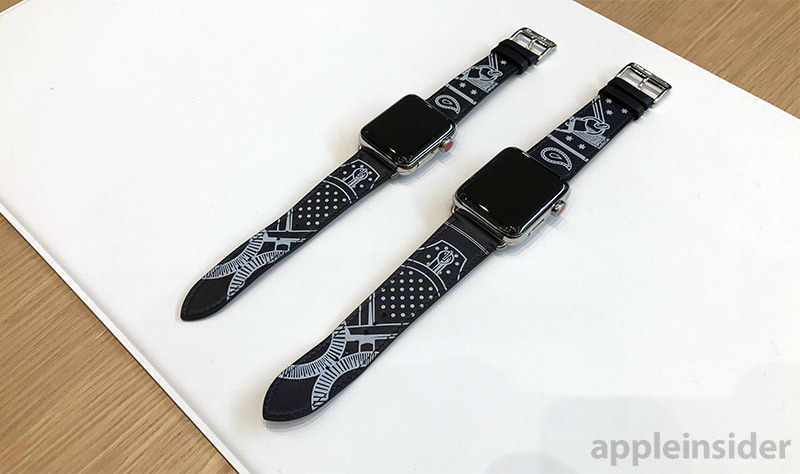 That entry model is only available in Silver or Space Grey Aluminum and is unchanged apart from its lower price. It is "splash resistant" (Apple recommends avoiding actual submersion in water), and Series 1 also lacks any GPS support.
The new Series 3 is offered in two major variants: "GPS," which like the Series 2 features Wi-Fi and Bluetooth connectivity only, and "GPS + Cellular," which adds LTE cellular connectivity.
Both Series 3 models also gain an altimeter for recording elevation gain, a feature previously only supported on iPhone 6s and later models. Wearing only the Series 3 watch, you can now track flights of stairs climbed (or the equivalent change in elevation when walking or running outside), and that data is recorded in the Health app.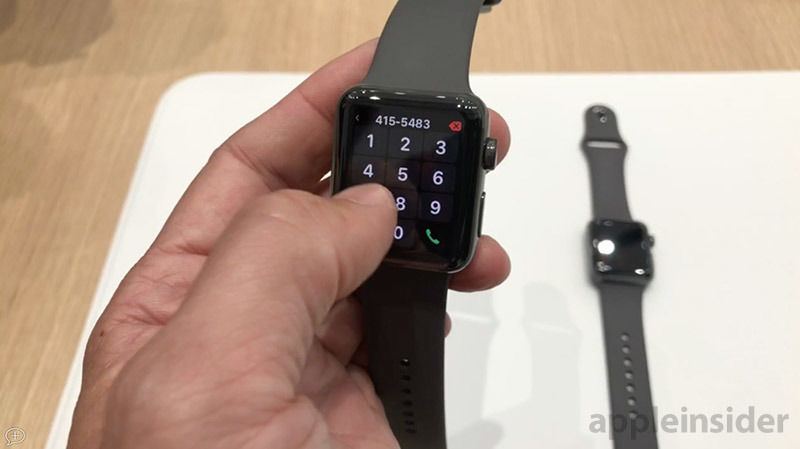 Both watches also benefit from Apple's second generation W2 wireless chip and a faster architecture that supports speedier Siri responses and new verbal feedback, as opposed to just textual Siri responses and vibration alerts on previous models.
In addition to mobile data, the cellular version's $70 price premium over the $329-and-up GPS model also includes twice the RAM (16GB vs 8GB) and features a ceramic rather than plastic (composite) back.
Fit and finishes
The cellular Series 3 also exclusively offers premium material options beyond the $399-and-up aluminum case: you can opt for a $599-and-up stainless steel case (in a silver or space black finish) or the $1,299-and-up "Edition" ceramic case (now in white or a new grey finish). Both the stainless and ceramic models feature a sapphire face as opposed to the strengthened "ion-x" glass appearing on all of the aluminum models.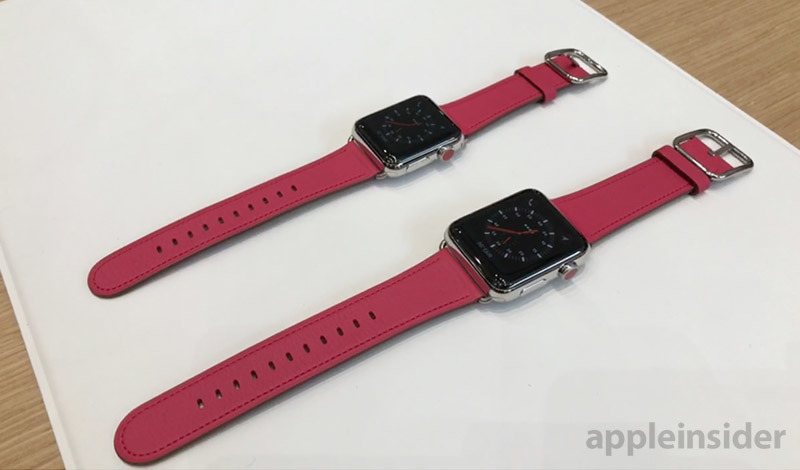 Apple continues to offer branded versions of Apple Watch from Nike and Hermes, now enhanced with the same Series 3 features. Both have developed new branded bands, along with a variety of new band options from Apple.
Hermes offers a particularly handsome "Noir Gala Leather Single Tour Rallye" band inspired by driving gloves; Apple and Nike+ now offer a "Sport Loop" band that's waterproof and elastic for a snug fit, attached by velcro strips.
Go Series 3 or just watchOS 4?
Apart from cellular connectivity, an altimeter and the spoken Siri performance boost from hardware enhancements, Series 3 gets much of its utility from the new watchOS 4 upgrade, which will also be available to earlier Apple Watch models. The pace of hardware enhancements is a bit slower than what we've seen for iPhones, so users are less likely to consider replacing their Apple Watch as frequently.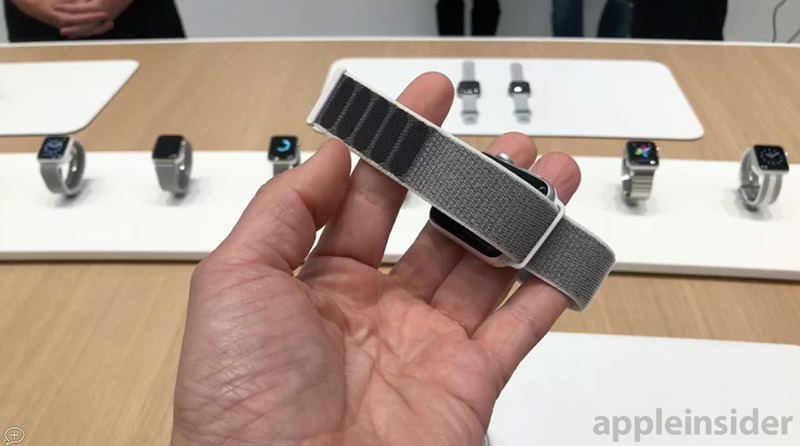 Series 0 users might be tempted to jump based on the variety of updates that have snowballed since they bought their first model. Series 2 delivered a major jump in performance and battery efficiency and significantly improved water resistance.
While Series 3 isn't a mind-blowing leap in radically overt new technical sophistication, it does allow more users to leave their phone behind while out for a run or in other workouts, and expands the usefulness of Apple Watch for users who can't carry a phone at work but still want to get notifications, receive phone calls or stream music on demand rather than manually loading their watch up with music downloads.
Cellular plan details
The appearance of the new Series 3 watches is essentially unchanged, apart from cellular models being identified with a red dot on their Digital Crown. Those models also get an exclusive "Explorer" watch face that directs attention to cellular signal strength and by default includes complications for phone calls and maps (which can also be added to other watch faces).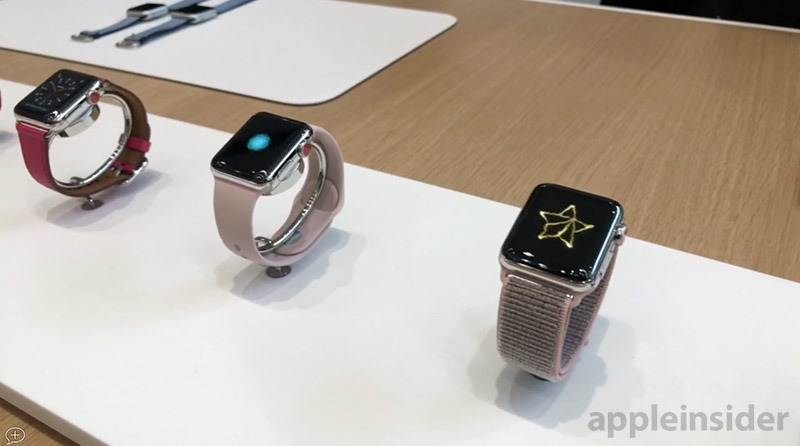 Being able to gain network connectivity without signing up for another cellular plan (or an iPad-style data-only plan) makes the cellular Series 3 a particularly attractive option. Adding the device to your existing iPhone cellular plan only costs around $10.
It does, however, obviously require signing up with the same provider used by your iPhone (it's tied to the same phone number), and that carrier must specifically support Apple Watch for data. Apple maintains a list of supported carriers, which includes the big 4 in the continental US and the top three providers in China and in Japan, but only one or two carriers in a few European countries and limited support in Canada.
It's noteworthy that carriers such as T-Mobile, which provide free roaming for iPhone users in a variety of other countries, do not support roaming for Apple Watch (likely because there are so few foreign countries that currently support Apple Watch data at all).
Cellular Series 3 models also require having at least an iPhone 6 "or later" (which would include iPhone SE). Other non-cellular Apple Watch models can work with an iPhone 5s.
AirPower
One of the most annoying things about Apple Watch is that while its charging disc is nicely designed and elegant, it requires travelers to carry one around if they want to keep their device charged. I really wish Apple would sell just the disc outfitted with a Lightning port, because the integrated USB cable makes it easier to damage or wear out, and once it does the entire thing needs to be replaced.
Having to carry around multiple cables is also a pain, and finding out you've forgotten you Apple Watch charger at home means you'll have to drop around $30 for a new one, if you can even find one conveniently in stock somewhere. If you forget all your cables, you'll also need at least another $15-20 for an iPhone Lighting cable.
Apple has finally acknowledged this issue in part by designing a multiple-device wireless charging pad it calls AirPower. Building upon the Qi wireless charging standard, AirPower intends (at some point in 2018) to enable multiple device charging on the same pad. In addition to recharging a new Series 3 Apple Watch, you'll be able to power up an iPhone 8 or X and the new AirPods charger case the company announced in parallel, also for future release.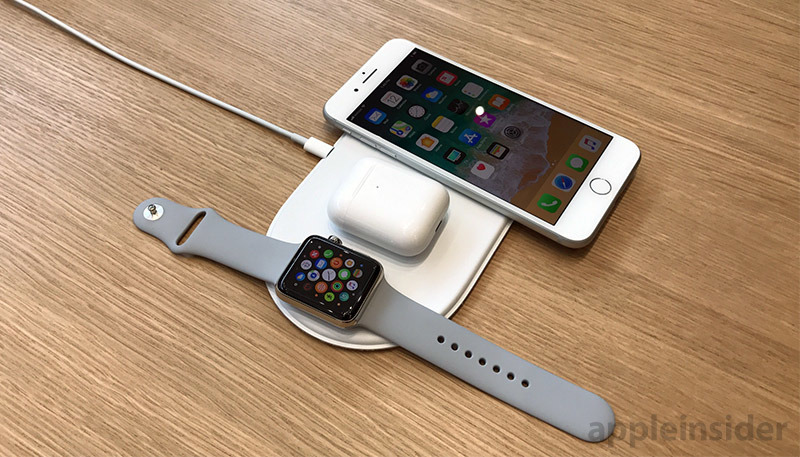 Of course, the mat itself is another thing to have to bring with you when you travel, but it does offer the convenience of just laying it all out, rather than carrying three separate cables (assuming you have that many devices to keep juiced). Apple noted a limit of "three devices," without clarifying if AirPower could charge any combination of three devices (a family of three iPhones?).
There are some details that remain to be answered, including the price tag. Standard Qi charger mats can be bought for as little as what Apple charges for a Lightning cable (actually much less!), but these can currently only power one device at a time.
Apple's keynote specifically expressed an intent to make Qi charging spots ubiquitous, so iPhone users (and everyone else) can casually charge their devices on standard "wireless" charging spots in cafes, airports, in cars or wherever else the low-cost hot spots can be installed.
That's handy for users, and also a bit of a relief for Apple because while the company makes money selling its premium priced $30 Lightning cables it would also be happier with its customers being content with their devices' battery life and continuing to remain satisfied customers. Apple is pursuing making AirPower's technology an enhancement to the Qi spec, which would also benefit non-Apple customers.
Apple Watch currently appears to make use of a modified Qi charging disc, as Qi devices reportedly can be charged with it, but generic Qi pads can't charge an Apple Watch. It's still not clear whether existing Apple Watches could be supported by AirPower. Hands-on employees at the Apple Park event gave conflicting answers to that question, and of course the device isn't yet available for sale or entirely finished yet.