Apple's iPhone 8 supports EVS for high-quality audio over LTE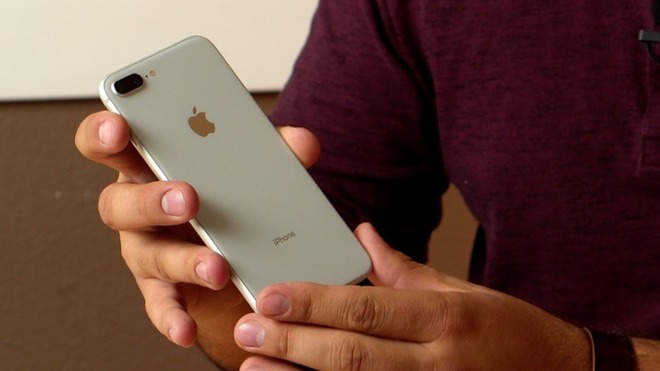 Gone largely unnoticed in the aftermath of Apple's iPhone unveiling, the new iPhone 8 lineup now supports the enhanced voice services (EVS) codec, promising higher quality calls over LTE networks that support the feature.
Takashi Tanaka, CEO of Japanese cellular carrier KDDI, mentioned the new iPhone 8 feature in passing during a recent interview with Engadget Japan. Tanaka's statement was noticed by Mac Otakara on Monday.
Compared to its predecessor, the AMR-WB coding standard that currently enjoys integration with many voice over LTE systems, EVS presents a wider frequency range, increased compression stability, backwards compatibility with legacy standards and more. Specifically, EVS operates in the 50Hz to 14.4KHz frequency range, while AMR-WB tops out at 7KHz. The increased frequency ceiling combines with cutting edge backend technology to greatly improve audio reproduction, noticeably so as compared to legacy standards.
According to Tanaka and others who have used EVS, the codec produces richer, more lifelike voice audio, a noticeable upgrade over 3G non-LTE solutions.
Certified by the 3rd Generation Partnership Project (3GPP) in 2016, EVS has seen rapid deployment in Europe and Asia, and is slowly making its way into the U.S. with the help of hardware component manufacturers. T-Mobile was the first to deploy EVS in 2016, and others like Verizon are expected to follow suit with their own branded offerings.
Apple's first iPhone to support EVS, or at least pack in compatible silicon, was the iPhone 7 with its X12 modem from Qualcomm. It is unclear whether the feature was enabled, as Apple handicapped the X12 in a bid to keep parity with Intel modems used in a large percentage of last year's iPhones. The current iPhone 8 and 8 Plus also use Qualcomm silicon in the X16, which again builds in support for the advanced codec.
The situation appears to have changed for 2017, as Apple has confirmed to AppleInsider that iPhone 8 and 8 Plus support EVS on both Qualcomm and Intel models. For users, that leaves finding a carrier that supports EVS as the lone remaining hurdle to enjoying the best audio quality available.