Declaration of Apple and Bain Capital's $18B deal for Toshiba's chip business imminent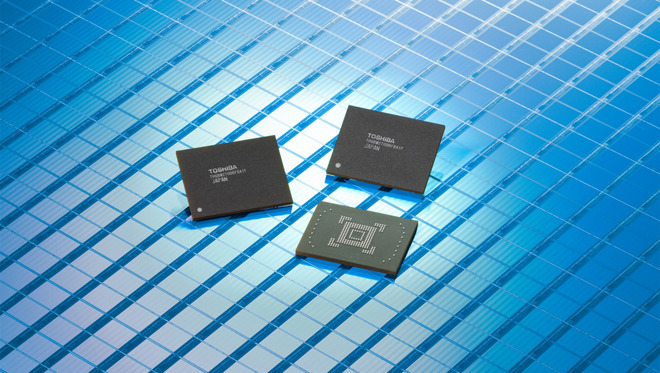 AppleInsider is supported by its audience and may earn commission as an Amazon Associate and affiliate partner on qualifying purchases. These affiliate partnerships do not influence our editorial content.
Apple has reportedly finished negotiation of its financial arrangement with Bain Capital and other investors, with a possible announcement of terms of the consortium's deal for Toshiba's chip foundry to be made public as soon as Thursday.
According to Bloomberg's sources familiar with the matter, Apple, Dell, and SK Hynix are all chipping in a total of $18 billion for the chip manufacturing intellectual property, and manufacturing foundries of Toshiba. The possibility remains that the announcement may be postponed, given Western Digital's continued opposition and legal action against the sale.
Toshiba had announced on Sept. 20 that it had agreed to rough terms from the Bain Capital-led consortium. Spokesman Seiji Ishibashi told Bloomberg that the company is aiming to finalize the deal as soon as possible.
Apple has not as of yet commented on the matter. Reportedly, Apple is contributing $3 billion to the fund for purchase, and was involved in all three efforts to buy the division.
Toshiba's memory unit is up for sale in an attempt to cover billions in losses from its bankrupt U.S. nuclear division, Westinghouse. The Westinghouse failures in the U.S. are attributed to a declining political appetite for nuclear power, fewer maintenance demands as a result of power plants destined for closure, a shrinking Navy fleet, and management failures.
Toshiba missed a June 28 deadline that it imposed upon itself to announce a deal for the chip business. Toshiba is still said to be opposed to giving non-Japanese companies any equity or management influence, since the Japanese government is aiming to keep Toshiba's memory unit under local control, and important technology away from foreign firms.
Bain's deal is reportedly only valid if arbitration and lawsuits with Western Digital are settled or dropped.
Western Digital fought with Toshiba over issues surrounding a factory run as a joint venture, and the potential of trade secrets escaping to competitors as a result of any sale. Lawsuits have been exchanged between Toshiba and Western Digital with Toshiba accusing Western Digital of interfering with the sale process, and the latter complaining about the process involving illicit distribution of company secrets.
In late June, Toshiba launched a $1.07 billion lawsuit against Western Digital, trying to keep the chip unit sale on track. It also began blocking access to information in the joint venture, charging that Western Digital staff gained improper access to proprietary data.
A report by Bloomberg's sources on Sept. 9 suggested that Foxconn was going to have the winning bid for the company, but it appears that the proposal from the Chinese manufacturer fell flat.
Toshiba's stock will be delisted in March 2018 if it does not generate funds soon. Continued delays will put the entire company at risk, as it shortens the time available for regulatory approval.