Hands-on: GoPro Hero 6 Black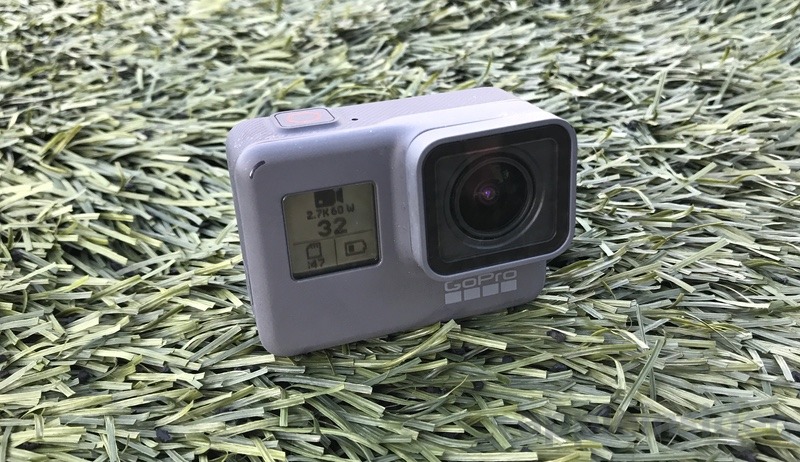 GoPro released its latest action camera product, the Hero 6 Black, on Thursday with a number of incremental upgrades over the year-old Hero 5 Black, most of which are powered by the firm's first in-house designed GP1 chip. AppleInsider was at the launch event in San Francisco to go hands-on with the device.
Externally, this year's GoPro flagship is identical to its predecessor. From the large lens that flanks a front-mounted LCD screen to the 2-inch rear touchscreen display to microphone and LED indicator locations, the design remains unchanged. Even the rubberized chassis, designed to help prevent slippage, is done up in the same stealth gray as last year's model.
The user experience, too, is largely unchanged. Like Hero 5 Black, users can interact with Hero 6 Black via physical buttons — record and power/mode select — or menu options provided through the graphical user interface. But everything is faster.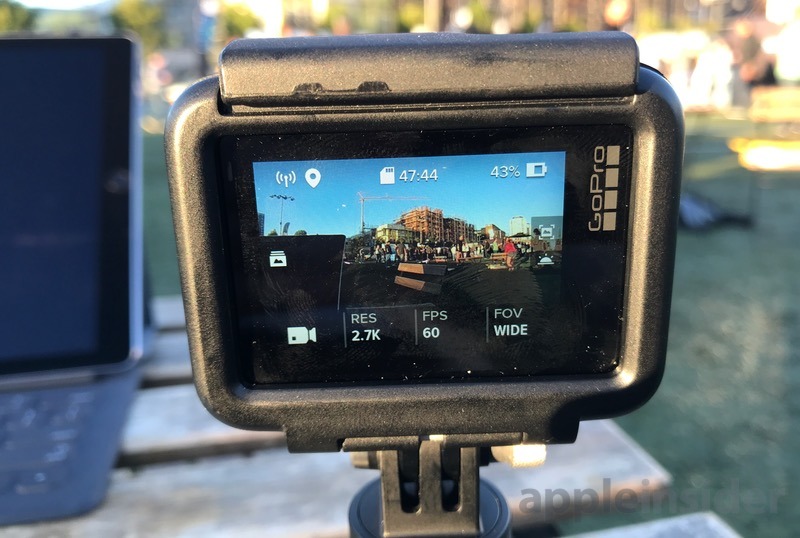 Thanks to the new GP1 chip, designed with critical input from GoPro's development team, swiping through system preferences, shooting modes and the onboard content gallery is quick and smooth. The lag that was present in past GoPro touchscreen UIs is gone.
Importantly, GP1 makes on-the-fly switching through 6 Black's new quiver of filming resolutions and speeds a fast and intuitive experience.
Hero 6 Black represents a milestone in dedicated ultra-mobile filmmaking with its ability to record 4K at 60 frames per second, a bump up from Hero 5 Black's 4K at 30fps. For an action cam, the previous speed cap put a damper on the device's main use case: capturing fast-moving activities. The new 60fps limit is more than adequate for adventure sports, from surfing to skydiving.
In addition to ultra high resolution recording, GoPro packs in a few options for slo-mo video. Most users will be drawn to 2.7K at 120fps — the best of both worlds for 6 Black. A more granular 1080p at 240fps presents an invaluable tool for generating time ramp, super slo-mo and other speed effects in post.
The new shooting modes are achieved with high bitrates, which in turn result in larger file sizes. To cope, Hero 6 Black is the first GoPro to support for H.265, also known as High Efficiency Video Coding. Basically every new format — 4K at 60fps, 2.4K at 120fps, 1080p at 240fps — is encoded using HEVC. The format is able to compress files up to 40 percent more than H.264 while retaining more detail and better image quality.
The technology integrates perfectly with Apple's latest iOS 11 and macOS 10.13 High Sierra operating systems, both of which feature HEVC compatibility. When viewing movie files in the GoPro app, the software defaults to a smartphone's base video encoding scheme, meaning iOS 11 devices take full advantage of the HEVC files 6 Black pumps out.
GoPro's HEVC files played nicely with our iPhone 7 Plus test device, and the company told us the experience is even better on devices with Apple's new A11 Bionic chip, which boasts hardware support for the codec. Playback performance might take a slight hit on older handsets like iPhone 6s and below, as H.265 support is accomplished entirely in software on this devices, according to a GoPro representative.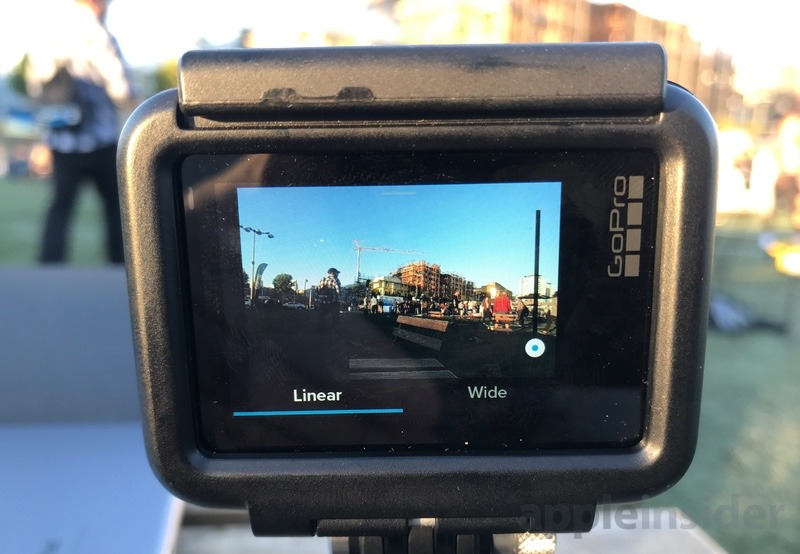 Aside from saving internal storage space, the implementation of HEVC is most apparent in when transferring files over from the camera to a connected iPhone. Large blocks of 4K video are ferried over in seconds. In addition to spending less time waiting for files to migrate over, reduced transfer overhead means increased power efficiency for both the GoPro and host iPhone.
Video files not encoded in HEVC, like 1080p at 60fps clips, also benefit from increased transfer speeds thanks to 6 Black's new 5GHz Wi-Fi radio. GoPro cites a three-fold increase in file transfer performance, and our early testing confirmed those claims.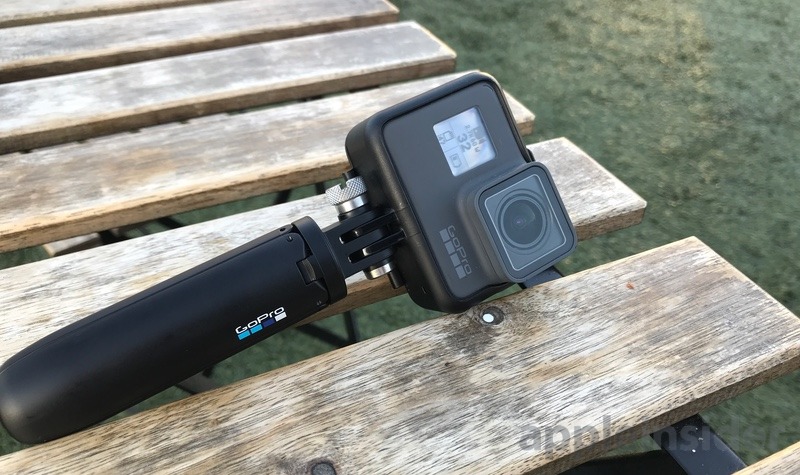 During GoPro's keynote, CEO Nick Woodman hammered on 6 Black's revamped electronic stability features, saying the GP1, combined with specialized algorithms, negates shake in all but the most extreme situations. Along with 4K, stability is a tentpole feature and it works as advertised.
Like other electronic stability systems, GoPro's version processes recorded content and crops out unwanted vertical and horizontal movement to render video free from bumps and shake. Available on previous GoPro models, stabilization on 6 Black is much improved, with minimal distortion in most shooting modes.
We tested the camera's stability features out on a jet boat in San Francisco Bay, a bumpy Go Car tour around the city and walking along the wharf. Results were impressive, especially with extreme front-to-back jostling in the jet boat and vertical shake in the Go Car. Compared to GoPro's previous stabilization solutions, the new and improved iteration looks natural, more akin to a physical gimbal than obvious software cropping.
It should be noted that stability features top out at 2.7K at 60fps, meaning you won't be seeing buttery smooth 4K video unless you use a gimbal like GoPro's Karma Grip. Software stability also doesn't work at 2.7K in 4:3 aspect ratio or 1080p at 240fps.
Lowlight shooting is another area where GoPro has made great strides. Grain isn't totally eliminated in 6 Black, but abberations are for the most part contained. More importantly, color rendition is much improved over last year's model. Instead of producing a muted, flat blue color space, reds and greens pop in dim scenes. Graininess returns in areas of near to total darkness, but is acceptable at higher resolutions.
The 6 Black also performs in well lit situations. Colors rendered are more vibrant, but not over saturated, a testament to GoPro's careful consideration of proper RGB balance.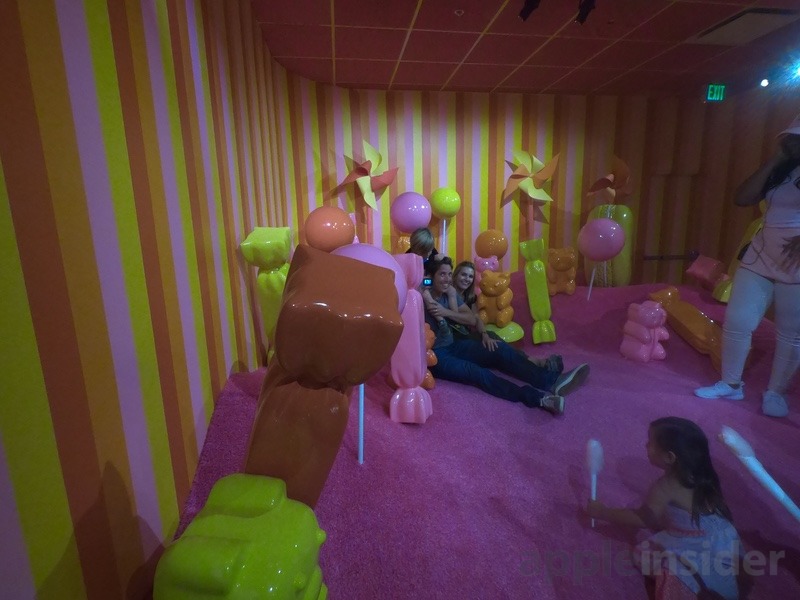 A case in point is the Museum of Ice Cream, a facility bursting with bright pastels, deep reds and blues, backlit neon art and other scenes troublesome to small image sensor and lens configurations. The 6 Black reproduced each scene in the walkthrough installation faithfully, both in video and HDR still images.
As seen in the untouched photo above, 6 Black is a able to capture and reproduce a wide range of colors, from bright pinks to grays. Impressively, the camera was able to handle the odd lighting in that particular room, which was a mix of incandescent and fluorescent bulbs. It did have trouble accurately reproducing brightness, but we were able to easily fix the problem in Photoshop on macOS and Pixelmator on iOS.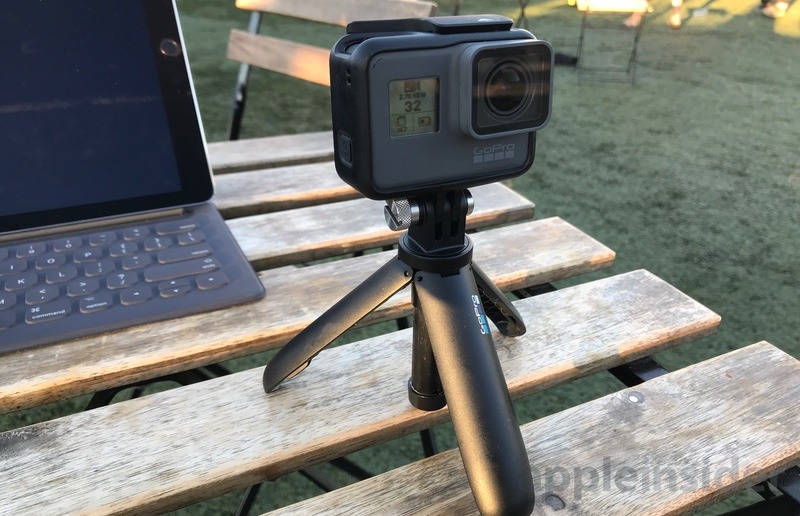 Overall, 6 Black is an impressive little camera. It delivers on GoPro's promise of a robust, easy-to-use platform with industry-leading image fidelity and value-added features. New resolution options and an effective electronic stability solution equate to a well rounded premium package that is sure to satiate even the most demanding adventurists — and less adventurous early adopters.
Woodman said that with GoPro's extreme sports business "dialed in," the company is looking to target a wider consumer audience. Headlining efforts toward that goal is QuikStories, an app feature that generates custom cut movies from GoPro camera content.
A hybrid two-app solution, QuikStories uses the GoPro app to automatically and continuously pulls content from a connected camera before ferrying it over to the standalone Quik app for processing. From there, users can select a movie style and add special effects and a backing music track. Tools including clip trimming, speed effects, filters and more are also available for in-depth edits. Once the movie is processed it can be shared on a variety of social media outlets or downloaded to Photos.
For GoPro, QuikStories represents a tectonic shift away from desktop editing to a more convenient and accessible mobile option. Of the benefits QuikStory offers, most important is the ability to offload, rediscover and share video and photos that would otherwise remain siloed on a Hero camera.
Paired with the new GoPro app and QuikStories, 6 Black is perhaps the best all-purpose ultra-mobile camera platforms on the market.
Keep an eye out for our full review in the coming days.