MLB fines team for using Apple Watch in dugout, determines device not used to cheat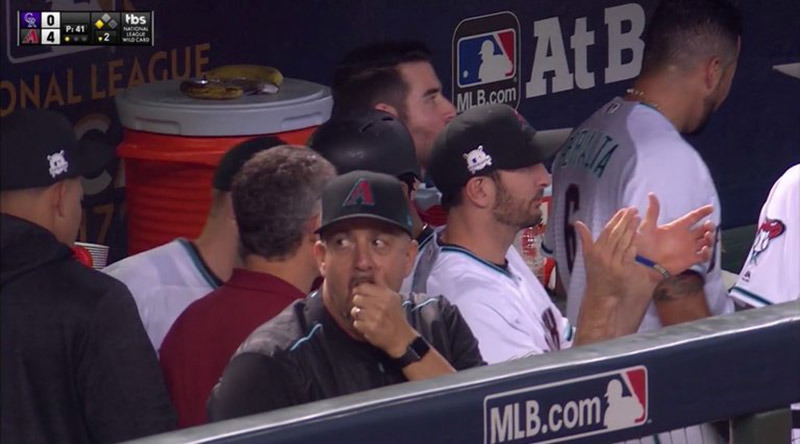 Major League Baseball fined the Arizona Diamondbacks after one of the team's coaches was seen wearing an Apple Watch in the dugout during a game Wednesday night, violating league rules regarding the use of electronic communications.
screenshot from MLB.com online stream.
In a statement on Friday, MLB said an investigation into coach Ariel Prieto's Apple Watch and iPhone, as well as an interview, yielded no evidence of suspicious activity, reports The New York Times.
"M.L.B. found no evidence that Mr. Prieto used the Apple Watch or cellphone for any purpose in the dugout, nor any baseball-related communication on either device during Wednesday's game," the statement said.
Though Prieto did not use the device to cheat in the Diamondback's wild card win over the Colorado Rockies, the fine against still stands, as league rules prohibit players, coaches and other personnel from wearing Apple Watch or similar devices in the dugout. The fines, the amount of which was left undisclosed, will go toward hurricane relief efforts Puerto Rico, the organization said.
The incident bears the hallmarks of a similar situation last month, when MLB fined the Boston Red Sox for stealing signs using a wearable device.
In baseball, players and other team personnel can observe catcher cues to the pitcher in order to determine what kind of throw is on the way. However, the use of binoculars, electronic devices and other equipment is strictly prohibited.
Video footage of Boston's game against the New York Yankees showed Red Sox assistant athletic trainer Jon Jochim looking at what appeared to be an Apple Watch, which presumably displayed signs that were subsequently shared with players on the field. It was later reported that Jochim used a Fitbit in the sign stealing operation.
Following Boston's indiscretions, MLB issued a warning to other teams, saying that future use of electronic communications devices in dugouts would incur more serious penalties.