New York City subway will replace MetroCard with Apple Pay tap-to-pay starting in 2018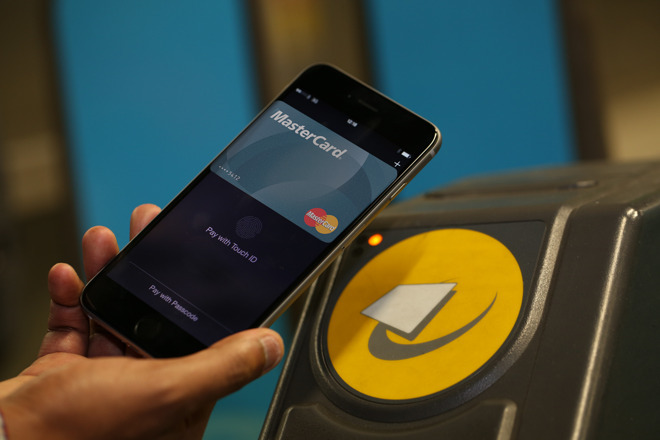 AppleInsider is supported by its audience and may earn commission as an Amazon Associate and affiliate partner on qualifying purchases. These affiliate partnerships do not influence our editorial content.
The New York City Metropolitan Transportation Authority on Monday approved a new $573 million contract that will see subway turnstiles support contactless payment services, including Apple Pay on iPhone and Apple Watch.
The MTA's new plan appears to move away from the MetroCard system, where funds are stored on a swipeable card, in favor of a pay-per-use model using existing NFC payment technology. That will include Apple Pay, as well as Android Pay, Samsung Pay, and NFC-equipped credit cards, according to The New York Times.
Currently, New York's MetroCard system requires users to pre-fill a card that can be swiped at the turnstile. Moving away from the system should expedite travel, as users will no longer receive swipe errors, nor will they need to visit a kiosk to refill their card.
However, the MetroCard will remain for the foreseeable future, working in tandem with the new tap-to-pay functionality through at least 2023.
In the interim, The MTA will begin phasing in the new NFC payment terminals at 500 subway turnstiles and 600 buses by late 2018. The more than half-billion-dollar contract calls for all subway stations and buses to have support for Apple Pay by late 2020.
The MTA first put out a call for proposals for a new fare payment system in April of 2016.
Of the world's 10 busiest metro systems, only New York City and Mexico City have yet to implement contactless fares. But Mexico City is on schedule to beat New York City with its first tap-and-go cards launching through Mastercard in November.