Verizon, Sprint, T-Mobile, announce iPhone X discounts ahead of launch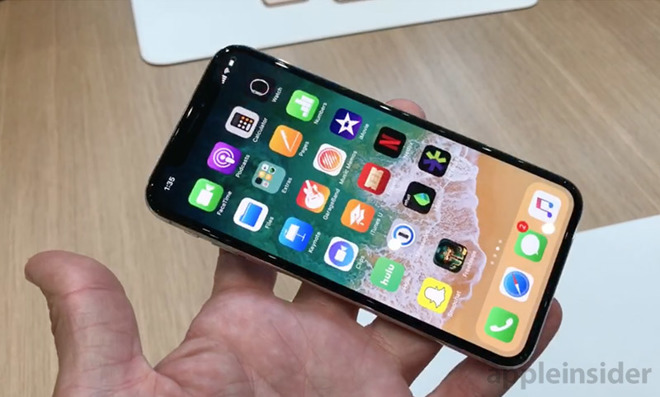 AppleInsider is supported by its audience and may earn commission as an Amazon Associate and affiliate partner on qualifying purchases. These affiliate partnerships do not influence our editorial content.
With just days to go before iPhone X preorders go live, three major U.S. carriers on Monday announced their respective discounts, deals and trade-in incentives for the device, some of which can save buyers up to $350.
Sprint was first to publicize its iPhone X deal, which amounts to a $350 savings on Apple's pricey handset realized through discounts on the carrier's Sprint Flex hardware leasing plan. The plan brings monthly fees for a 64GB iPhone X down to $22.22 over the course of 18 months, a savings of $19.45 per month.
Similar to Sprint's offer for iPhone 8 and iPhone 8 Plus, prospective buyers will have to trade in an eligible smartphone to get a break on monthly payments. For Apple device owners, that means handing over an iPhone 6 series handset or newer. Certain contemporary Android products are also eligible for trade-in.
Following the 18 month period, or 12 months under the iPhone Forever upgrade path, subscribers can turn in their iPhone X for a new model or elect to continue payments to keep the phone outright. With the latter option, payments jump to $41.67 per month for the remaining 6 months of the two-year plan.
Both new and existing customers can take advantage of the lease plan.
Verizon was next to advertise their iPhone X incentive, which offers up to $300 off the new device with an eligible trade-in. The deal is limited to current Go Unlimited and Beyond Unlimited subscribers ripe for a device upgrade, or a new customer looking to jump on an unlimited plan.
Customers will need to purchase iPhone X through Verizon and pay a $41.66 per month lease period of 24 months.
The $300 discount, paid out over the two-year window, is tied to an eligible device trade-in. To net the full discount, users can hand over their iPhone 6s series or iPhone 7 series handset. Buyers get back $200 for iPhone 6, 6 Plus and iPhone SE, while a $100 discount applies to iPhone 5, 5s and 5C devices.
Verizon's discount is meted out on a monthly basis, meaning subscribers have to keep with their iPhone X for two years to reap full benefits. Customers who want to switch to a new model or downgrade from an unlimited service tier, will have to pay off the lease balance and forfeit remaining discount payments.
T-Mobile's iPhone X deal is similar to Verizon's version. The "Un-carrier" is offering up to $300 off Apple's upcoming flagship when purchased through a monthly installment program, and with an eligible trade-in.
Unlike other carriers, T-Mobile will pay customers the $300 up front, depending on trade-in value. The balance of the $300 credit not paid at sign up is applied over the course of 24 monthly payments. For example, an iPhone 7 might rate $300, meaning T-Mobile will pay that amount up front. An iPhone SE, however, may fetch $100, which means the remaining $200 in discounts are dispersed in equal installments over the next two years.
T-Mobile breaks down iPhone X pricing as follows:
Equipment Installment Plan —
64GB: $279.99 down, $30 a month (FRP: $999.99)
256GB: $429.99 down, $30 a month (FRP: $1,149.99)
64GB: $0 down, $41.56 a month (FRP: $999.99)
256GB: $429.99 down, $24 a month (FRP: $1,149.99)
Like Verizon's deal, payments are spread across a 24-month period, meaning early upgrades will forfeit any remaining discount payments.
Apple is slated to kick off iPhone X preorders on Friday, Oct. 27 at 12:01 a.m. Pacific. The devices will ship out to early customers and hit store shelves on Nov. 3.