With iPhone X imminent, iPhone 8 and iPhone 8 Plus selling close to what an 'iPhone 7s' would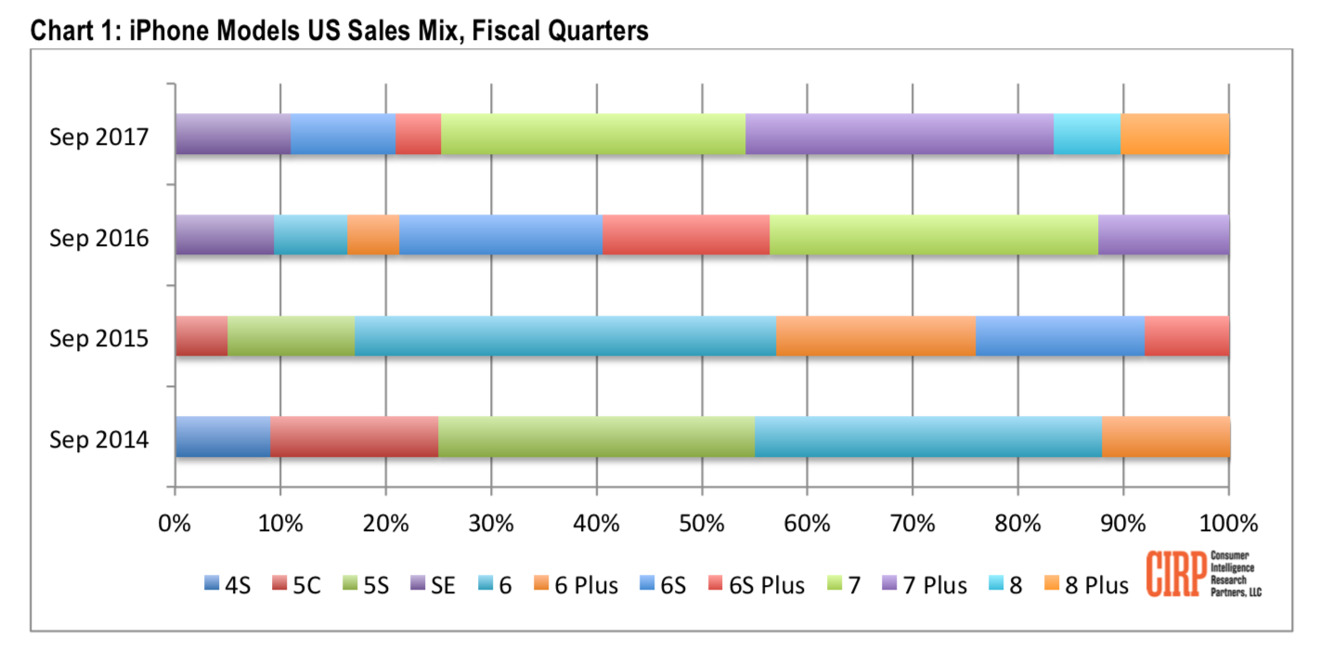 New data collated from the retail chain suggests that the iPhone 8 Plus outsold the iPhone 8 in September, with the pair grabbing 10 and 8 percent of total U.S. iPhone sales across the entirety of the third calendar quarter, with the pair only available for eight days of the measurement period.
In a report seen by AppleInsider, Consumer Intelligence Research Partners has examined the retail chain in the United States, and are seeing expectedly soft sales of the iPhone 8, likely in anticipation of the iPhone X. The company notes that the share of total sales make the iPhone 8 family release look more like an "s" model — but this also appears to be by Apple's design.
"It seems when Apple announced the the forthcoming iPhone X, it changed the market dynamic, and probably depressed demand for the iPhone 8 and 8 Plus," said CIRP co-founder Mike Levin. "Both the newly reduced-price iPhone 7 and 7 Plus and older iPhone models continue to see strong demand."
Lewin believes that rather than buying the iPhone 8, that prospective buyers in the third calendar quarter bought existing models — or decided to wait for the iPhone X.
For comparison, CIRP notes that the iPhone 6 family garnered 46 percent of sales in 11 days of sales, the iPhone 6s had 24 percent of sales with 5 days of sales, and the iPhone 7 collected 43 percent of sales in 14 days. However, CIRP did not note in its study the number of days that the phone was available in the respective launch quarter.
Correcting for each model's entire availability period, the iPhone 6 family collected 4.2 percent per day of availability, the iPhone 6s saw 4.8 percent, and the iPhone 7 collected 3.1 percent. The iPhone 8 family, similarly corrected, comes out to 2.25 percent — but is the only model of the four under pressure from a higher-end model at launch.
"We see evidence of waiting," said CIRP co-founder Josh Lowitz. "While it's a little early to know, it appears that this even lower share relative to that earlier S' model probably resulted from some buyers delaying a purchase, we think in anticipation of the new iPhone X."
CIRP based its findings on its survey of 500 US Apple customers that purchased an iPhone, iPad, or Mac in the US in July through September 2017 period.
Apple's iPhone X debuted on Sept. 12 and has a 5.8-inch Super Retina OLED display, the A11 Bionic processor, a 3D-sensing TrueDepth camera at the core of the Face ID technology. The device ships Nov. 3, and starts at $999 without any promotions.