iPhone X video shot at Apple HQ shows practical use of Apple Pay, Animoji [u]
By Mike Wuerthele
Tuesday, October 24, 2017, 07:54 am PT (10:54 am ET)
A YouTube video shot inside the One Infinite Loop Apple headquarters Caffe Macs restaurant depicts the iPhone X "in the wild," being used to pay for a meal with Apple Pay, as well as other basic uses.




The original video by Brooke Amelia Peterson started with a shopping montage, with footage of Apple's pre-Apple Park campus beginning at around 2:25 in the video. The video then shows Amelia's father using Apple Pay on the iPhone X very rapidly, and then has the woman using the phone in the restaurant.

Practical use of the iPhone X begins at about 2:50.

The iPhone video shows notifications, the control center getting pulled down, and the Animoji feature in-action. The video host's father also notes that his team is moving into Apple Park in December.

Update: The video has been removed from YouTube. It remains on Reddit.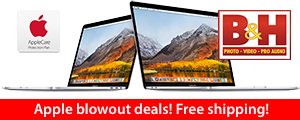 2018 13" Touch Bars
Price
Save
2.3GHz/8GB/256GB (Gray)
$1,699.00+
$100
2.3GHz/8GB/512GB (Silver)
$1,879.00+
$20
2.3GHz/16GB/512GB (Gray)
$2,099.00+
$100
2.7GHz/16GB/512GB
$2,449.00+
$50
2.7GHz/16GB/1TB
$2,849.00+
$50
2018 15" MacBook Pros
Price
Save
2.2GHz/16/256GB/555X
$2,215.00+
$185
2.2GHz/32/1TB/560X
$3,449.00+
$50
2.6GHz/16/512GB/560X
$2,575.00+
$224
2.6GHz/16/1TB/560X (Gray)
$2,999.00+
$200
2.6GHz/32/1TB/560X (Gray)
$3,399.00+
$200
2.6GHz/32/2TB/560X (Gray)
$3,999.00+
$400
Click here for dozens more configurations
+ Free shipping within the contiguous U.S.
Lowest Prices Anywhere!

13" MacBook Pros
Price
You Save
3.1GHz/8GB/256GB Gray
$1,679.00
$120.00
3.1GHz/8GB/256GB Silver
$1,704.00*
$95.00
3.1GHz/8GB/512GB Gray
$1,849.00*
$150.00
3.1GHz/16/512GB Gray
$2,099.00
$100.00
15" MacBook Pro
Price
You Save
2.8GHz/16/256/555 Silver
$2,199.00*
$200.00
2.8GHz/16/256/560 Gray
$2,299.00
$200.00
2.9GHz/16/512/560 Gray
$2,599.00
$200.00
2.9GHz/16/1TB/560 Gray
$2,999.00
$200.00
3.1GHz/16/512/560 Gray
$2,799.00
$200.00
3.1GHz/16/2TB/560 Gray
$3,899.00
$300.00

*

price with Promo Code:

APINSIDER

prices.appleinsider.com for more configurations