Apple revenue surges 12% to $52.6B on sales of 46.7M iPhones, 5.4M Macs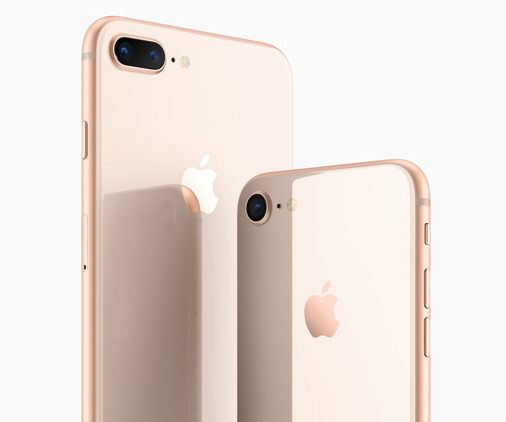 Apple on Thursday reported an iPhone 8 launch quarter that exceeded market expectations, topping revenue from a year ago by 12 percent as Apple's diversified iPhone lineup is showing signs of strength.
The results run through the end of September and include the iPhone 8 and iPhone 8 Plus launch, though Apple did not break down sales of those specific models. Total iPhone sales for the quarter were 46.7 million, exceeding the 46 million expected on Wall Street, and growing from the 45.5 million iPhones Apple sold a year ago in the iPhone 7 launch quarter.
Notably, this year, Apple staggered its iPhone launch lineup, and there were concerns that the debut of the iPhone 8 might not be enough to boost sales. In particular, some investors were concerned that buyers would wait for the iPhone X, which launches on Friday.
In Apple's other businesses, the Mac also demonstrated year over year growth, reaching 5.4 million units in the three-month span. That bested the 4.9 million Macs Apple sold in the same period last year.
iPad sales were up, too, to 10.3 million, pushing higher than the 9.3 million iPads Apple sold a year prior.
Revenue was $52.6 billion, and net profit for the quarter reached $10.7 billion.
Earnings per diluted share was $2.07, up 24 percent, and international sales accounted for 62 percent of the quarter's revenue.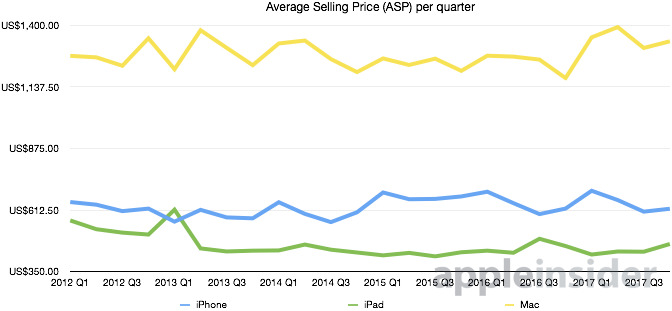 "We're happy to report a very strong finish to a great fiscal 2017, with record fourth quarter revenue, year-over-year growth for all our product categories, and our best quarter ever for Services," Apple Chief Executive Tim Cook said. "With fantastic new products including iPhone 8 and iPhone 8 Plus, Apple Watch Series 3, and Apple TV 4K joining our product lineup, we're looking forward to a great holiday season, and with the launch of iPhone X getting underway right now, we couldn't be more excited as we begin to deliver our vision for the future with this stunning device."
Apple's board of directors also declared a cash dividend of 63 cents per share of common stock, payable on Nov. 16 to shareholders of record as of close of business on Nov. 13.
"Apple's year-over-year revenue growth rate accelerated for the fourth consecutive quarter and drove EPS growth of 24 percent in the September quarter," Apple Chief Financial Officer Luca Maestri said. "We also generated strong operating cash flow of $15.7 billion and returned $11 billion to investors through our capital return program."
Looking ahead to the first quarter of fiscal 2018, which includes the launch of the iPhone X as well as the upcoming HomePod and iMac Pro, Apple is forecasting the following:
revenue between $84 billion and $87 billion
gross margin between 38 percent and 38.5 percent
operating expenses between $7.65 billion and $7.75 billion
other income/(expense) of $600 million
tax rate of 25.5 percent