Video: The iPhone X ultimate Face ID test
By Roger Fingas
Friday, November 03, 2017, 04:14 pm PT (07:14 pm ET)
A centerpiece feature of Apple's iPhone X is Face ID, which completely replaces Touch ID. Here's how —and how well —the technology works in practice.



Be sure to check out our full review of the iPhone X by Daniel Eran Dilger.

For more reviews, news, tips, features and more, subscribe to AppleInsider on YouTube.



Unbeatable Deals from AppleInsider & Apple's Top Authorized Resellers
Today's Headlines
No news headlines yet today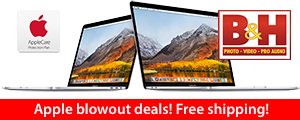 Lowest Prices Anywhere!