Apple reaping higher profits from each iPhone X sold than iPhone 8, analysis claims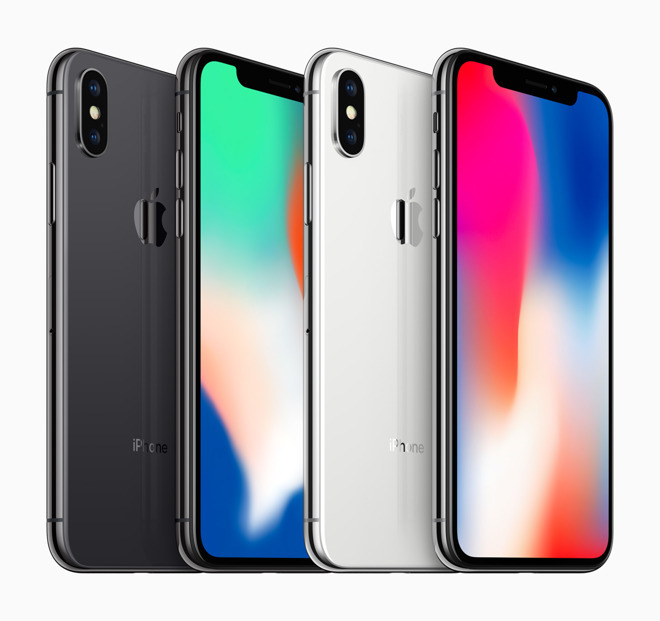 Despite the expense of technologies like a 5.8-inch, edge-to-edge OLED display and a 3D facial recognition camera, the iPhone X is actually more profitable per-device than the iPhone 8, according to a research estimate published on Monday.
The 64-gigabyte iPhone X costs about $357.50 to make, giving Apple a 64 percent profit margin on a $999 pricetag, TechInsights said. The figure is based on a parts calculation during a teardown.
An equivalent iPhone 8 sells for $699, but is said to have a margin of 59 percent.
The discrepancy is significant because unlike the iPhone X, the iPhone 8 is relatively modest evolution of the iPhone 7. It does include a number of changes — like Qi wireless charging, an A11 Bionic processor, and some camera and display upgrades — but it otherwise shares the same form factor, and continues to use LCD instead of OLED, plus Touch ID instead of Face ID. The switch to a glass back was made to support wireless charging.
The X's OLED display and linked parts are estimated to cost about $65.50, versus $36 for the 4.7-inch LCD assembly on the iPhone 8. Another pricey item is the X's stainless steel chassis, said to be worth $36 versus just $21.50 for the frame on the iPhone 8.
The use of stainless steel is one separator of prices with the Apple Watch Series 3 — while LTE models with aluminum and Ion-X glass start at $399, choosing steel and sapphire instantly raises prices by $200.
Unaccounted for in the TechInsights research are expenses in research, development, manufacturing, and marketing.