iPhone X Super Retina HD gets A+ from DisplayMate: "best performing smartphone display we have ever tested"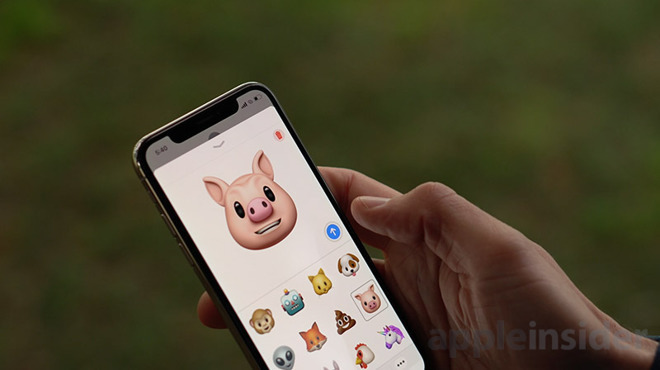 In evaluating the new iPhone X display, Dr. Raymond M. Soneira of DisplayMate called it the "most innovative" and "best performing smartphone display we have ever tested," noting in particular its leading absolute color accuracy, the highest full screen brightness for an OLED smartphone, highest full screen contrast rating in ambient light and highest contrast ratio, with the lowest screen reflectance and smallest brightness variation with a viewing angle.
OLED now ready for use in a premium phone
In its iPhone X Shootout, DisplayMate described iPhone X's new OLED as "the most anticipated display" ever, given Apple's history in delivering products with LCD panels delivering the industry's leading color accuracy. Outside of Apple, OLED panels have historically struggled with color accuracy.
In 2012, the firm contrasted iPhone 5 with Samsung's OLED Galaxy S III, and noted that latter had lots of problems with "distorted and exaggerated colors," including "Green being a lot more saturated than Red or Blue, which adds a Green color caste to many images. Samsung has not bothered to correct or calibrate their display colors to bring them into closer agreement with the Standard sRGB / Rec.709 Color Gamut, so many images appear over saturated and gaudy."
Samsung's early OLED panels for Galaxy also suffered lower battery life. "Running Time on battery is less than the iPhone 5 due to the lower power efficiency of OLEDs, even given that the Galaxy S III has a much larger battery capacity and much lower Brightness." Outside of Apple, OLED panels have historically struggled with color accuracy
Last year, DisplayMate stated that the iPad Pro LCD delivered the highest absolute color accuracy for both its color gamuts, the lowest screen reflectance for any mobile display, the highest peak brightness for any full-size tablet for any picture level, the highest contrast rating in ambient light and the smallest color variation with viewing angle. It also stated iPhone 7 delivered "record absolute color accuracy, which is visually indistinguishable from perfect."
However, with improvements in OLED technology advancing in some areas over LCD, "the big question was when, not if, manufacturers would begin switching to OLED displays," DisplayMate stated. "For Apple, the transition was particularly difficult because it needs hundreds of millions of OLED displays, and Samsung Display was the only company manufacturing them in high volume." The firm pointed out that iPhone X's move to OLED involved "a major engineering and manufacturing challenge."
Samsung OLED panel with Apple specifications, calibration, controller, management
In its latest evaluation of iPhone X, DisplayMate wrote, "First we need to congratulate Samsung Display for developing and manufacturing the outstanding OLED display hardware in the iPhone X," adding "but what makes the iPhone X the Best Smartphone Display is the impressive Precision Display Calibration that Apple developed that transforms the OLED hardware into a superbly accurate, high performance, and gorgeous display."

One of the reasons Apple's iPhone X can deliver better color than Samsung's own phones is that iOS provides system-wide color management, something Google has only recently added to Android O (which few phones have). Additionally, iPhone X panels are "individually calibrated at the factory for both color and contrast accuracy," DisplayMate noted.
The firm also noted iOS features including Night Mode, True Tone, and new support for Mobile HDR (high dynamic range), a specification that expands the color, contrast, and brightness for playing back theatrical content.
DisplayMate also reported that iPhone X "has a record high Full Screen Brightness for OLED Smartphones of 634 nits, which improves screen visibility in high Ambient Light. The Samsung Galaxy Note 8 can produce up to 1,240 nits, but only for small portions of the screen area (Low Average Picture Levels) - for Full Screen Brightness the Note8 can produce up to 423 nits with Manual Brightness and 560 nits with Automatic Brightness only in High Ambient Light. For small portions of the screen area the iPhone X can produce up to 809 nits (Low Average Picture Levels). On its Home Screen the iPhone X produces an impressively bright 726 nits."
On the other hand, the firm offered a dim portrayal of screens from Samsung and other makers that seek to stand out simply by offering higher resolutions.
"Some clueless reviewers have been pining for 4K 3840x2160 Smartphones, which would require more than triple the pixels, memory, and processing power of the 2436x1125 display on the iPhone X, but there would be no visual benefit for humans," DisplayMate observed.
iPhone X OLED viewing angles
One thing that has historically been a problem for OLED panels is its intrinsic issues with shifts in brightness, color and contrast observed a wider viewing angles. In our iPhone X review, we noted a bluish shift at extreme viewing angles.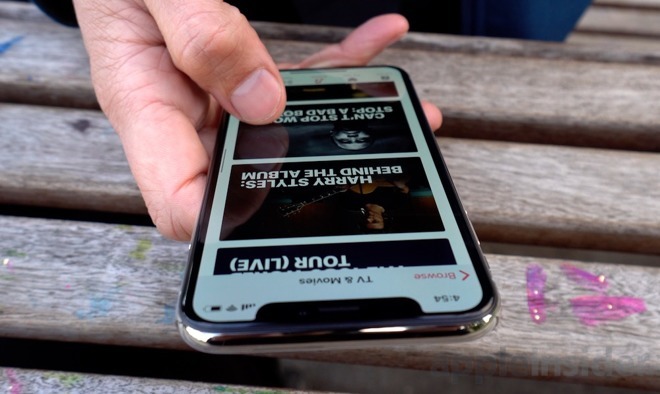 DisplayMate called the iPhone X display "very good" in angle-related brightness changes; "outstanding" in handling contrast, "very good" in dealing with white point and primary color shifts and "excellent" in color shifts for primary mixtures.
Samsung's OLED mobile displays have performed better than screens built by LG, used in devices including Google's Pixel 2 XL, which suffers from a variety of problems in addition to color shifts. However, even the Samsung display used in Google's smaller (HTC-built) Pixel 2 appears to have issues, as in our experience the preview image shown in the camera app delivered wildly unrealistic colors, with an overall artificial yellow cast that looked particularly bad next to an iPhone X.
It appears the additional effort and engineering time that Apple invested in selecting the best suppliers, performing its own internal calibration, developing its own color management and creating its own display controller have resulted in a better OLED display than any Android licensee is capable of developing on its own, or even in collaboration with their platform vendor, Google.