Analysis ranks 9.7" iPad Pro screen as best performing mobile LCD ever made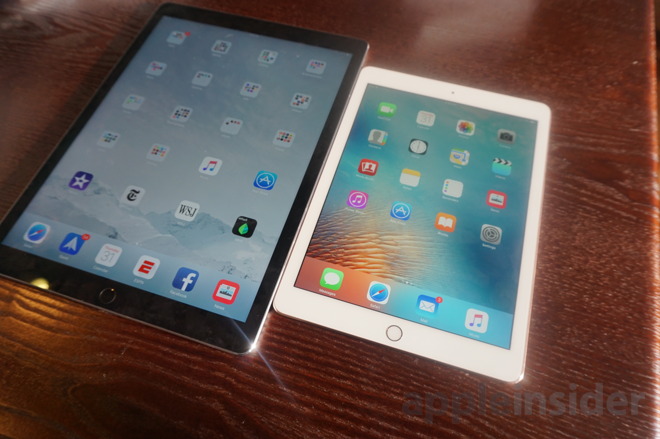 AppleInsider is supported by its audience and may earn commission as an Amazon Associate and affiliate partner on qualifying purchases. These affiliate partnerships do not influence our editorial content.
With two color gamuts, increased brightness, lower reflectance, and the new True Tone color shifting technology, the Retina display in Apple's new 9.7-inch iPad Pro is not only the best in its class — Â a new analysis has found it's the best performing mobile LCD on the market, period.
Ray Soneira of DisplayMate took a technical look at the display 9.7-inch iPad Pro, with the Retina display returning record breaking results. Among its accomplishments, the smaller iPad Pro has:
The highest absolute color accuracy for both its color gamuts
The lowest screen reflectance for any mobile display
The highest peak brightness for any full-size tablet for any picture level
The highest contrast rating in ambient light
The smallest color variation with viewing angle
Soneira hopes that the improvements found in the 9.7-inch iPad Pro will make their way to Apple's next-generation iPhone 7. Specifically, he believes Apple could implement the wide color gamut and anti-reflection coating, which would improve iPhone screen performance and readability in high ambient light.
When compared to the larger 12.9-inch iPad Pro, the 9.7-inch model's display outperforms it in every category except black luminance, which results in a higher contrast ratio in the dark. Soneira said the 12.9-inch iPad Pro still has "a very good display," but the 9.7-inch model is in a league of its own.

As for the True Tone technology, it relies on two new four-channel ambient light sensors that measure both brightness and color temperature to adjust the display accordingly, giving users a "paper-white" viewing experience.
"When we turned on True Tone under incandescent lighting with a Color Temperature of about 3,000K, the Color Temperature of the iPad Pro 9.7 White Point shifted from 6,945K to 5,500K, which is quite noticeable and visually significant, but it doesn't come close to matching the color of reflected light from white paper," Soneira wrote. "The color change with ambient light may be better for reading text on the screen's white background."
He recommended that Apple include a slider adjustment for True Tone, allowing users to control the effect to their liking.
DisplayMate's tests confirm Apple's claims that the 9.7-inch iPad Pro boasts the lowest reflectivity of any tablet available. Apple has said the new iPad Pro is 40 percent less reflective and 25 percent brighter than its predecessor, the iPad Air 2.
Color reproduction also matches the same gamut offered on the iMac with Retina 5K display. The 9.7-inch tablet also has 25 percent greater color saturation than the iPad Air 2.