Video for iOS & tvOS-exclusive game 'Sky' teases story, multiplayer elements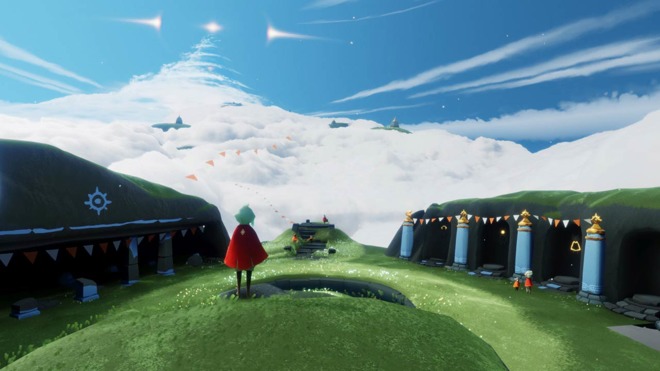 AppleInsider may earn an affiliate commission on purchases made through links on our site.
More details about "Flower" and "Journey" developer thatgamecompany's next title, "Sky," have been revealed in a brief gameplay video, showing the opening moments of the and collaborative puzzles from the game, which will launch first on iOS and tvOS.
Narrated by thatgamecompany creative director Jenova Chen, the new "Sky" video published by IGN starts by showing the player waking up on a beach as one of the "children of shadow." Collecting light as the player traverses the environment changes the appearance of the character from a silhouette to one with defined features, as well as providing the avatar with abilities.
Held in a candle the protagonist carries, the player can spread the light to other areas, lighting other candles to reveal the story of the environment and characters within the world. The light is used for puzzles, activating switches to open doors into new areas and to illuminate paintings, with the candle also used to "connect and bond" with other players, according to Chen.
While players were able to pass through "Flower" and "Journey" as a single player experience, though were able to interact with other players in a limited fashion, "Sky" will require teamwork to pass certain obstacles, and will support up to 8 players in a single game instance. For example, two or more players may be required to unlock a door by using their light at different places simultaneously.
"Unlike most video games where the player is the hero to save the world, they can solve all the puzzles themselves, In Sky it's a game where compassion, generosity, and collaboration are the heavy focus," states Chen. "So you have to find someone to work together. They can be real-life friends and family, and they could be people you know playing the game at a remote location."
"In Sky, as individuals, you are small and weak, but together, you can overcome all kinds of challenges."
Later in the video, players are shown flying around the landscape and interacting with each other using the candle. Another scene shows the character lighting a set of candles and reawakening an ancient spirit, which can help players progress through their journey.
Chen speaks about the challenges of developing a mobile-first title in his voiceover, including how a typical game controller gives players "all kinds of feedback" compared to a touchscreen. "The screen is all you have, and it was difficult to come up with satisfying input, just with the touch."
"We wanted to find something simple and intuitive but also has depth that you can master," admits Chen, before advising it is possible to play the majority of the game by simply swiping a finger. "Occasionally you will be touching a context-sensitive button to start a meditation or take out your candle, but the majority of the walking, running, and flying, is just a one-finger swipe."
The game is said to be designed for families to play together, Chen insists, and has been made to try and make players feel like a child in a theme park, regardless of their real age. "We want this experience between you and your family to feel like you are all children, and you get to see something you've never experienced before," Chen suggests, "to share the sense of wonder with your family and friends, to bring you closer together."
"Sky" was introduced as part of Apple's iPhone X event in September, to demonstrate the use of Metal 2 and the A10X Fusion chip in the Apple TV 4K. A release date and pricing was not detailed at the time, but it will apparently ship sometime this winter.
It is a timed exclusive for Apple, debuting first on iPhone, iPad and Apple TV.