Apple adds indoor maps for airports in Berlin, London, Geneva & Amsterdam
By Roger Fingas
Thursday, November 30, 2017, 07:30 am PT (10:30 am ET)
Apple has added detailed indoor coverage to several European airports in Apple Maps, including Berlin's Tegel and Schoenefeld, London's Heathrow and Gatwick, Amsterdam's Schiphol, and Geneva in Switzerland.




Travelers can use their iPhone to find things like gates, baggage, bathrooms, security checkpoints, and various shops and restaurants. Only some of these items are visible on a paired Apple Watch, however.

Apple has been gradually adding airport maps since this summer's iOS 11 betas. Until recently the company was concentrating on the U.S., adding terminals in cities like Chicago, Miami, Las Vegas, and San Jose.





More airports have been promised, but major hubs like New York's JFK and Toronto's Pearson still have only partial details.
Today's Headlines
No news headlines yet today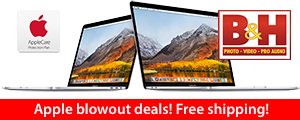 2018 13" Touch Bars
Price
Save
2.3GHz/8GB/256GB (Gray)
$1,699.00+
$100
2.3GHz/8GB/512GB (Silver)
$1,879.00+
$20
2.3GHz/16GB/512GB (Gray)
$2,099.00+
$100
2.7GHz/16GB/512GB
$2,449.00+
$50
2.7GHz/16GB/1TB
$2,849.00+
$50
2018 15" MacBook Pros
Price
Save
2.2GHz/16/256GB/555X
$2,215.00+
$185
2.2GHz/32/1TB/560X
$3,449.00+
$50
2.6GHz/16/512GB/560X
$2,575.00+
$224
2.6GHz/16/1TB/560X (Gray)
$2,999.00+
$200
2.6GHz/32/1TB/560X (Gray)
$3,399.00+
$200
2.6GHz/32/2TB/560X (Gray)
$3,999.00+
$400
Click here for dozens more configurations
+ Free shipping within the contiguous U.S.
Lowest Prices Anywhere!

13" MacBook Pros
Price
You Save
3.1GHz/8GB/256GB Gray
$1,679.00
$120.00
3.1GHz/8GB/256GB Silver
$1,704.00*
$95.00
3.1GHz/8GB/512GB Gray
$1,849.00*
$150.00
3.1GHz/16/512GB Gray
$2,099.00
$100.00
15" MacBook Pro
Price
You Save
2.8GHz/16/256/555 Silver
$2,199.00*
$200.00
2.8GHz/16/256/560 Gray
$2,299.00
$200.00
2.9GHz/16/512/560 Gray
$2,599.00
$200.00
2.9GHz/16/1TB/560 Gray
$2,999.00
$200.00
3.1GHz/16/512/560 Gray
$2,799.00
$200.00
3.1GHz/16/2TB/560 Gray
$3,899.00
$300.00

*

price with Promo Code:

APINSIDER

prices.appleinsider.com for more configurations