MindNode 5 for Mac is a compelling new update to the mind mapping app suite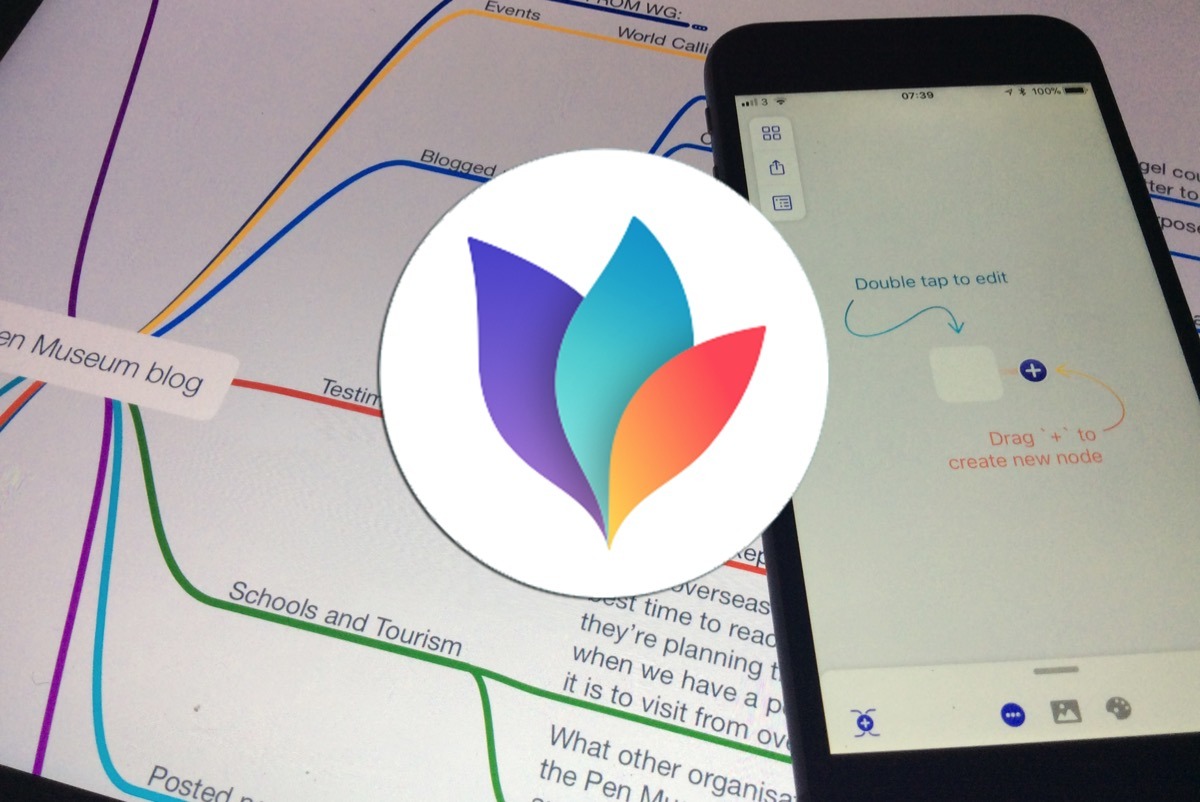 The latest update to MindNode 5 for Mac and iOS brings small refinements, large features, and a redesign to the mind mapping stalwart. AppleInsider offers a closer look.
Read any review of the previous MindNode 4 and you'll conclude that it's the perfect mind mapping tool or at the very least that it wasn't crying out for a major update. Developer Ideas on Canvas has reworked the app and made MindNode 5 for Mac and iOS an exceptional and compelling upgrade.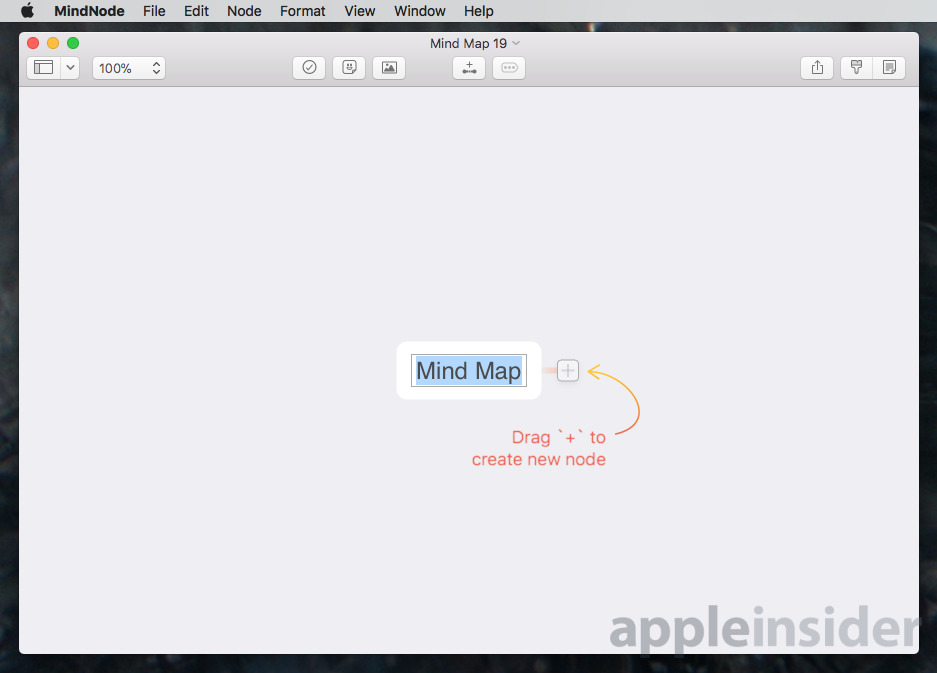 The new version will still feel familiar if you already know the app and all of the revisions and improvements maintain the software's core aim. Mind mapping in general is about getting the cacophony of ideas in your head down into a visual form where you can add to them, revise them, develop them.
MindNode in particular is about getting you to do that without having to think about the software, without having to study which tools do which jobs.
You can mind map on paper where all you have to think about is your pen but like with spreadsheets, once you've used the software version, you'll never go back. For mind mapping in an app like MindNode 5 means never running up against the edge of your piece of paper.
The price you pay for what's called an infinite canvas is that you have tap and swipe and click and select tools. Mind mapping is meant to be immersive and if there's a single thing we rate about MindNode then it's how it gets out of your way. We find we get so absorbed in the ideas we're juggling with that we could not tell you which bits we did on the Mac, which on iPads, which on iPhones.
For the new MindNode 5 comes in a macOS and a separate iOS version. It uses iCloud so if you have both, you can swap back and forth seamlessly.

The two are as close to identical as can be and if you're a new user then what you'll see on either device is a blank canvas ready for your map. If you're an existing user of MindNode 4 then what you'll see is a canvas that is even more blank than you're used to: this new version cuts down on the number of tools and options on show.
All its previous features are still here and it has added more but the redesign is smartly done. The Mac version keeps a slim toolbar across the top of your map while the iPad one has now ditched that in favor of four buttons and a swipe-up panel.
Aside from a paring down of tools to interrupt your map, the most visible change to MindNode 5 is a new Quick Entry option. In theory this is just an outlining feature but in practice it significantly changes and improves how you get started with a new mind map.
Mind maps consist of short thoughts you write down and then make notes around. MindNode calls those first thoughts nodes and you make them by clicking or tapping on the canvas. It's as easy as writing a word like "Project" on paper — yet when you're doing many of them, it does add up to a lot of taps.
With Quick Entry, you forget the map for a moment and instead write a list. Just type in a thought, hit Return, write the next one and so on. Bash at the keyboard, dumping out every thought you've got about the project or the problem you're working on.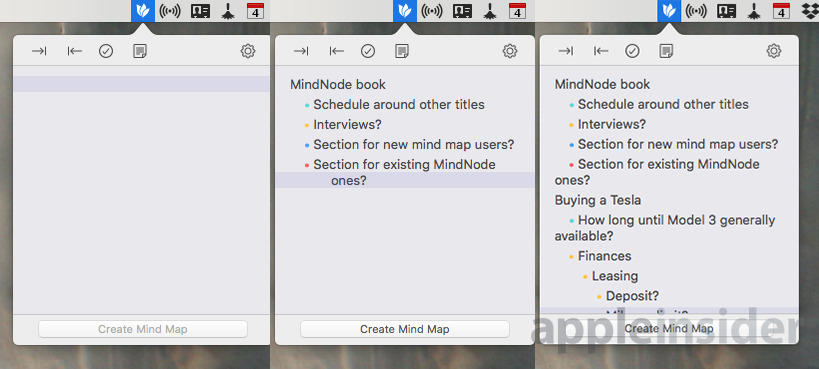 When you've written two or ten or a hundred ideas, you click or tap Create Mind Map and MindNode will take that list and turn it into a map.
From there you can add new ideas directly onto the map, you can delete others. Most usefully, you can drag thoughts around to rearrange the map. You use Quick Entry to get ideas down faster than you've ever been able to in MindNode before.
This is so useful that it is now the only way we ever begin a mind map. It's so useful, though, that we would like to see it be a more prominent part of the software. On the Mac, it's an optional menubar app that you're only asked about at installation or can later switch on through Preferences if you know it's there. On the iPad, it's a very small button in the iOS 11 Files-like document manager.
On both platforms you can switch from a map into this Quick Entry but it's not called Quick Entry when you do that: it's called the outline view.
Still, that switching back and forth is handy and especially so if you use MindNode's To Do features. We're not really keen on running your tasks in a mind map because you'll soon have dozens of maps and any of them can become sprawling messes. Having to open them all and zoom around looking to see if you've completed all your tasks or not isn't practical.
It is possible, though, in part because of the Outline view that lets you see all your ideas as a list instead of a map. MindNode has previously let you add check boxes next to some or all ideas which you can tick them off as you complete items.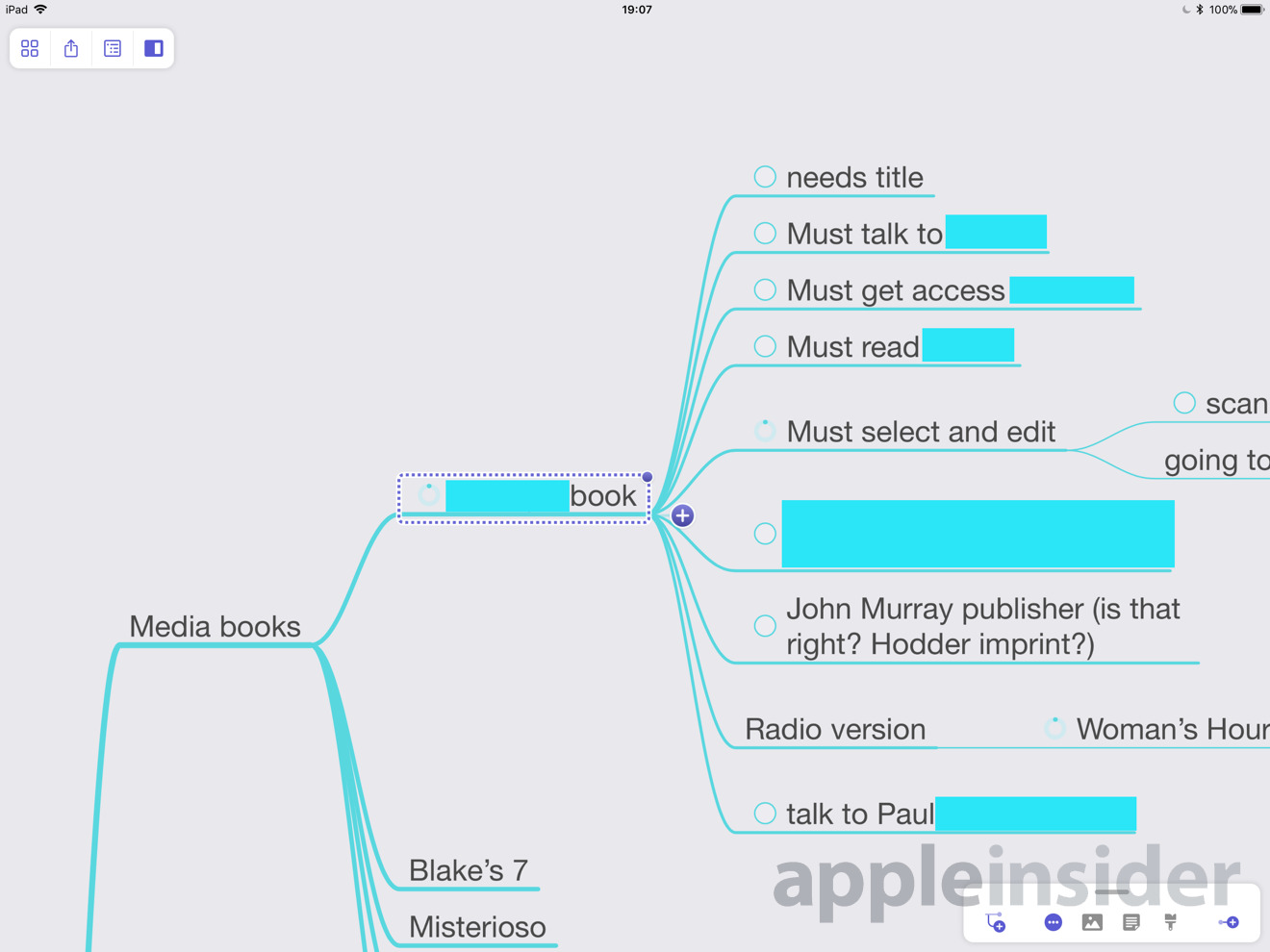 What's new in MindNode 5 is that you can now share those tasks with a To Do manager. Specifically, MindNode supports Apple's Reminders and OmniFocus.
You can export your mind map as a text list and import it into any task manager you like. However, send the tasks to Reminders or OmniFocus and then you can mark items as completed whether you're in those apps or MindNode.
MindNode 5 has also improved getting information from other apps: it's added the ability to import Xmind documents. That's not exactly a standard but it's close and is a format used by many mind map apps including ones on Windows. It's surprising that you can't export in this format, though: you have to rely on the same general text export MindNode has always had.
Still, there's a strong chance you'll never need to export or import anything. So this is one of the features that MindNode gives you when you want it: if you never want to think about importing or exporting, you never have to.
Similarly, if you are happy with how MindNode maps look, you need never look into changing that. Hand on heart, we've used this app in various versions for years and we're still using the defaults because it works so very well for us.
Yet you can change the overall look of a map and MindNode 5 has added new templates. More significantly, it's also added the ability to force a map to be vertical like an organization chart. You can now also change from MindNode's default of rather graceful curving lines into official-looking and a bit po-faced straight ones.
That's a genuinely useful improvement and the introduction of Quick Entry is a superb addition - but it's not our favorite part of the update.
Our favorite is a tiny change to how you enter lots of ideas directly onto the map. On the Mac, when you want to write a list of items you just type one and press Return. That doesn't work on iOS: pressing Return gives you a new paragraph in the same item instead of creating a new, separate one.
Instead you had to remember a keystroke that MindNode 5 has erased from our minds. For now you get on-screen buttons to make creating a new list item or a new sub-item a one-tap job.

It's hard to imagine a smaller change but it's a tiny thing that makes entering details into a mind map be faster.
That could be the mission statement for MindNode 5: making it faster and easier to get on with your work. It's not speed for speed's sake, it's all about making you focus on your ideas instead of on the tools available to you.
We said that MindNode 4 seemed pretty perfect and that we hadn't sat here wishing for a major update. Now that we've got a major update, maybe it's just got us thinking, but there are things it would be good to see in the future.
One that we'd bet money we'll see is a more prominent position for the excellent Quick Entry feature on both Mac and iPad. While we're at it, we'd like Undo to move on the iPad from the swipe-up panel to the strip of icons at the top of the map so that it's a one-tap job.
One feature that we may never see because it's less about MindNode and more about iOS is better support for the Apple Pencil.
MindNode 5 has specifically improved how you can use the Pencil with it and actually it's a delight dragging items around with one. Yet as you can't scribble ideas down or cross out items. You are forever picking the Pencil up and putting it down which, oddly, means that this visual tool is better used with a keyboard.
Nonetheless, it is a visual tool and it is an exceptional one. Mind maps don't suit everyone but if the concept works for you, MindNode 5 certainly will. Try the two-week trial versions of the Mac and iOS apps and if a mind map helps you, you'll buy MindNode 5.