Review: LandingZone Docking Station provides a security and port solution for the MacBook Pro

LandingZone Docking Station
4.0 / 5
---
AppleInsider may earn an affiliate commission on purchases made through links on our site.
LandingZone's new USB 3.1 type-C Docking Station for the 13- or 15-inch 2016 or 2017 MacBook Pro doesn't cut corners and gives multiple USB ports and a SD card reader back to the user — and AppleInsider has been using it daily for the last two months.
While not a Duo Dock of old with a VHS-like mechanism, the idea of an full enclosure for a computer granting more ports is similar. With the LandingZone Docking Station, users line up a Touch Bar-equipped MacBook Pro with the two USB-C ports on the left and one on the right, and push a lever on the back of the Docking Station to completely make the connection.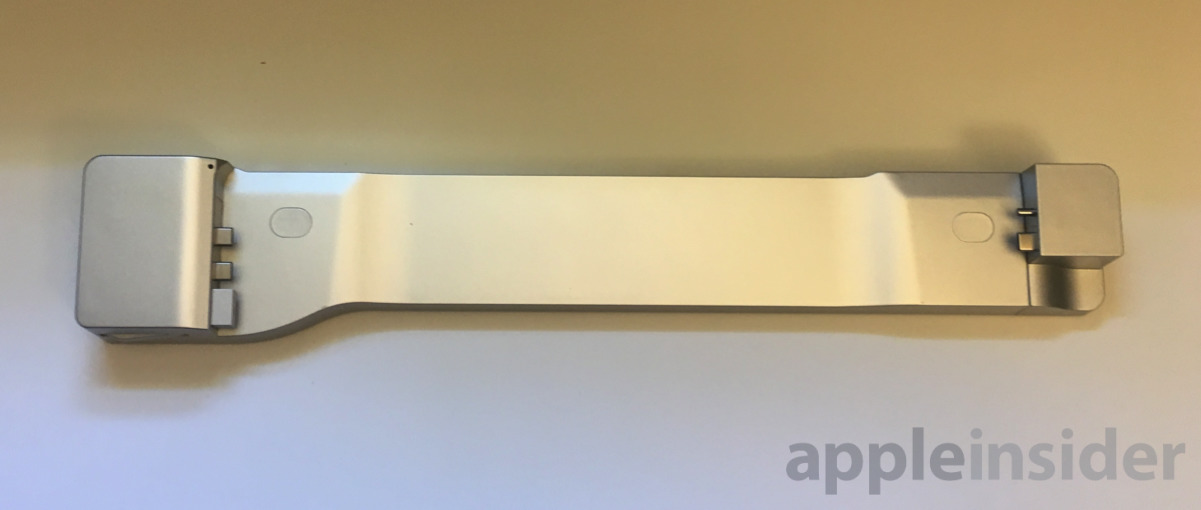 After the connection, all the ports in the dock are available. Plus, the underside of the laptop is more exposed, giving what is in essence a massive heatsink better airflow.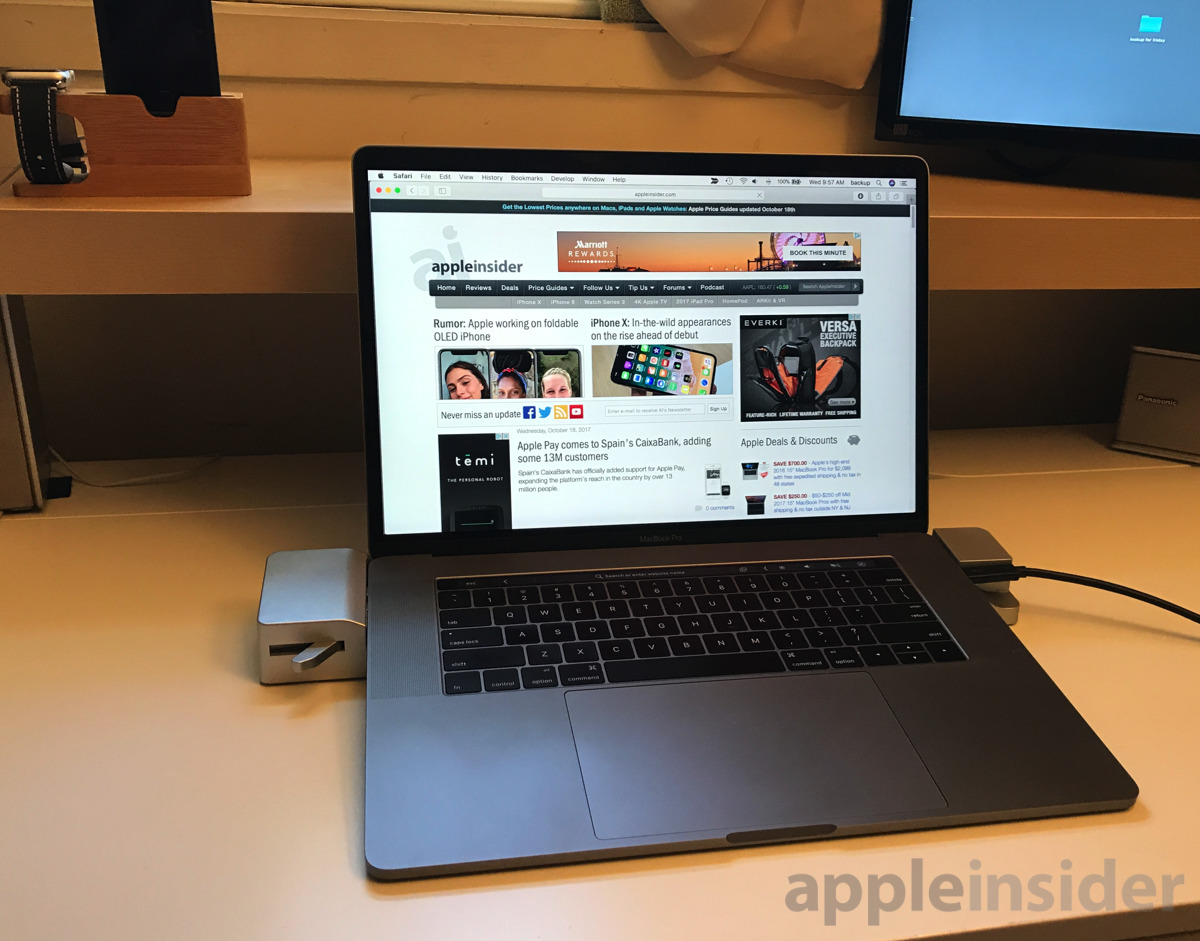 The plastic assembly gives the user a microSD and SD card reader, a Kensington lock slot, Gigabit Ethernet, a headphone jack, three USB 3.0 type-A ports, three USB 3.1 type-C ports on a hub, a stand-alone HDMI port capable of 4K resolution at 30Hz or 1080p resolution at 60Hz, and a combination HDMI or MiniDisplayPort capable of 4K at 60Hz.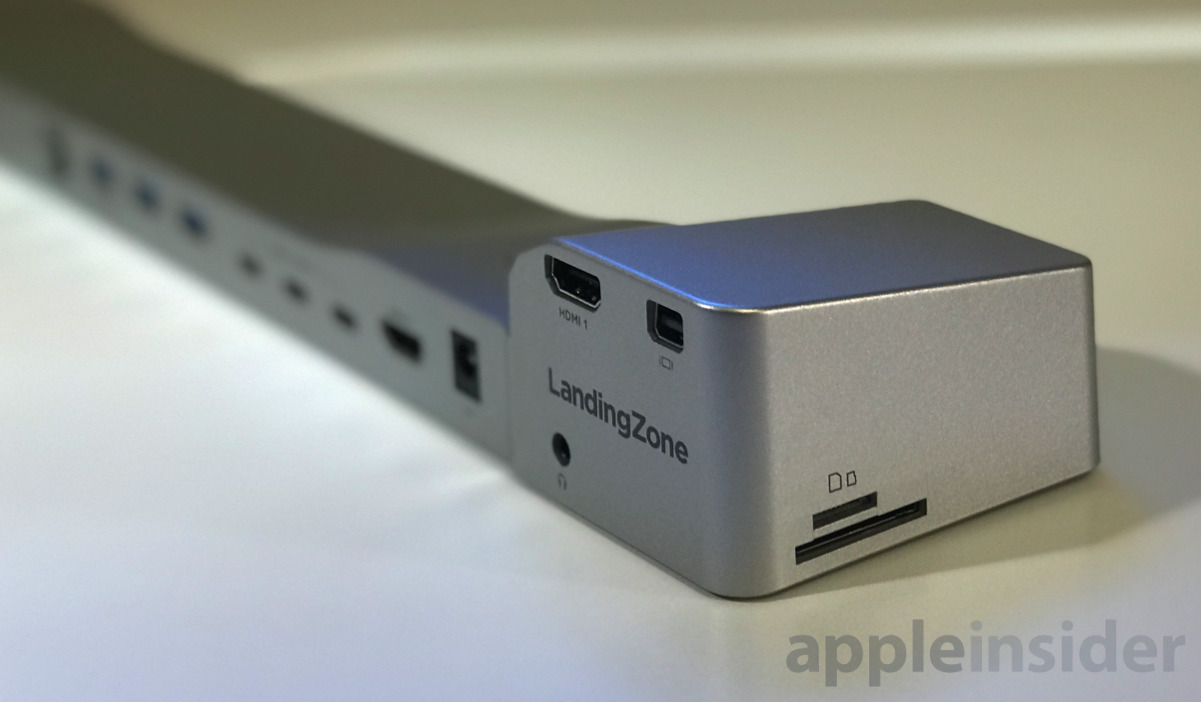 On the right side of the dock is a pass-through USB-C port — specifically not a Thunderbolt 3 pass-through. In a scalloped cut-out, the MacBook Pro's Thunderbolt 3 port is exposed — making it the only Thunderbolt 3 port accessible to the user after the computer is inserted.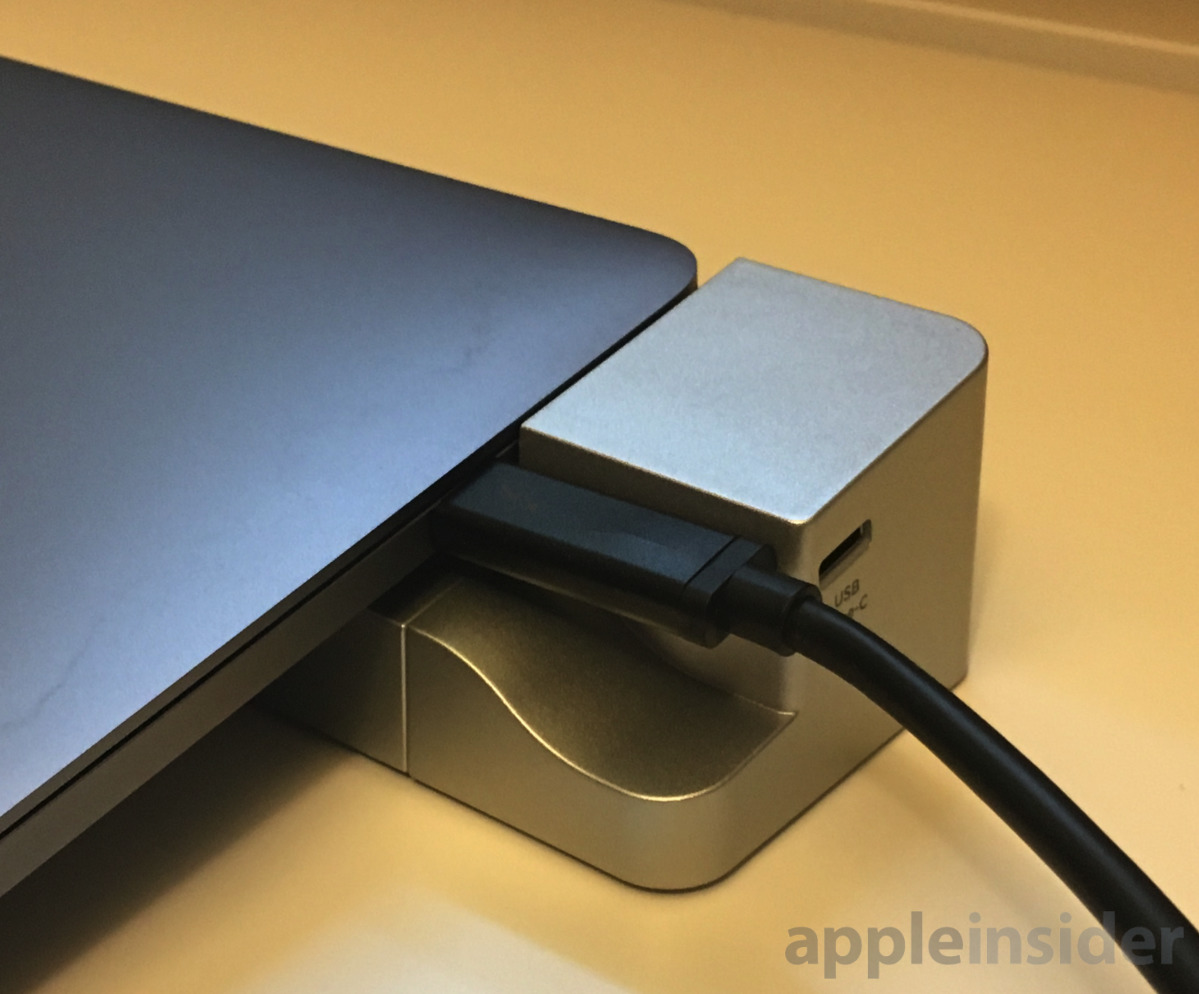 All of this is powered by a 97W power adapter, which supplies 60W of charging power. This is pretty good, but not quite enough for a 15-inch MacBook Pro to stay fully charged when under heavy CPU and GPU load.
Speed testing
Using a USB-C SSD RAID capable of saturating a 10gbit connection, we tested the USB-A and USB-C ports. We don't believe that the ports are UASP — and speed is slightly hampered as a result.
Using our 100GB test file suites that we've used before with one with files all greater than 3GB and the other half large files, and the other half small ones, we were able to write to the array at 265MB/sec on USB-A, and 416MB/sec on USB-C.
This isn't a major problem for most home or educational users, but it might give "professional" users hell-bent on maximum speed pause.
However, the pass-through USB-C port on the right hand side of the dock as you face the open computer is a bit faster, transferring at about 550MB/sec. Obviously, the un-connected remaining Thunderbolt 3 port moves data at native speed — but in our two months of testing, we reserved that port for our external GPUs.
The SD Card slot we couldn't get to transfer any faster than 51MB/sec.
Video connection
The USB 3.1 Type C Landing Zone Docking Station, as with most Thunderbolt 3 docks, allows for multiple displays to be connected — two to be precise. One HDMI port can technically do 4K, but only at 30Hz. The other connection uses USB-C alternate modes, and has physical connectors for a 4K display at 60Hz either on HDMI or Mini DisplayPort.
But, the fact that the pair of display connectors capable of 4K60 use USB-C alternate mode as opposed to a controller chip brings up an edge case — many older Mini DisplayPort adapters for VGA or DVI displays don't work on the connector. It shouldn't be a major issue for most unless you're adapting so-called legacy displays with older connector types.
Who wants one?
The best feature of the LandingZone Docking Station is the Kensington Security Slot. This allows for the Thunderbolt 3/USB-C MacBook Pro to be used in a public environment with legacy connectivity — and be secured from casual theft.
However, we'd like to see this go one step further. While the Landing Zone Docking Station allows for the Kensington Lock Slot to be used, in conjunction with that we'd like to see a screw-hole or similar way to fasten the device to a surface to further lean-into the security feature that sets it apart from "conventional" Thunderbolt 3 docks — because the unit's $299 price doesn't.
Docks as far as the eye can see
There were just a couple of Thunderbolt 2 docks — there just wasn't a lot of need for them. With the removal of "legacy" ports from the MacBook Pro, all of a sudden the concept had a renaissance.
If you need a solution that grants physical security for a MacBook Pro, in conjunction with multiple displays, USB-A ports, and a MicroSD slot then the LandingZone Docking Station is the only game in town.
If you don't hit all the checkboxes, though, there's no real reason to select it over any of the other Thunderbolt 3 dock options. But, if you're precisely that target consumer, then AppleInsider gives the LandingZone Docking Station:
4 out of 5
Otherwise, look to other Thunderbolt 3 options that will give you the same port expansion in one, smaller package — and only one occupied port.

Where to buy
The LandingZone Thunderbolt 3 Docking Station is available for Apple's 13-inch and 15-inch MacBook Pro with Touch Bar for $299.00 with free expedited shipping to the contiguous U.S. with no tax collected on orders shipped outside NY and NJ.