Apple launches podcast analytics service as iTunes Connect beta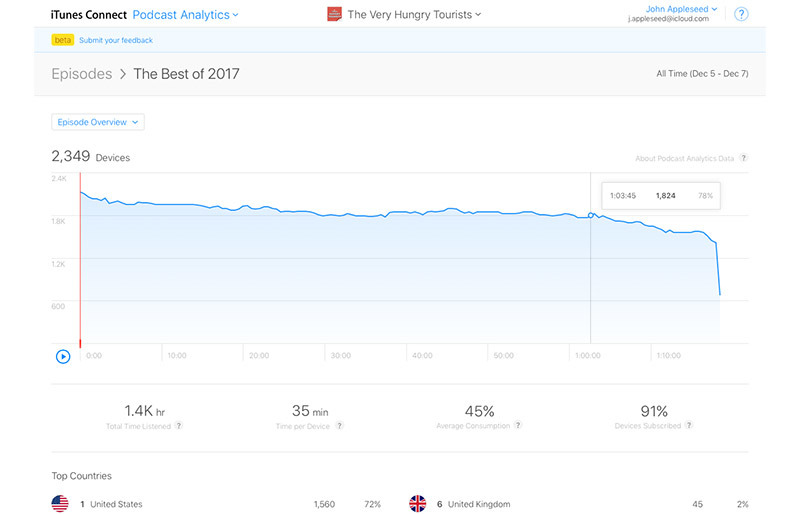 Apple made good on promises to launch an iTunes podcast analytics service on Thursday with a new iTunes Connect beta feature dedicated to tracking granular listener data, though the service is limited to iOS 11 devices.
As noted by TechCrunch, the beta service went live today with tools to track podcast listening metrics on the device level, a major boon for podcaster publishing their content on iTunes.
With its new analytics tool, content creators can view wide listening trends on a per episode basis. The service can also drill down into performance figures, granting podcasters access to previously obscured data like the number of devices downloading a particular show. Other metrics include total hours listened, time per device, average consumption, devices subscribed, top countries and more.
The information can be extrapolated into easy to read charts, though traditional tables are also available for comparing individual show performance against other episodes.
Beyond a top-down view of podcast performance, Apple's tool provides key insight into client side data that was previously unavailable to creators. For example, podcasters can now see when users stopped listening to a certain episode. This type of information can be used to tailor content to user tastes.
According to the report, Apple is already considering additions to the analytics mechanism, specifically methods of tracking aggregate users. Currently, the tool gleans data from individual devices — anonymously — and translates that information into digestible chunks represented on a podcaster's iTunes Connect dashboard.
Apple built in podcast tracking tool into the new Podcasts app on iOS 11, as well as the iTunes 12.7, meaning the analytics tool only pulls data from devices running those software versions. Still, with a growing number of users updating to the latest iOS iteration, podcasters will have a robust dataset to work with.
Podcasters will see the new analytics dashboard when they log into iTunes Connect's podcast upload page.