Apple's iTunes will not make promised year end debut on Microsoft Store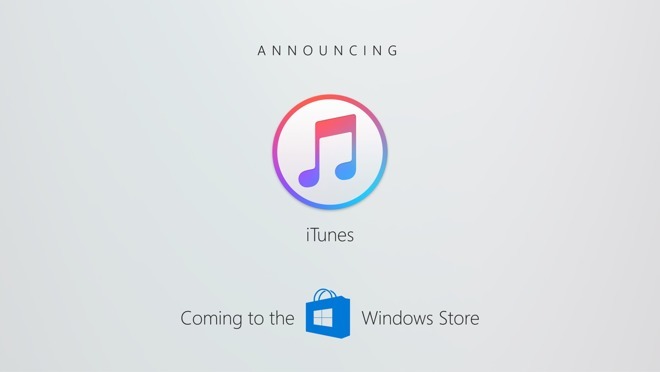 Earlier this year, Apple and Microsoft announced plans to release iTunes on the Windows Store, now called Microsoft Store, by the end of 2017. That timeline has been pushed back as Apple works to deliver an optimal user experience.
Apple updated ZDNet on the matter on Friday, saying iTunes will not arrive on the Microsoft Store by the promised date.
"We have been working with Microsoft to deliver the full iTunes experience to our customers and we need a little more time to get it right," an Apple spokesperson said.
The company still plans to put iTunes on Microsoft's app storefront, but neither Apple nor Microsoft is offering a concrete timeline on release, the report said. Apple also failed to explain what, exactly, is barring iTunes from making the jump from a standalone Windows app to one distributed through the Microsoft Store.
Microsoft officially announced plans to bring iTunes to the Microsoft Store at its Build conference in May. By releasing iTunes through Microsoft's storefront, and not a standalone download, Apple ensures the software will work on Windows 10 S devices.
Aimed at the educational market and users who put a premium on security, Windows 10 S hardware runs a stripped down version of Windows that can only run software downloaded through the Microsoft Store. Similar to Apple's implementation of iPad in the classroom, the strategy reduces exposure to security risks and streamlines installs in mass device management scenarios like educational deployments.
Microsoft's Windows 10 S line is viewed as a competitor to Google's Chrome OS, which operates under similar restrictions.