First look: Benchmarks put Apple's entry-level $4999 iMac Pro to the test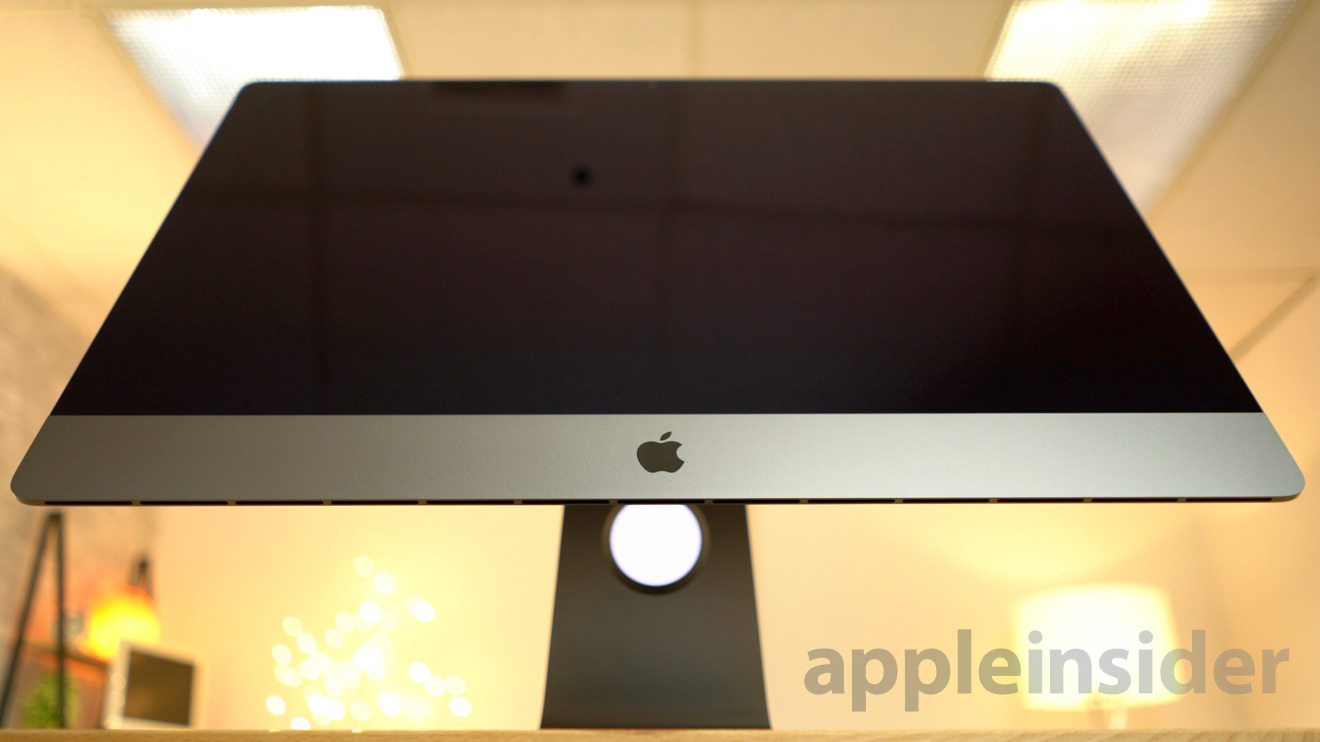 AppleInsider is supported by its audience and may earn commission as an Amazon Associate and affiliate partner on qualifying purchases. These affiliate partnerships do not influence our editorial content.
Though it has an exclusive space gray finish and gorgeous all-in-one chassis, the new iMac Pro is all about performance. AppleInsider has put it to the test, to show just how much bang for your buck you'll get out of this 5 grand investment.
The space gray finish on the iMac Pro is beautiful, with a shade that seems slightly darker than a Thunderbolt 3 MacBook Pro. The display itself is the same as the Retina 5K screen on Apple's 27-inch iMac, complete with DCI-P3 color accuracy.
In terms of performance, the iMac Pro feels snappy in regular use, even though its 8-core Xeon processor runs at a slower clock speed than 4-core iMacs.
The speakers on the iMac Pro are audibly louder than our 2017 5K iMac, and also feature more bass. Expect a more in-depth side-by-side comparison of these speaker systems from AppleInsider in the near future.
Getting down to raw performance, we started with a pre-rendered 34-minute video project with multiple 4K layers, color correction and effects. We tested the iMac Pro with the latest version of Final Cut Pro X, and found that the hardware handled our project with no issues.
In this test, the internal fans were not audible at all, and the CPU stayed at a fairly cool 65 degrees celsius. Unfortunately we couldn't check the actual fan speed, as applications did not properly show RPMs, so we're not sure if the fan was idle or just above that. Regardless, it was inaudible.
CPU utilization was about 30 percent, with clock speed varying from 3.5 to 3.91 gigahertz. Graphics was only utilized at about 10 percent, with graphics memory at roughly 35 percent.
The whole rendering process took 18 minutes and 5 seconds, about twice as fast as it did on our specced-out 2016 MacBook Pro. We'll be comparing the iMac Pro to the 2017 5K iMac win the near future.
Running Cinebench R15, a 3D rendering benchmark, our 8-core iMac Pro scored 1682 in multi-core and 176 in Single core performance.
In the multi-core benchmark, the 8 cores ran at 3.9 gigahertz, which seems to be the top CPU frequency when maxing out all CPU cores. Putting a full load on just a single core, the clock speed varied from 3.94 to 3.98 GHz — a few hundred hertz away from the max Intel Turbo Boost clock speed of 4.2GHz. It seems that the maximum clock speed will only be reached if the processor isn't at full load.
We ran 10 consecutive multi-core CPU tests and found that the iMac Pro allows the processor to get quite hot before it kicks up the fan, and even then it is barely audible.
After the second test, each additional run would cause the iMac Pro to thermal throttle when the CPU reached roughly 94 degrees celsius, which caused the clock speed to drop from 3.9GHz to about 3.6GHz for a second or two. This allowed the CPU to drop below 92 degrees, and the clock speed to rise back to the maximum 3.9GHz. Interestingly, instead of ramping up the fan speed to keep this from happening again, the iMac Pro just kept this cycle going.
Apple loves to keep it machines as quiet as possible, even if it means they will run hot, but we would expect them to allow a pro machine to get a bit louder when accomplishing heavy tasks that are maxing out the CPU. Many late 2013 Mac Pro had graphics issues after a year or two of use because of overheating, so we hope the fans erring on the side of quiet is just an anomaly when running Cinebench R15.
We will take a much closer look at thermals in our full review.
Taking a look at Geekbench 4, a benchmark that looks at all-around performance, our 8-core Xeon scored a respectable 31,159 multi-core score, and even more impressive 5,088 single-core speeds. Typically, Xeon processors are great for multi-core tasks, but they lag behind in single core. These tests show the higher boost clocks from the latest generation of Intel Xeon processors really help.
To put the numbers into perspective, our single-core score gets close to the 2017 5K iMac with i7, which is the fastest single core Mac, coming in at 5,681. The iMac Pro also beats the standard iMac's multi-core score of 19,353, with a 61 percent faster score of 31,595.
The 8-core Xeon in the late 2013 Mac Pro scores scored 3,809 single-core and 22,540 multi-core. This machine came in at $7,300 for a similar configuration (8-core, 32 gigabytes of RAM, 1-terabyte SSD, D700 graphics) and currently sells for the same price as our iMac Pro — $4,999, but without a monitor, keyboard, mouse, or Lightning cable. But yes, you do get two black Apple Stickers.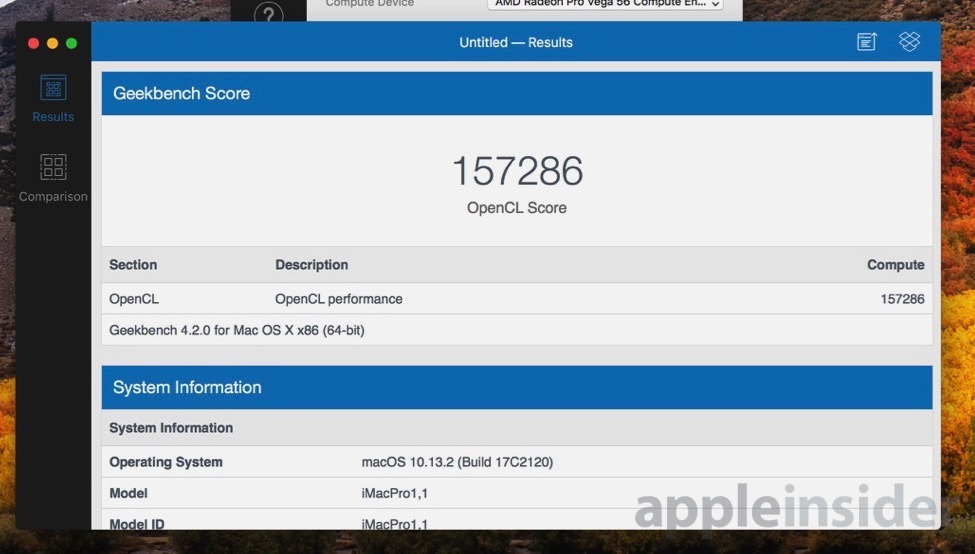 Looking at Geekbench 4 GPU compute performance, the AMD Radeon Pro Vega 56 with 8 gigabytes of video memory received a score of 157,286 in the OpenCL test, and 155,232 using Apple's Metal.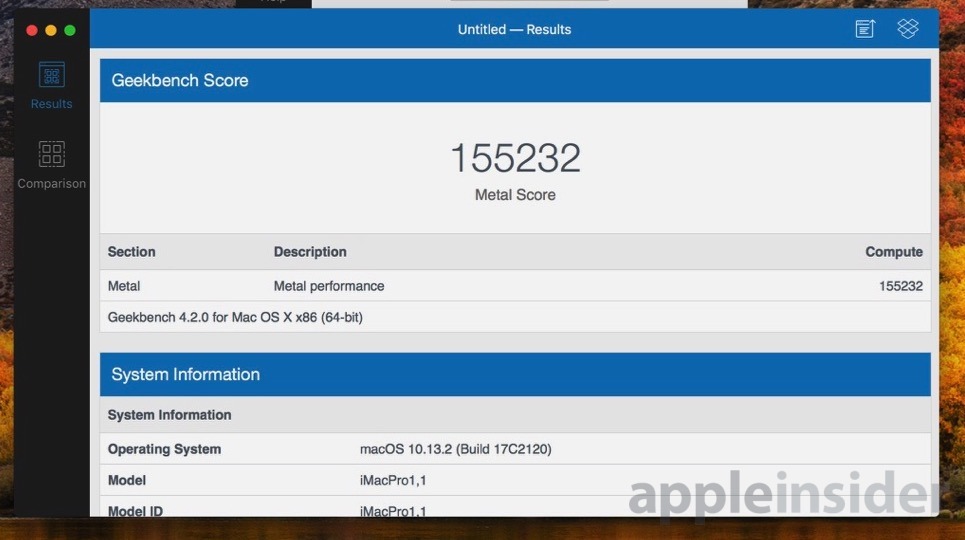 We'll be doing many more tests and comparisons with the iMac Pro in the coming days and weeks. Stay tuned to AppleInsider for full coverage, including our in-depth review. And to find the lowest price on an iMac Pro, be sure to visit the AppleInsider iMac Pro Price Guide.