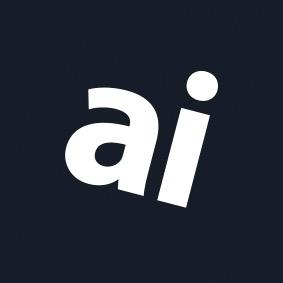 Why you can trust AppleInsider
Review: Apple's powerhouse iMac Pro wows with stellar performance and design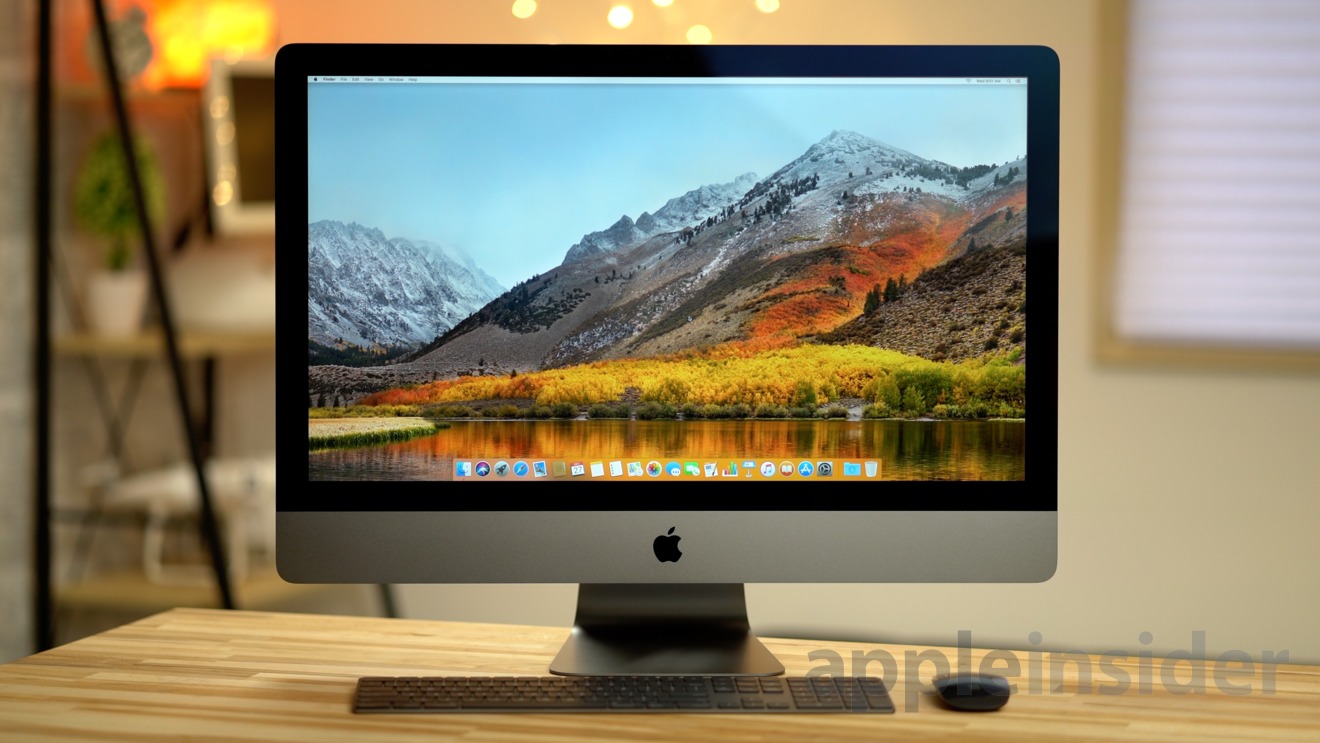 Apple iMac Pro (2017)
4.5 / 5
---
Apple's new, high-end iMac Pro packs a ton of power into a svelte, all-in-one desktop machine. Its performance and style are more than enough to impress, giving professional users a much-needed workhorse option in the iMac lineup — provided you can stomach the $5,000-and-up price tag.
After the Mac Pro languished for years, many high-end users assumed Apple was exiting the professional PC market for good. Then this year, Apple surprised by unveiling the iMac Pro, marking the first time it has made a pro-focused version of the long-running iMac desktop.
Offering up to 18 cores, AMD's latest and most powerful graphics cards, 128GB of DDR4 ECC RAM, and 4 terabytes of the fastest NVME storage on the market, Apple didn't skimp.
Who is all of this power for? Is there really a market for a machine that starts at $4,999 and can be specced out to a grand total of $13,199? Apple seems to think so, and after testing the new iMac Pro, we agree.
Who would buy a non-upgradable, expensive machine?
I come from a video production background and a lot of the freelancers and production studios that I network with are choosing to buy iMacs over Mac Pros, even a few years back, when the black cylinder model was still respectable performance wise.
Most of those who bought an iMac did so because of the sleek and slim all-in-one package that's an excellent value, once you factor in the high-quality display. In the last few years, the iMac has started outperforming many of the now 4-year-old Mac Pro configurations, which made buying an iMac an even better choice.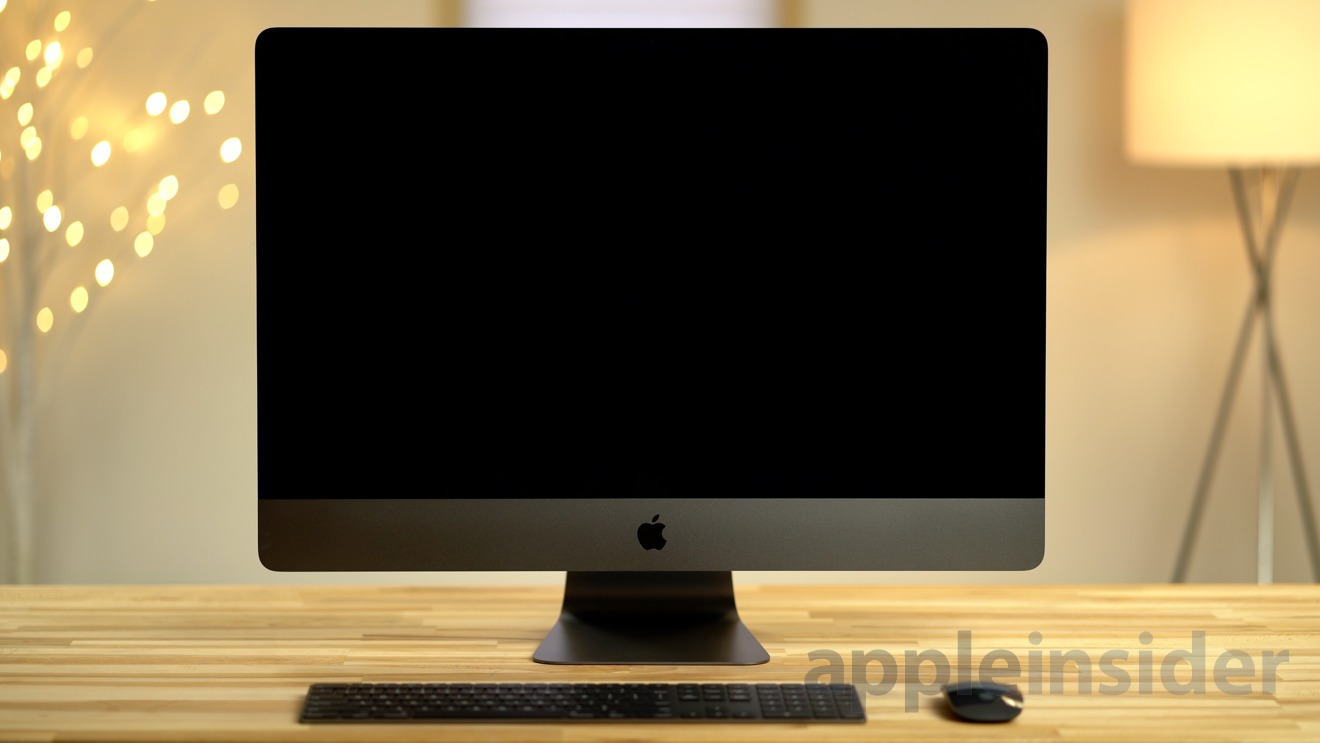 It may seem that those making a living with a high-end computer would want a machine that is user upgradable — which is true in some cases — but talking to many of my colleagues, most of them buy a machine and use it for three to five years, until they feel like it's time to buy a new one.
Most pros I know want something that's quick and easy to setup up, a machine that performs well and is reliable, and is backed up by a solid company and warranty should issues arise. That has typically been an iMac, but for those who have wanted a bit more power (or a lot more), enter the iMac Pro.
Striking on the inside and outside
Apple made a smart color choice the iMac Pro. The space grey finish is striking. Just like with many other Apple products, you'll instantly know what you're looking at. There will undoubtedly be people with with large budgets buying an iMac Pro just for the exclusive color. I know I would if money wasn't an issue.
Also in the box is a matching space grey Magic Mouse 2 and Magic Keyboard 2, which for the first time features a numeric keypad in a wireless Apple keyboard. This new keyboard is available for purchase separately but the space grey models only ship with the iMac Pro. A space grey Magic Trackpad 2 is also available, but only if you purchase it with your iMac Pro.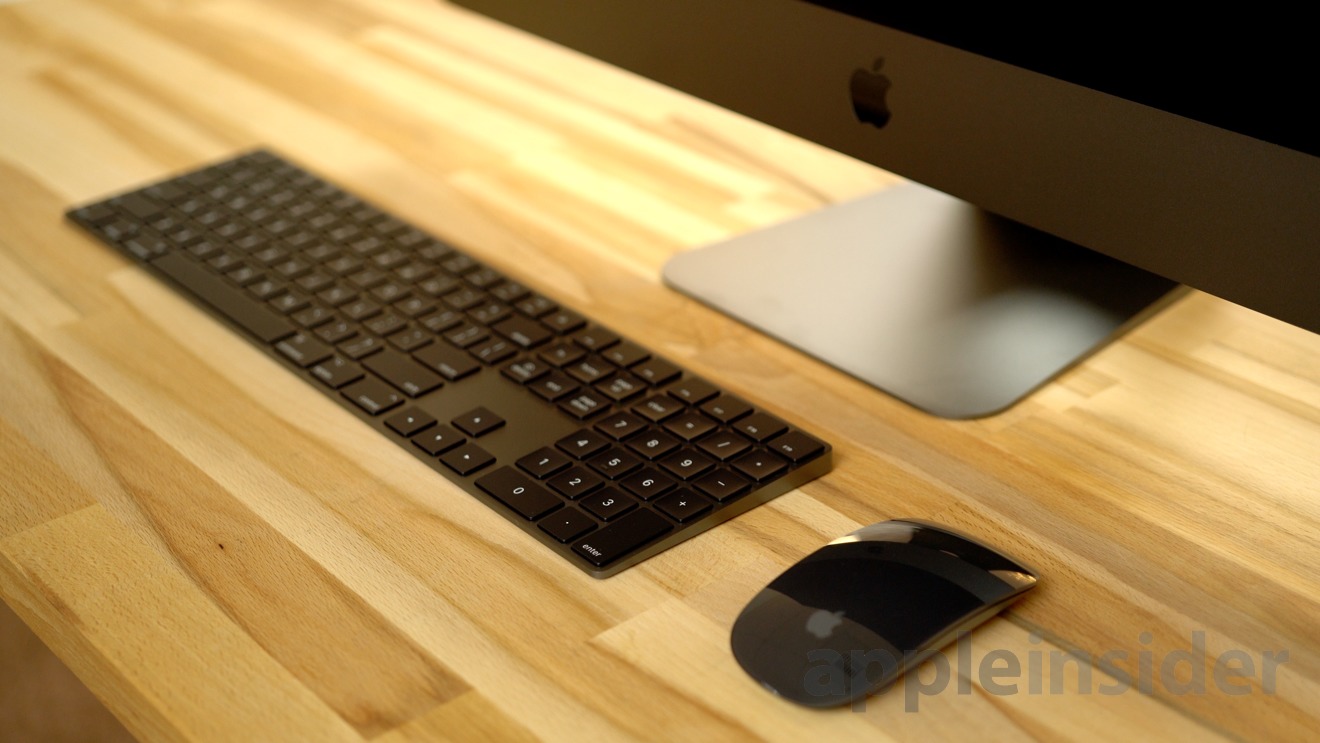 The white power cable is now black, along with the included Lightning cable for charging the peripherals. And yes, it comes with two black Apple stickers.
Standard hardware, updated
After year of similar hardware specs, Apple has upgraded many of the necessities. For the first time in a Mac we have a 1080p FaceTime camera that looks worlds better than the 720p camera found in other Macs. The system also boasts four mics instead of one, which sounds better, but also picks up more background noise.
The SD card reader now supports UHS-2 cards for transfer speed up to three times faster, and for the first time ever in any Mac it has 10Gb ethernet networking. This is great for anyone who wants to work with media on a server. The previous iMac required adapters that started at $300, and used up one of your two Thunderbolt 3 ports.
After getting used to my Macbook Pro's 4 Thunderbolt 3 ports, the regular iMac did feel a little bit limiting, but the iMac Pro now has four ports. With these you can hook up drives, RAID systems, accessories, and up to two 5K displays or four 4K displays.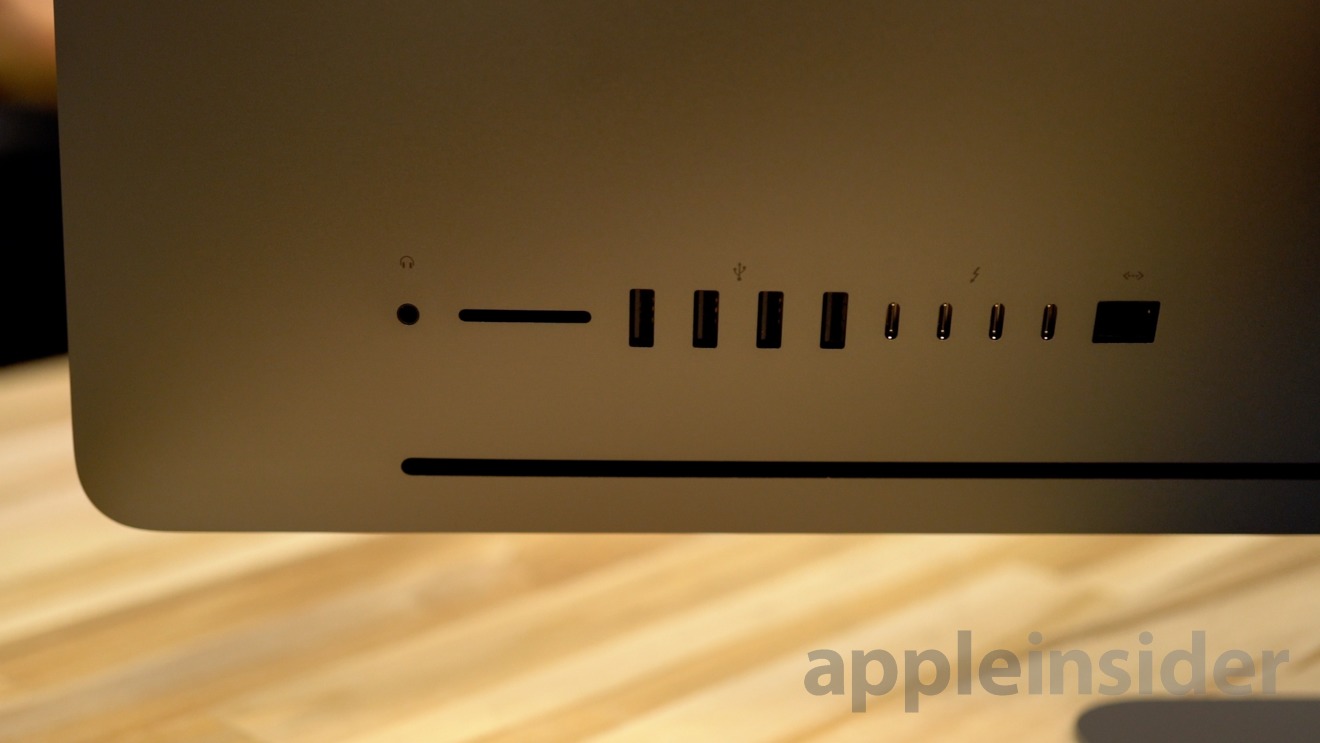 The iMac Pro boasts the same 5K display as the 27-inch iMac, which is a great thing. The screen is super sharp, bright and accurate.
Finally, the system also has updated speakers, which are both louder and have more bass.
Internals
On the outside, other than the color, the iMac Pro looks similar. But on the inside, it's completely new.
To make sure the temperatures stay down, Apple completely redesigned the cooling system with dual fans, a massive heatsink, and extra venting. This results in almost 75 percent more airflow and an 80 percent increase in system thermal capacity. This lets the iMac Pro handle 500 watts of power — 67 percent more than the previous iMac.
This makes room for the powerful Intel Xeon processors, which start with 8 cores. These can be upgraded to 10 cores for $800, 14 cores for $1,600, and 18 cores for $2,400. What's interesting is the 10-core has a higher maximum boost clock of 4.5GHz compared to 4.2GHz on the 8-core. This is the first time we've ever seen a higher core count CPU boost higher, as clock speeds typically decrease as core count increases. Both 14- and 18-core Xeon CPUs also have 4.3GHz Turbo Boost speeds, higher than of the 8-core.
For graphics, the iMac Pro base model comes with a Radeon Pro Vega 56 with 8 gigabytes of video memory, AMD's second most powerful graphics chipset. For an additional $600, you can double the HBM2 Memory to 16 gigabytes, and get AMD's most powerful offering: the Vega 64.
Thankfully, the iMac starts you off with 32 gigabytes of 2666MHz DDR4 ECC memory. For $800 it can be bumped up to 64 gigabytes, and $2,400 will max it out at 128 gigabytes of RAM. The last option you get is a choice of one of the fastest NVME SSD drives, starting at 1 terabyte. Apple offers a 2-terabyte configuration for $800 more, while a massive 4-terabyte drive will run $2,400 extra.
Upgradeability
Even though the iMac Pro is completely sealed, many of the components are socketed. A breakdown of the iMac Pro by MacSales shows that the SSD, RAM, and CPU are socketed, meaning they could be upgraded down the line. RAM has been one of those things that we've been able to upgrade over the years, and this is the first 27-inch iMac where we no longer have easy access to the RAM.
I don't think this decision was to force users to buy more RAM upfront at high prices, even if you don't yet need it. Instead, this lets Apple achieve the cooling performance that they needed for the high end parts. The system uses full-size DDR4 ECC RAM in order to have a maximum of 128 gigabytes of RAM, so that RAM takes up a lot more room inside of the machine. In addition, if you look at Apple's cooling schematic, air is brought up right over the full size RAM sticks. A door could disrupt the airflow, and the cooling capacity.
Opening up an iMac and upgrading your RAM, SSD, and even CPU will be a possibility and isn't too difficult to do as long as you are patient and follow a decent guide. But it will void your warranty. In our opinion, it's definitely not yet worth it, especially because the current high prices of RAM make it a lot less lucrative to upgrade yourself, and the prices of these Xeon chips are still at MSRP, if you can even buy them.
But it's good to know that 3-4 years down the line, when your warranty has expired and the prices of RAM and second-gen Xeon chips have come down dramatically, you could potentially upgrade your iMac Pro and get some more life out of it.
The only part that isn't upgradable is the graphics chipset, which is a part of the motherboard, so if you're going to keep the system long-term — especially with the thought of upgrading components later — we would suggest springing for the $600 Vega 64 upgrade.
Configuration for Review and Comparisons
For our review, AppleInsider tested the base model $4,999 iMac Pro with an 3.2-4.2GHz 8 Core Xeon processor, Radeon Pro Vega 56 8-gigabyte graphics card, 32 gigabytes of 2666MHZ DDR4 ECC memory, and a 1-terabyte SSD. We think it strikes a good balance between a regular iMac and a high-end iMac Pro, and with a $1300 price hike from a high end 2017 iMac 5K, with similar RAM and SSD capacity. It represents a price increase that many pros could justify spending for better performance, double the Thunderbolt 3 ports, 10Gbe, and the various other improvements.
In our benchmarks and tests, we put it against a mid 2017 iMac 5K with 32GB of RAM, Intel quad core i7 4.2-4.5GHz 7700K CPU, and Radeon Pro RX 580 GPU with 8GB, making it the fastest regular iMac available.
We chose to focus on testing the applications that are most used by professionals in the market for an iMac Pro.
Benchmarks
In terms of performance, the iMac Pro feels snappy in regular use, even though its eight-core Xeon processor runs at a slower clock speed than four-core iMacs.
Taking a look at Geekbench 4, a benchmark that looks at all-around performance, our 8-core Xeon scored a respectable 31,159 multi-core score, and even more impressive 5,088 single-core speeds, which supports the snappy performance we felt in regular use.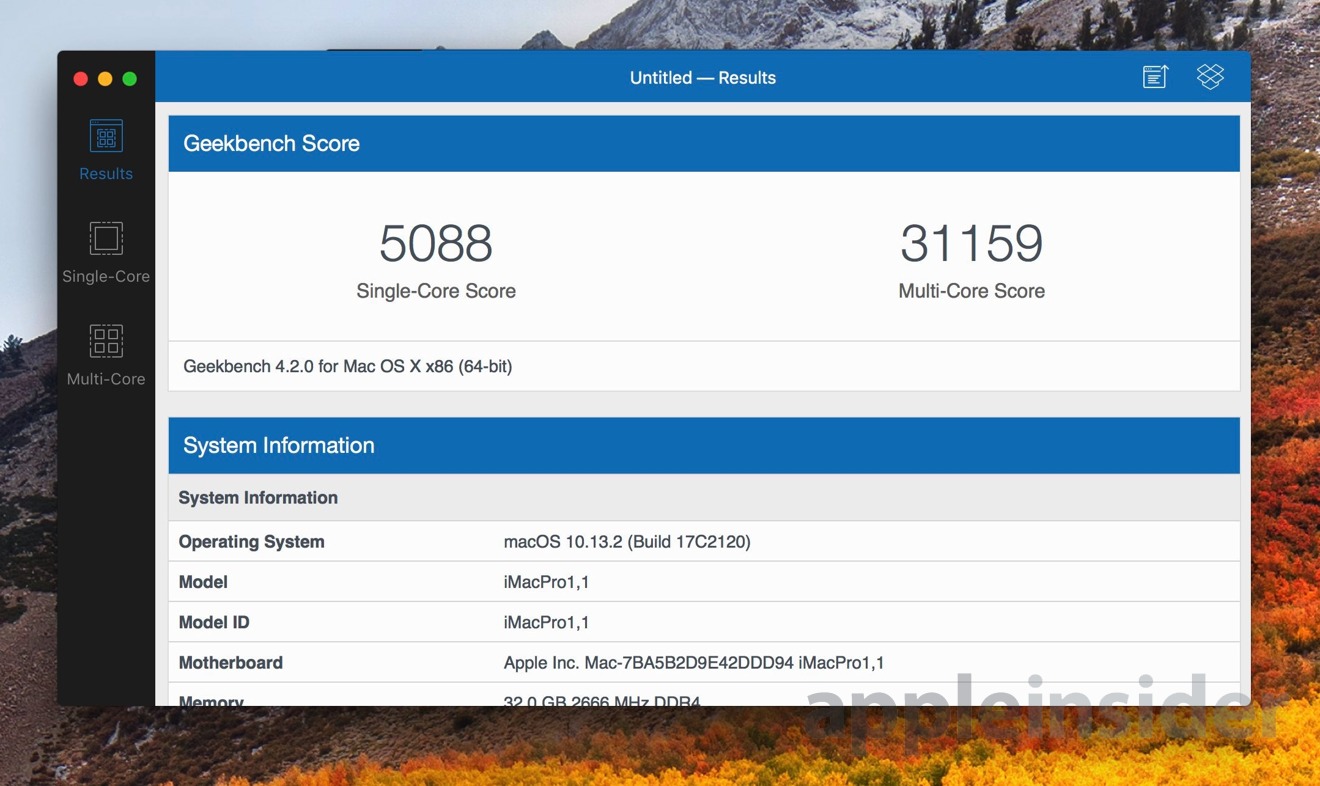 Typically, Xeon processors are great for multi-core tasks, but they lag behind in single core performance, which can make a high end system feel slower in day to day use. These tests show the higher boost clocks from the latest generation of Intel Xeon processors really help.
To put the numbers into perspective, our single-core score gets close to the 2017 iMac 5K with i7, which is the fastest single core Mac, coming in at 5,681. The iMac Pro also beats the standard iMac's multi-core score of 19,353, with a 61 percent faster score of 31,595.
The 8-core Xeon in the late 2013 Mac Pro scores scored 3,809 single-core and 22,540 multi-core, showing how much progress has been made with 8-core Xeons in 4 years.
Looking at Geekbench 4 GPU compute performance, the AMD Radeon Pro Vega 56 with 8 gigabytes of video memory received a score of 157,286 in the OpenCL test, and 155,232 using Apple's Metal. That 35% and 40% improvements in graphics scores.
Running Cinebench R15, a 3D rendering benchmark, our 8-core iMac Pro scored 1682 in multi-core and 176 in Single core performance. Our standard iMac scores 930 in multi-core, and 186 in Single core, so roughly 80% faster in full CPU load load and almost the same with simple tasks, impressive!
3D Performance
To get a grasp on gaming performance, we ran the old but popular Unigine Heaven benchmark using the Extreme setting. Our 2017 iMac 5K received a score of 1041 with an average 41.9 frames per second, and the iMac Pro's Vega 56 scored a roughly 75 percent higher score at 1831 at 72.7 frames per second.
This machine isn't really designed with gamers in mind, but if you want to relax and play some games on your iMac Pro, it should be able to play most modern titles at high graphics settings with a 2560x1440p resolution under Boot Camp. From our experience with the 2017 iMac 5K, this 1440p setting is great for 200 percent scaling on the iMac display, and looks quite good. We will be looking a bit closer at gaming performance in a future article.
Photoshop 2018
We ran multiple tests in the latest release of Photoshop, with the most difficult being a nine-shot 42-megapixel RAW bracketed sequence for HDR from the new Sony A7R3. Using the build in HDR tool, we saw the most difference between the iMac and iMac Pro with about a 20 percent speed improvement, taking 1 min and 28 seconds on the iMac Pro, compared to 1 min and 44 seconds with the 2017 iMac 5K. If you're merging a lot of high megapixel RAW images, this difference could be worth spending the extra with for the iMac Pro in the long run.
For most people who are working with lower resolution or smaller HDR sequences, the difference is very minimal. We ran a series of filters and corrections and there was practically no real world difference. Applying noise reduction to a 42-megapixel RAW file shot at 12,800 ISO (a lot of noise) was one second faster on the new iMac Pro, at 8 seconds.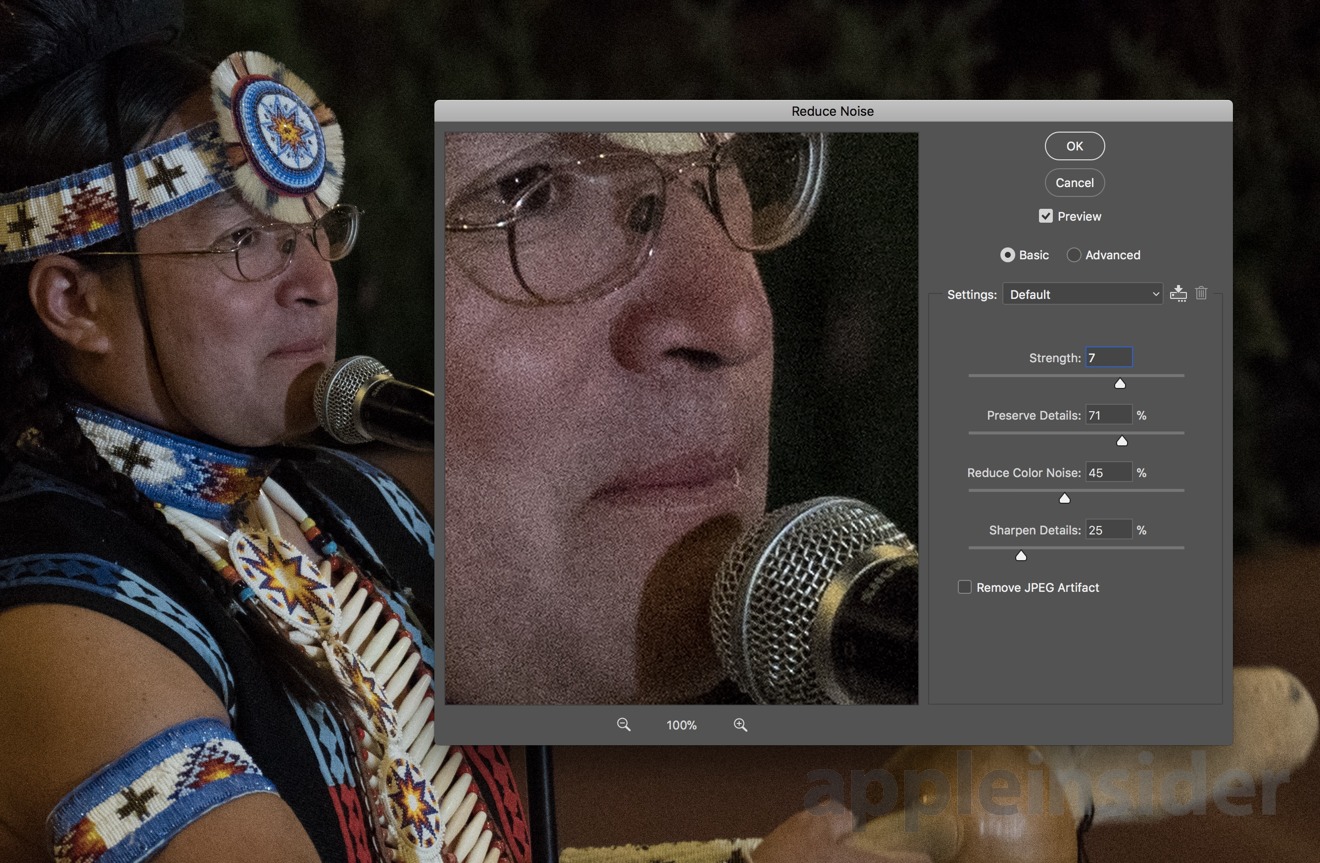 Photoshop runs so fast on the latest standard iMac that the extra power of the iMac Pro isn't really noticeable in real world results, so unless you have specific needs where small differences in power will be worth the upgrade — or other needs that the iMac Pro meets like quad Thunderbolt 3 or 10-Gigabit Ethernet — you'll likely be better off with the iMac 5K with some upgrades.
The latest Lightroom Classic
Testing Adobe's recent redesign of Lightroom, now dubbed "Lightroom Classic," we imported 50 42-megapixel RAW images from the Sony A7R3. On lower end machines, like our 13-inch MacBook Pro, these high-resolution RAW images can really be a drag in Lightroom. But both the iMac 5K and the iMac Pro handle them without issue. It only took one second longer to import the 50 images with the iMac 5K, 8 seconds instead of 7 — both numbers you wouldn't complain about.
Next, we exported the 50 images to JPEG at a quality setting of 85 percent (our preferred setting for zero visual quality loss but smaller files) and standard sharpening for displays. The iMac Pro was about 40 percent faster taking 1 minute and 7 seconds, compared to 1 minute and 53 seconds.
We then tested converting to DNG files, where the iMac Pro was about 25 percent faster. The 50-image sequence takes 58 seconds to complete the task, versus 1 min and 12 seconds on the standard iMac.
To finish off, we generated 1:1 previews for all 50 images. The iMac pro finished in 57 seconds, 55 percent faster than the regular iMac's 1 min and 27 seconds. These results were quite surprising, as we typically see slower results from older workstation CPUs compared to consumer chips.
During standard photo editing, the only noticeable difference was applying noise reduction to the RAW files, and even then it was very slight. The standard iMac took about half second to process the noise reduction, where the iMac Pro was just slightly faster. It was hard to put a number on, but noticeable. Any slight UI lag that we experience when working on our high resolution RAW images was just the same with the $4,999 machine.
If you don't edit a lot of images, these speed improvements may not mean a lot to you, and you'll be plenty happy with the very capable iMac 5K with i7 processor, But if you're working with very high resolution RAW images, like the new Phase One XF 100MP system, or you're a photographer that processes thousands of RAW files, the speed rendering improvements will be gladly accepted.
After Effects 2018
We tested rendering performance in Adobe's After Effects by testing a benchmark sequence created by EQUILOUD. The sequence is 30 seconds long with a wide range of effects and can be downloaded on his Vimeo page. Our export settings were set to Quicktime ProRes 422.
The iMac Pro stayed fairly quiet and ran at full speed with render time of 5 minutes an 8 seconds, with an average CPU usage of 60 percent. Our standard iMac took 7 minutes and 7 seconds to complete the task, with its fans at full speed and the CPU running at 80 percent.
Final Cut X Video
All of the tests we ran were using the latest release of High Sierra, and running the just-released version 10.4 of Final Cut Pro X. It's interesting to note that our already very capable 2017 iMac 5K runs much faster in these tests compared to the last time we ran them under Sierra and Final Cut Pro X 10.3, in some tests 25 percent faster, and in others almost twice as fast.
It seems that Apple waited to release the new Final Cut update until the iMac Pro was about to ship, so we would figure that the editing software is well optimized for the new machine. But we did notice that the Vega 56 graphics card had quite a bit less overall usage than the Radeon RX 580 graphics in the standard iMac. It is possible (and we are hoping) that Apple will further improve optimization for the new hardware to speed up some of these results.
We started off running the popular benchmark "Bruce X," which is used to mainly test the graphics rendering performance in Final Cut X. The iMac pro took 15.5 seconds to render the 5K sequence to ProRes 422, where our iMac took 17 seconds — less improvement than we had hoped for.
Next we stabilized a 20-second 4K clip, which took just 7.5 seconds on the 2017 iMac 5K, and relatively much longer 13 seconds with the iMac Pro. The iMac achieved this speedy score by maxing out the graphic at 100 percent during the stabilizing process, where the iMac Pro only ran its graphics at 40 percent.
Exporting a 5 minute H.264 1080p project with 2 LUT's and film grain applied took 2 minutes and 27 seconds on the iMac Pro, and took 2 min and 3 seconds with the standard iMac, coming in 25 percent faster. Running a the same project but in 4K we had longer render times but a similar result with the standard iMac coming in at 28 percent faster.
To finish of our standard suite of editing tests, we exported a 20 second 4K project consisting of four 4K clips scaled into a 4K timeline, each with 2 LUT's and film grain applied, with 2 of those clips being reversed. This is designed to put the maximum strain on the CPU and GPU and used to take over 10 minutes with most editing programs. But the latest computers and software updates have made it much faster. Our iMac 5K took just 30 seconds to render, while the iMac Pro took 36 seconds.
Intel Quick Sync
This is a good time to mention Intel Quick Sync. During most of these test the iMac was using much more of its GPU and CPU, which really helped it render the projects quicker, but in addition Final Cut uses Quicksync built into the integrated graphics to speed things up. This doesn't help the actual video editing process, but it does improve encoding times. Since Xeon processors don't have integrated graphics, Quicksync is absent as well.
Due to the lack of Quicksync, the late 2013 Mac Pro was quite a bit slower than their iMac counterparts when it came to exporting H.264 video from Final Cut. In our tests after the cylindrical Mac Pro was released, the iMac was two to three times faster when encoding pre-rendered projects. Thankfully the H.264 encoding efficiency of the latest Xeons has really progressed. It's nowhere near that much slower, but the difference is still present.
To get a little more in dept with a longer real world project, we exported a 34-minute tough 4K project with multiple 4K layers, color correction, and effects. Starting off with the effects pre-rendered to an MP4 file, to give the iMac the advantage of Quick Sync and not having to render it, took 15 minutes. The iMac Pro took a bit longer, as expected, but surprisingly not far off at 16 minutes and 8 seconds.
Next we deleted the render files, so both machines would have to render in real time, and selected a 4K ProRES 422 Master File, which is doesn't support Quick Sync. The iMac Pro exported in 17 min and 16 seconds and the standard iMac took 19 min and 32 seconds. Longer, but definitely faster than we expected.
We finished off our Final Cut tests by checking to see how long it took for both machines to background render the full the project without any encoding. The whole process was about 15 percent faster, taking 14 min and 58 seconds on the iMac Pro, and 17 min and 18 seconds with the standard iMac.
Throughout all of these tests, the iMac Pro's CPU was usually between 30 and 50 percent utilization, and the graphics stayed at half or below. Our standard iMac usually ran at 70 percent CPU usage or above, with the graphics usage also being higher, which explains why the performance is so impressive. We hope Apple will be doing more optimizations to make better use of the powerful hardware in the latest iMac Pro.
DaVinci Resolve 14.2
We ran similar tests as with Final Cut using Resolve 14.2, and the results were very close between the two machines. Stabilizing a 20-second 4K clip took 2 minutes and 10 seconds on the iMac 5K, 15 percent faster than the 2 min and 21 second time from the iMac Pro. Stabilizing video in DaVinci Resolve and Premiere Pro is inefficient, since so little of the CPU is used. Here, Resolve utilized 20 percent of the standard iMac CPU but just 10 percent of the Mac Pro CPU, explaining the slower time.
Exporting a 5-minute H.264 1080P project with 2 LUT's and film grain applied took 1 minute and 16 seconds on the iMac Pro, and 1 min and 24 seconds with the standard iMac. Running the same project but in 4K, the standard iMac was slightly faster, taking 3 minutes and 52 seconds to render, while utilizing 70 percent of the processor. That compared to the iMac Pro's 4 min and 1 second time with only 25 percent CPU usage.
Finishing off with our heavy duty 20 second 4K project, our iMac 5K took just 35 seconds to render, while the iMac Pro took 38 seconds. The trend continues: the iMac Pro utilizes much less of the available CPU power.
If you're editing H.264 footage and use Resolve, we really don't see a big reason to buy the iMac Pro.
Premiere Pro 2018
Premiere Pro is where we first start to see some actual improvements. Stabilization is till slightly slower with the iMac Pro taking 4 minutes and 45 seconds on the iMac Pro, versus 4 minutes and 6 seconds for a 20-second 4K clip.
Our 5-minute H.264 1080P project with 2 LUT's and film grain applied took 2 minutes and 3 seconds on the iMac Pro, and 2 min 27 seconds with the standard iMac, roughly 35 percent faster. Running the same project in 4K the iMac was slightly faster, taking 8 minutes and 32 seconds to render, while the iMac took 11 minutes and 14 seconds, another 35 percent improvement.
Finishing off with our heavy duty 20-second 4K project, the iMac 5K took just 3 minutes and 25 seconds to render, while the iMac Pro took 1 minute and 29 seconds — almost twice as fast.
If you're editing H.264 footage, this is the first NLE editing program which makes sense to pay extra for the iMac Pro in regards to performance.
RAW Video Editing
In the last few years, high-end cameras that shoot RAW video have become a lot more accessible, but machines to smoothly edit native RAW footage were very inaccessible. Even if you could afford the a very high end system, the performance was often still lacking. With the launch of Intel's i9 and W series processors, and the release of AMD's Ryzen and Thread Ripper chips, RAW editing has come into the realm of possibility for a lot more people.
With Apple's release of the iMac Pro, those who prefer macOS or are tied to Final Cut, like myself, can now properly edit RAW video — even with the base model iMac Pro.
Canon Cinema RAW Lite
Right around the launch of the iMac Pro, Canon released their plugin allowing Final Cut Pro X to read their latest RAW format "Cinema RAW LITE" from the C200. The iMac Pro was able to play back 4K 60FPS at full resolution, with effects and color correction, without dropping any frames. Meanwhile our standard iMac was too choppy to playback, even without effects. You could drop Final Cut Pro X playback setting to "better quality," which will allow for playback, but the image gets very soft and makes it difficult to edit.
We exported a 5-minute 4K 60p project with color corrections and effects applied, and our iMac Pro finished the job faster when rendering to H.264, taking 7 minutes and 28 seconds, versus the standard iMac's 8 minutes and 33 seconds. Interestingly, when we rendered to ProRes, the iMac was even faster at 6 minutes and 12 seconds. The standard iMac ran slower at 11 minutes and 14 seconds — close to twice as long.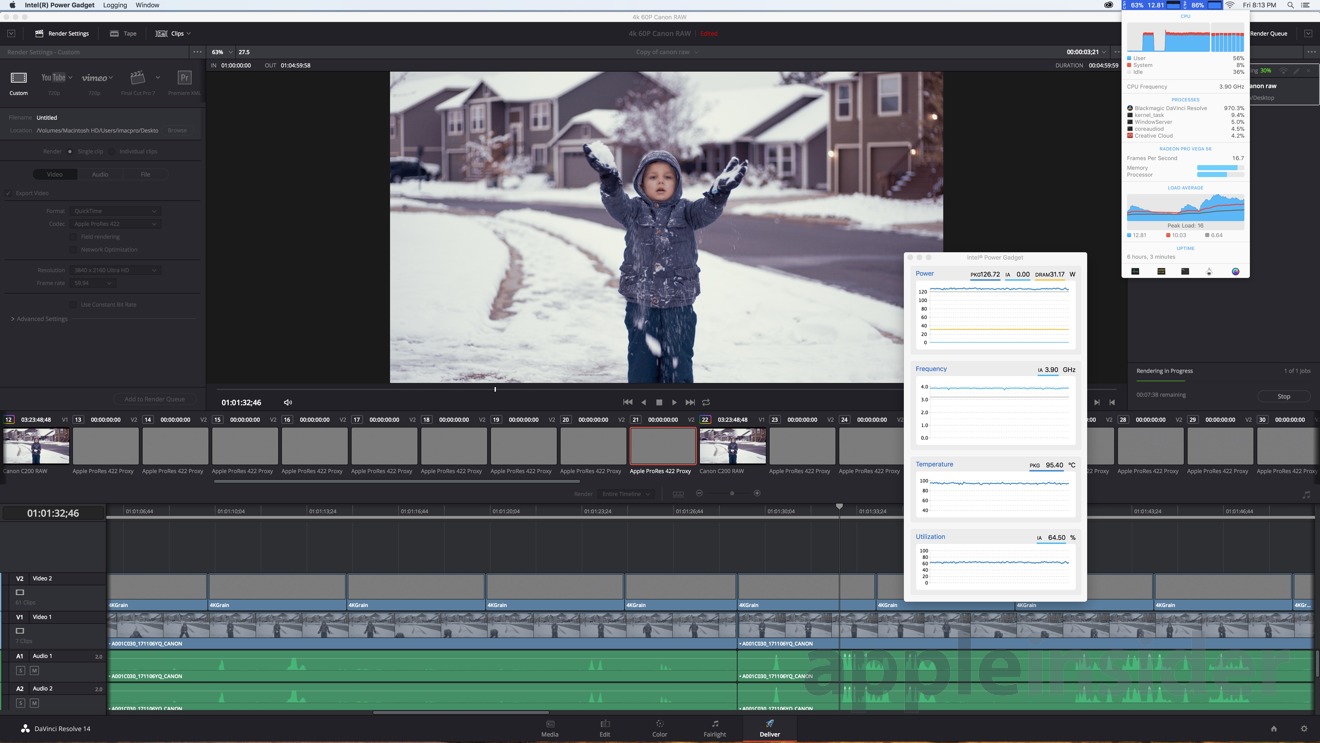 Testing the footage in DaVinci Resolve, which was the first editor to support Canons RAW format, the iMac Pro was able to play back 4K 60 frames per second at full resolution without dropping any frames, where our standard iMac was too choppy.
Unfortunately, once we added LUTS and color corrected the RAW footage, we started to get dropped frames. If we were working with 24 or 30 frame per second footage, the base iMac Pro would pull it off, but for Canon 4K 60p RAW files, you'll need to go with a higher spec model (10 core Vega 64 should do the trick for regular editing), or you can convert to ProRes or Proxy Files.
Exporting a 5 minute color-corrected project, the iMac Pro was about 45 percent faster, taking 10 minutes and 20 seconds, compared to 15 minutes and 2 seconds.
Premiere Pro does not yet support Canon RAW files, so we were not able to test them.
Red RAW 4.5 and 8K footage
We started off by testing 24fps Red RAW footage in Final Cut Pro X. I was really hesitant, as it was always way too difficult to edit, so it always needed to be transcoded first. Surprisingly, the iMac Pro played back full resolution 4.5K Red RAW footage with effects from the Red Raven camera with only a few dropped frames. The standard iMac struggled to do this even when switched to the soft "better performance" setting. Rendering 5 minute color corrected projects to ProRes took 6 minutes and 45 seconds on the iMac Pro, while on the 2017 iMac 5K they took a whopping 33 min and 24 seconds on our 2017 iMac 5K. The iMac Pro was close to five times faster.
In DaVinci resolve, the 4.5K 24fps RAW from the Red Raven is can almost be played back smoothly at full resolution in with effects, but dropping down to half resolution gets us there. The iMac struggled even at one-quarter resolution, and was dropping some frames. Rendering out a 5-minute color-corrected project to a 4K ProRes file took 6 minutes and 12 seconds, versus 7 minutes and 35 seconds on the 2017 iMac 5K, so about 25 percent faster on the iMac Pro.
The same project took 7 minutes and 41 seconds rendering in Premiere with the iMac Pro, where the standard iMac took 30 min and 51 seconds, about 4 times as long. Along with that, the iMac Pro was able to playback the file almost perfectly smoothly with effects, while the iMac 5K had to be dropped down to one-quarter resolution — even without any color corrections.
Moving onto Red 8K RAW in DaVinci Resolve, we had to place them into a 4K timeline, since we don't have the studio version of Resolve 14. Playing back 8K Red RAW files is possible on the iMac Pro at one-quarter resolution debayer in a 4K timeline, with really smooth performance — even with multiple LUTS and color correction. The iMac requires dropping to one-eighth resolution, which isn't great for for editing due to lack of playback detail.
A 5-minute project took 10 minutes and 16 seconds to render to a 4K ProRes file (not 8K like Final Cut Pro X and Premiere), about 50 percent faster than our iMac at 15 minutes and 17 seconds.
Premiere was able to play back the 8K Red RAW at half resolution in an 8K timeline, with one color correction applied with the iMac Pro. More than that and it's worth dropping to one-quarter resolution, which still looks great with an 8K timeline. The regular iMac 5K can play back 8K at one-quarter resolution, but without any effects, or else it gets choppy. Once again, our 5-minute 8K render to an 8K ProRes file took 42 minutes and 29 seconds with the iMac Pro. In comparison, it was a whopping 2 hours, 2 minutes and 6 seconds with the iMac 5K.
In Final Cut Pro X, under the latest update, we were able to make an 8K project and edit the Red 8K RAW footage using the "better performance" setting on the iMac Pro, even with multiple LUTs and color correction applied. Typically, when using the better performance settings in a 4K project, the image gets very soft, which makes it difficult to edit. Since we are working in an 8K timeline, the preview windows are still very detailed and fantastic for editing. I never thought an iMac would be able to edit RED 8K RAW, but here we are.
The standard 2017 iMac 5K wasn't even able to playback the RED 8K RAW footage in a 4K timeline (one-quarter the resolution). To make it even more interesting, the iMac Pro exported a 5-minute 8K video that had LUTs and effects about 10X faster, taking just 16 minutes and 52 seconds, compared to 2 hours, 39 min and 24 seconds with the regular iMac.
Here we finally see where the huge improvements are. If you're editing RAW footage, be it Canon RAW, RED, or otherwise, the iMac Pro really has a huge advantage.
Maya 2018
The last test we ran was the "Model Village" from Solidworks, using the Arnold render engine included with Maya. We rendered the model in a 640 by 480 resolution out to a ProRes 422 file, and our iMac Pro took just 27 seconds to render, compared to 56 seconds with the iMac 5K, so about twice as fast.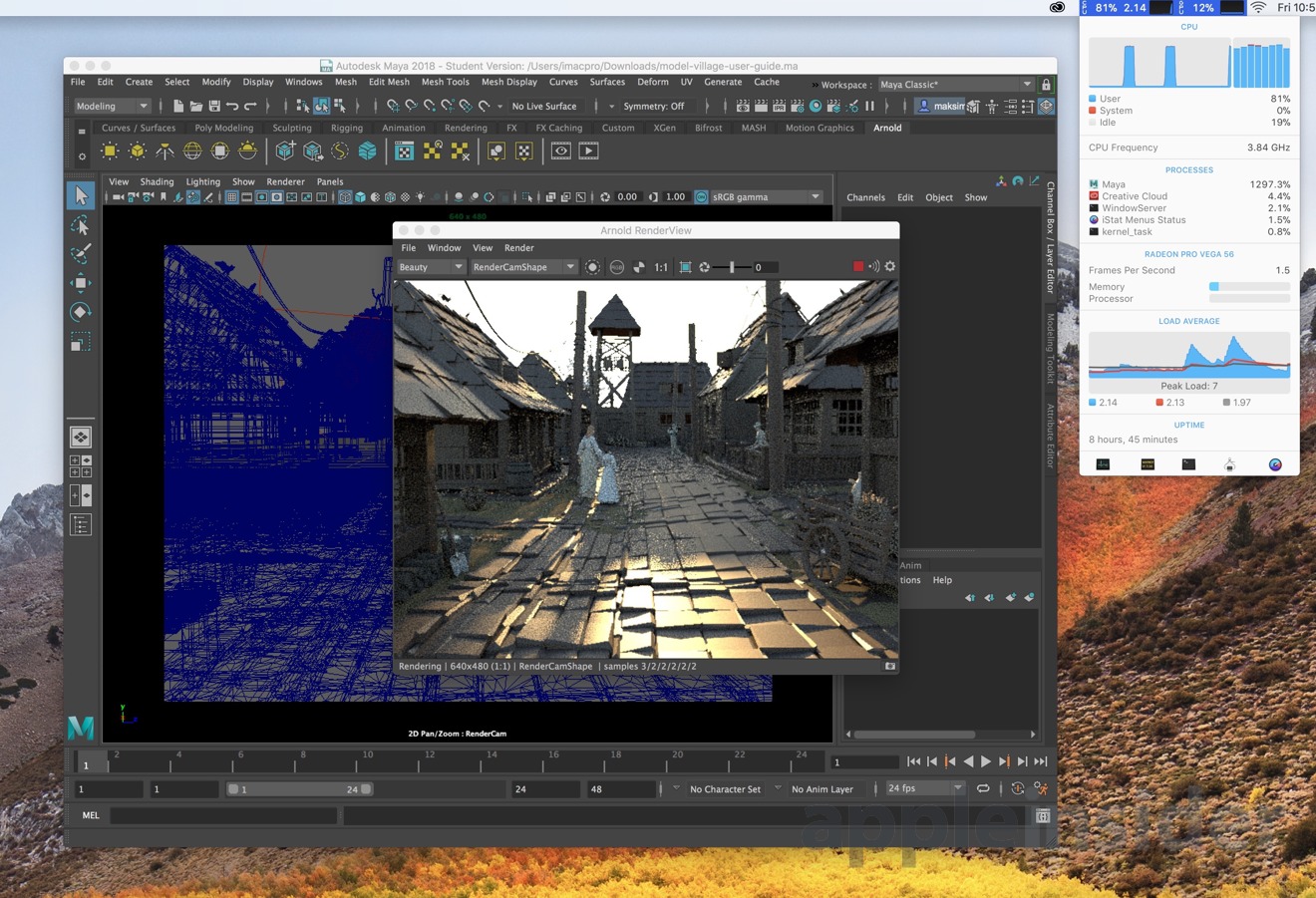 The Arnold render engine scales very well, so if you're working on different projects and resolutions, the performance difference is similar, and the extra price of the new iMac 5K is definitely worth it.
Thermal throttling and clock speeds
The iMac Pro is very quiet. Apart from the fans kicking up momentarily when we cold boot into macOS, the fans are virtually silent — even when doing 4K video editing. When we ran the same tests on our regular iMac, the fan was running at full blast.
The 8-core Xeon processor has a base clock rating of 3.2GHz with a maximum Turbo Boost clock speed of 4.2GHz, if doing simple tasks. Under full CPU usage, like the tests we are running, the maximum turbo boost is 3.9GHz.
We started off our tests using Cinebench R15, where our iMac Pro received an impressive multi-core score of 1,682 — 80 percent faster than the fastest regular iMac. During the first few consecutive runs of the CPU benchmark, our clock speed stayed at the maximum 3.9GHz.
After the second test, each additional run would cause the iMac Pro to slow down the CPU when the temperature reached roughly 94C, which caused the clock speed to drop from 3.9GHz to about 3.6GHz for a second or two. This allowed the CPU to drop below 92C, and the clock speed to rise back to the maximum turbo boost of 3.9GHz.
Even after 10 consecutive benchmarks, the iMac Pro fans were barely audible. Instead of ramping up the fan speed to keep the CPU at its maximum turbo boost speed, the iMac Pro just kept the cycle going, with the clockspeed dipping every 10 seconds or so while staying very quiet.
The next thermal test we ran was transcoding 4K HEVC video to Apple ProRES, which consistently maxes out the CPU. After first 30 seconds, the CPU reached 75C and the clock speed stayed at the maximum 3.9GHz. An additional 30 seconds brought the temps up to 85C. Three minutes into the test, we saw our first short dip in maximum clock speeds, with the Mac dropping to 3.63GHz for just over a second once the temps reached 93C, and then right back up to 3.9GHz.
We recorded the same behavior for the next 7 minutes in the test, with dips to 3.63GHz when the processor hits 94C, and overall CPU temperatures ranging between 90C to 94C.
Unfortunately, none of the many fan speed applications we tested measured correct fan speeds, and none of manual fan controls are working either. So we're just not sure how fast the fans were running during those tests. We speculate they are just above idle, since they were very quiet.
Just like with most previous Macs, Apple chooses to run their machines as quiet as possible, even if it means running the components very hot and having to slow them down. We expect these applications will be updated to support the iMac Pro, allowing you to set the fans to ramp up earlier and run faster.
The last test we did was running the same HEVC transcoding test, which completely maxes out the processor, and at the same time running Unigine heaven, which will run the graphics card at 100 percent as as well. The iMac Pro uses a single cooling solution for both chipsets, so this should put a lot more stress on cooling system.
This was the first time we heard the fan speeds get loud and reach what we think is the maximum speed, with the noise level being similar to that of the 2017 iMac 5K but with a deeper tone.
After 30 seconds, the 8 Core Xeon hit 94C, reaching the maximum temp allowed by the chip much quicker than before. The Radeon Pro Vega 56 graphics card was running at 64C.
One minute into the test, the CPU was showing the same occasional dips to 3.63GHz as it did in previous tests, with the graphics reaching 67C.
Three minutes in, our CPU started to dip down to 3.36GHz which it never had before, and it no longer bounced back to the maximum turbo boost speed of 3.9GHz. Instead, it maxed out at 3.63GHz. Our graphics card now reached 72C, which is quite cool for a GPU under full load. We ran the test for 12 more minutes and the results stayed practically the same. The graphics alternated between 72C and 74C, and then stayed at 94C with a frequency between 3.23GHz and 3.63GHz.
Unfortunately there isn't a way for us to check the frequency of the Vega 56 under MacOS, but at the end of our 15-minute test, the last graphics score we received was 1667 with an average 66 frames per second. This is roughly 10 percent lower than the score of 1831 we received when running the benchmark by itself, where the CPU isn't also being maxed at the same time.
To ensure that this performance loss wasn't due to limited CPU power going to the graphics benchmark, we monitored the percentage of CPU performance Unigine heaven was receiving. In both the isolated graphics test and simultaneous CPU and GPU benchmarks, Unigine was receiving the same 5 to 7 percent of processing power, meaning that 10 percent lower score is likely from the graphics chip throttling itself in order to keep the system from getting too hot.
It's important to note that this type of scenario, where both the CPU and graphics are both running at 100 percent for an extended period of time, is extremely rare. Even editing and render RED 8K RAW video — one of the toughest tasks for any machine — won't do that.
Along with that, the base clock speed for this Xeon 8 Core is 3.2GHz, a speed that the iMac Pro stayed above even when throwing the unrealistic maximum workload possible at the machine. The regular iMac, on the other hand, will run slower than its base clock speed — even without maxing out the system.
With that said, it is a bit disappointing to see Apple prioritize noise over performance and thermals on a high-end pro machine. We look forward to gaining manual fan control, in order to boost the fans just a bit under normal work, to keep the iMac Pro running at its maximum turbo boost speed.
Conclusion
The iMac Pro really is a "Pro" machine stuffed into a beautiful shell with mated with one of the best displays on the market. With the the base price coming in at $1,300 more than an iMac with the same RAM and storage, this will be a computer that makes sense for a lot of consumers.
If you're a photographer or a video editor that doesn't push your machine to its limits, it's likely that the iMac 5K will do a great job for you, and it even could be a bit faster in some tasks. But for those who have workflows suitable to parallel processing, and really need the extra push that the 8 or more cores will give you coupled with the Vega, this is the machine for you.
Score: 4.5 out of 5

The same beautiful Retina 5K display we love
Ability to finally edit RAW video on a Mac
A good value if you can make use of the power
No access to RAM slots without voiding warranty
Price goes north quickly if upgrading components
Fan stays too even under extended load
Where to buy
Shoppers looking for the absolute lowest shipped price on Apple's brand-new iMac Pro can find up-to-date deals and the lowest prices in our iMac Pro Price Guide. Several Apple authorized resellers also will not collect sales tax in a majority of states, potentially saving many shoppers another $400 to $1,055.