Intel 'Titan Ridge' Thunderbolt 3 chipset allows for 8K displays, better USB-C peripheral connectivity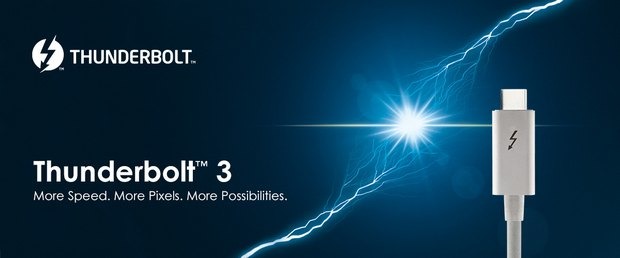 AppleInsider is supported by its audience and may earn commission as an Amazon Associate and affiliate partner on qualifying purchases. These affiliate partnerships do not influence our editorial content.
A new Thunderbolt 3 chipset has arrived called "Titan Ridge" that supports not only DisplayPort 1.4, but it also provides to vendors the ability to allow peripherals to fall back on USB 3.1 speeds if not connected to a Thunderbolt 3 host.
The new Titan Ridge chipset allows for a pair of DisplayPort 1.4 signals to be embedded into the connection. At present, Alpine Ridge in the 2016 and 2017 MacBook Pro allow for a pair of DisplayPort 1.2 connections.
As a result, the new controller allows for a 8K display to run at 30Hz without compression, or at 60Hz when Display Stream Compression is used. However, the bandwidth is still limited to 40Gbit/sec, so two 5K monitors are still not able to be connected in a daisy-chain configuration.
Full use of the DisplayPort 1.4 protocol needs a discrete GPU. Integrated GPUs are limited to DisplayPort 1.2, and cannot take full advantage of the new controller.
One of the new Thunderbolt 3 controller chips available from Intel is intended for peripherals, and would allow use cases like a Thunderbolt 3 RAID to connect to a USB 3.1 type C host at the slower speed allowed by USB 3.1. At present, with Alpine Ridge, the Thunderbolt 3 RAID wouldn't connect at all.
Existing Alpine Ridge peripherals are compatible with Titan Ridge devices, and vice versa. However, a Thunderbolt 3 chain appears to be limited to the least capable chip in the chain, so features like the ability to use a Titan Ridge Thunderbolt 3 peripheral at USB 3.1 type C generation 2 10Gbit/sec speeds won't be supported on a mixed chain.
Intel has not published pricing of the new Titan Ridge controllers and intends to do so later in the quarter. Intel has been supporting the chipset in software since the summer of 2017, while still shipping Alpine Ridge controllers.
At present, none of Apple's computers, including the newly released iMac Pro, has a Titan Ridge Thunderbolt 3 controller. It is not clear if new Thunderbolt 3 cables will need to be purchased to support the DisplayPort 1.4 embed, and the USB 3.1 type C fall-back.
Intel has plans to loosen up licensing restrictions on Thunderbolt 3 in 2018, as well as make the technology royalty-free.