Messages in iCloud returns in Apple's iOS 11.3 beta 1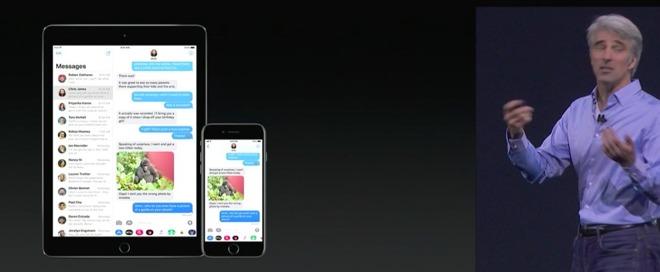 AppleInsider may earn an affiliate commission on purchases made through links on our site.
First announced last June at its Worldwide Developers Conference, Messages in iCloud have not yet launched, but could be coming to this spring's iOS 11.3 update, based on the first developer beta issued.
In detailing the features of iOS 11.3 on Wednesday, Apple made no mention of Messages in iCloud. But the company surprised later in the day with the release of iOS 11.3 beta 1, which includes Messages in iCloud "for testing and evaluation purposes."
Apple has notified developers that they will be asked to turn on Messages in iCloud on first launch after updating to iOS 11.3 beta 1. The feature is automatically enabled for users who have two-factor authentication and iCloud Backup enabled.
The Messages in iCloud feature synchronizes a user's Messages "stack" between devices seamlessly. Deleting a message on one logged-in device strikes it from all connected to the same iCloud account. In addition, only the newest messages would be stored on-device, with the rest held in iCloud and loaded only when needed.
Other features were not present in the final public release of iOS 11, including Apple Pay Cash and AirPlay 2. Apple Pay Cash ultimately launched in iOS 11.2 last year, but AirPlay 2 has been delayed and will not ship with the HomePod smart speaker, instead arriving later this year.