New 30% U.S. tax on solar cells threatens jobs, Apple's renewable energy efforts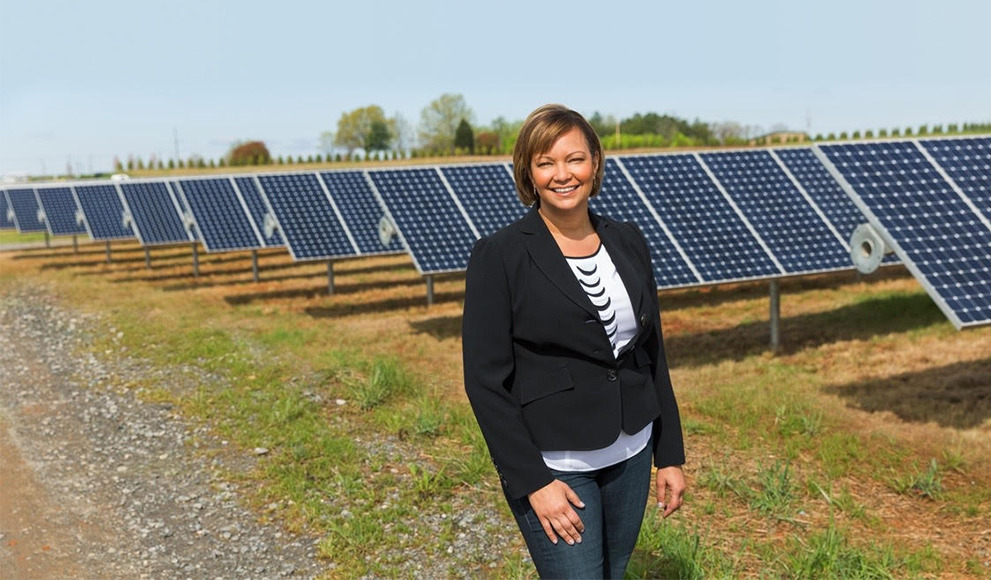 AppleInsider is supported by its audience and may earn commission as an Amazon Associate and affiliate partner on qualifying purchases. These affiliate partnerships do not influence our editorial content.
Apple has made solar energy a key part of its commitments to achieve 100 percent renewable energy use across its corporate, retail, production and even its data center facilities. However, a steep new American tariff slapped on all solar components threatens to derail the rapidly-growing American solar industry and kill tens of thousands of desirable jobs.
Lisa Jackson, Apple's Senior Vice President for Vice President Environment, Policy and Social Initiatives
This week, after U.S. President Trump chose to impose a 30 percent tariff on imported solar cells and panels, Abigail Ross Hopper, President and CEO of the Solar Energy Industries Association (SEIA) issued a statement saying that "while tariffs in this case will not create adequate cell or module manufacturing to meet U.S. demand, or keep foreign-owned Suniva and SolarWorld afloat, they will create a crisis in a part of our economy that has been thriving, which will ultimately cost tens of thousands of hard-working, blue-collar Americans their jobs."
Hopper added, "this decision is misguided and denies the reality that bankrupt foreign companies will be the beneficiaries of an American taxpayer bailout."
Eugene Wilkie of the Washington-based Now Solar, which bills itself as "your residential, commercial and farm solar experts," tweeted, "as a solar company, we are devastated to learn Trump has imposed a 30% tariff on solar panels virtually killing the solar industry. Solar employs more people than coal and oil combined. Today's decision will cause the loss of roughly 23,000 American jobs this year."
An ITC import battle among foreign owned corporations
Explaining the idea behind the new tax, Wilkie stated that "on one side are manufacturers SolarWorld, a U.S. subsidiary of a German company, and Georgia-based Suniva, majority-owned by a Hong Kong firm. Both complained to the U.S. International Trade Commission (ITC) that cheap imports, mostly from China, were killing them. They filed their ITC complaint under a seldom-used statute in which the criteria is nearly impossible to refute. Commissioners needed only to find that large numbers of an imported product were undercutting a U.S. manufacturer."
Growth in the U.S. solar installation industry has benefitted by rapidly falling prices in solar panels from China. American solar manufacturers have fallen behind in technology and production capacity because the U.S. hasn't invested in domestic solar research, development and production— just as it hasn't invested in manufacturing or training specialized tool and die workers and other critical components of the manufacturing supply chain— in the way China enthusiastically has. Much of the new research in solar technology has also been funded in Germany, which Wilkie said holds the majority of patents.
As a result, American firms can't compete in building inferior solar panels domestically, and can't even import foreign components to assemble panels in the U.S. due to the Trump tariffs covering anything related to solar. Rather than supporting domestic manufacturing of solar panels, which barely even exists, the primary impact of the new protectionism will be the killing of jobs of professional installers, the small businesses that hire them and of solar-related manufacturing.
Wilkie stated that the new tariff, according to solar industry projections, "will send the price of solar panels surging and halt hiring in an industry that has grown 17 times faster than the U.S. economy," adding that it is "projected it will cost the industry 88,000 jobs nationwide, about 34 percent of the 260,000 Americans employed in solar in 2017, according to calculations released last June by SEIA. At risk would be 6,300 jobs in Texas, 4,700 in N.C. and a whopping 7,000 in S.C."
Wilkie also noted that the U.S. government's investments and support of solar have always been dwarfed by direct subsidies paid out to the oil and coal fossil fuel industry, "corporate welfare" that tops more than $20 billion annually.
Calling the tariffs a "huge mistake," Wilkie stated that "our company, that does quite well, services farming areas where the majority are hardcore Republicans who invest in solar only because of its return on investment and ability to own their own financial destiny when it concerns energy. They have been blowing our phones up for the last four hours trying to get their systems purchased before the new tariff takes effect."
Solar employs more Americans than coal and oil combined
In a thread, Wilkie noted that "In the last decade, solar has experienced an average annual growth rate of 68%. Nearly 260,000 Americans work in solar— more than double the number in 2012— at more than 9,000 companies in every U.S. state," adding that "in 2016, Solar installed 39% of all new electric generating capacity, topping all other technologies for the first time. Solar's increasing competitiveness against other technologies has allowed it to quickly increase its share of total U.S. electrical generation."
Profiling the installers who work in the U.S. solar industry, Wilkie stated, "the solar industry employs the kind of 'forgotten' Americans whom Trump champions: small contractors who employ blue-collar workers earning a median of $26 an hour; one in 10 are veterans."
In addition to affecting solar installers, the SEIA estimates that the new tariff "will eliminate, not add to, American manufacturing jobs," noting that "there were 38,000 jobs in solar manufacturing in the U.S. at the end of 2016, and all but 2,000 made something other than cells and panels, the subject of this case. Those 36,000 Americans manufactured metal racking systems, high-tech inverters, machines that improved solar panel output by tracking the sun and other electrical products."
It cited Bill Vietas, president of RBI Solar in Cincinnati, as saying, "There's no doubt this decision will hurt U.S. manufacturing, not help it."
"This is a bad day for the U.S.," stated Costa Nicolaou, president and CEO of PanelClaw, an American racking company. "What's most disappointing is that the president sided with two foreign-owned companies and didn't listen to Americans from across the country and political spectrum who understood tariffs will cause great economic pain for so many families in the solar sector."
Apple's ambitious solar investments
Apple has long been a leader in U.S. solar installations. In 2012, Apple "built the nation's largest end user-owned, onsite solar photovoltaic array on land surrounding the data center" in Maiden, N.C., a 100 acre, 20 megawatt system (shown above) that the company subsequently doubled in size.
Apple has already built out much of its intended solar infrastructure in the U.S., and has also invested $850M in what Tim Cook called in 2015 its "biggest, boldest and most ambitious project ever," a long-term commitment to buy enough solar energy from a Monterey County solar field operated by First Solar to power all of its offices, retail sites and other facilities in California.
However, the new tax on solar components means that it will now be prohibitively expensive to procure solar panels or the parts needed to assemble them for use in the United States for most buyers, particularly including home, smaller commercial facilities and farm installations. And the tens of thousands of American workers who install or manufacture solar-related parts will be hit hardest, with no real alternative work available.
The move is also likely to shift Apple's investments in solar power to new installations outside the U.S., where advanced solar panels will still be available.