Sonos fires back at Apple's HomePod by offering a pair of One speakers for $349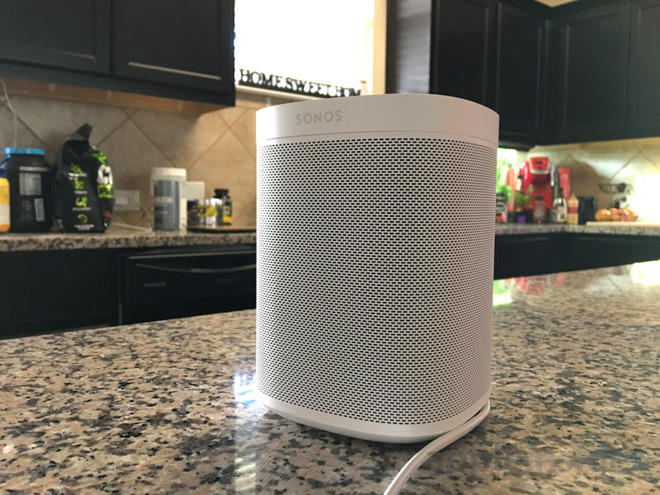 Responding to the imminent sale of the HomePod, Sonos has cut the price of the Sonos One, selling a two-pack of the speaker for $349 — the same price as one HomePod.
Individually, the Sonos One sells for $199. The limited time deal for a pair of them cuts the bundle price by $50, giving users an alternative to the HomePod for the same price.
Sonos has already said that the Sonos One will get AirPlay 2 compatibility at some point in 2018 — but like all the other manufacturers, there is no clear date. Apple has yet to roll out full AirPlay 2 functionality, with it appearing in the iOS 11.2.5 beta as a selectable option for rudimentary testing, and more completely in Wednesday's iOS 11.3 beta in conjunction with tvOS 11.3 devices as streaming targets.
The Sonos One is a a single-channel speaker, which can be paired with a second unit for stereo sound. At present, the device supports Amazon Alexa, with Google Assistant coming soon, and Siri support being added with the aforementioned AirPlay 2 update later in the year.
In AppleInsider's review of the Sonos One, we found it to fill a space with "extremely pleasing sound — in some ways surpassing a mid-range, 2.1-channel Logitech setup."
An hour-long hands-on session published on Thursday found the sound quality in the HomePod to be generally superior to that in the Sonos One.
The offering starts Friday — the same day HomePod preorders begin — in the U.S. and U.K. when purchased direct from Sonos. U.S. pricing is $349 for the pair, with U.K. pricing coming in at 349 pounds.