New Apple ad for iPhone X Animoji features Grammy nominees Childish Gambino, Migos
By Mike Wuerthele
Friday, January 26, 2018, 12:04 pm PT (03:04 pm ET)
Apple continues to embrace Animoji karaoke in its latest YouTube spot, using Childish Gambino's song "Redbone," as well as "Stir Fry" by Megos.




The ad with Childish Gambino's "Redbone" features the unicorn and alien Animoji, as seen on Apple's iPhone X.



The second ad uses the dog and poop Animoji, singing "Stir Fry" by Migos.



The ads are intended for the Grammy awards, and will play following the relevant artist appearances on the awards show on Jan. 28.

Apple does note that the video was "professionally animated," and that the Animoji feature can only record up to 10 seconds at a time.

Shortly after the iPhone X was available, social media was flooded with karaoke of popular songs on social media —and it is easy to do.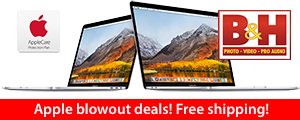 2018 13" Touch Bars
Price
Save
2.3GHz/8GB/256GB (Gray)
$1,699.00+
$100
2.3GHz/8GB/512GB (Silver)
$1,879.00+
$20
2.3GHz/16GB/512GB (Gray)
$2,099.00+
$100
2.7GHz/16GB/512GB
$2,449.00+
$50
2.7GHz/16GB/1TB
$2,849.00+
$50
2018 15" MacBook Pros
Price
Save
2.2GHz/16/256GB/555X
$2,215.00+
$185
2.2GHz/32/1TB/560X
$3,449.00+
$50
2.6GHz/16/512GB/560X
$2,575.00+
$224
2.6GHz/16/1TB/560X (Gray)
$2,999.00+
$200
2.6GHz/32/1TB/560X (Gray)
$3,399.00+
$200
2.6GHz/32/2TB/560X (Gray)
$3,999.00+
$400
Click here for dozens more configurations
+ Free shipping within the contiguous U.S.
Lowest Prices Anywhere!

13" MacBook Pros
Price
You Save
3.1GHz/8GB/256GB Gray
$1,679.00
$120.00
3.1GHz/8GB/256GB Silver
$1,704.00*
$95.00
3.1GHz/8GB/512GB Gray
$1,849.00*
$150.00
3.1GHz/16/512GB Gray
$2,099.00
$100.00
15" MacBook Pro
Price
You Save
2.8GHz/16/256/555 Silver
$2,199.00*
$200.00
2.8GHz/16/256/560 Gray
$2,299.00
$200.00
2.9GHz/16/512/560 Gray
$2,599.00
$200.00
2.9GHz/16/1TB/560 Gray
$2,999.00
$200.00
3.1GHz/16/512/560 Gray
$2,799.00
$200.00
3.1GHz/16/2TB/560 Gray
$3,899.00
$300.00

*

price with Promo Code:

APINSIDER

prices.appleinsider.com for more configurations