Next-gen 6.1-inch LCD iPhone again predicted to outsell OLED models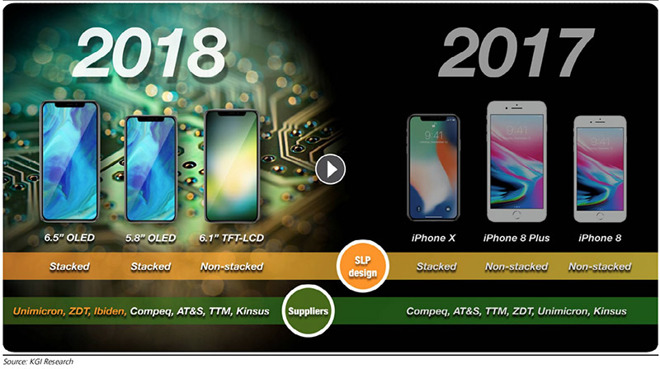 AppleInsider may earn an affiliate commission on purchases made through links on our site.
KGI analyst Ming-Chi Kuo believes consumer demand for a next-generation 6.1-inch LCD iPhone will outpace that of two OLED models rumored to debut during this fall's refresh cycle, buoying suppliers of LCD panels, aluminum chassis and other related components.
In a trio of notes seen by AppleInsider, Kuo says anticipation for this year's iPhone X led to a dismal outlook on the future of LCD models, but a rumored 6.1-inch LCD model could reshape sentiment in 2018.
Specifically, Kuo believes share pullbacks of the LCD supply chain over the trailing year have priced in concerns about growing OLED competition. Further, if Apple does release a 6.1-inch LCD iPhone model with full-screen display, as rumors suggest, the potential for sales growth will positively affect suppliers like LCD manufacturer Japan Display.
High demand for an LCD model will also boost shipments of aluminum frames manufactured by longtime partner Catcher, Kuo says. Previously, Kuo predicted Catcher to supply stainless steel frames for Apple's 2018 iPhone lineup, but the firm's role has apparently shifted to aluminum parts bound for an LCD model.
Apple is rumored to add two new OLED models to its iPhone lineup this fall including a 5.8-inch iPhone X replacement. A 6.5-inch "iPhone X Plus" with a panel manufactured by LG is also supposedly in the works, but Kuo in his note today suggested the South Korean firm might not be able to meet Apple's production standards on time.
Kuo's note reiterates predictions aired last month, when the analyst said he expects the 6.1-inch LCD iPhone model to account for 50 percent of new handset shipments in 2018.
Finally, Kuo predicts all 2018 iPhones will boast logic boards built on substrate-like PCB
(SLP) technologies first adopted by iPhone X and iPhone 8. The 5.8- and 6.5-inch OLED iPhone models will sport stacked board designs like iPhone X, while the 6.1-inch LCD model will stick to a traditional single-layer layout, Kuo says.
As far as specifications, Kuo believes manufacturers will adopt a finer pitch of 28-30 nanometers, down from the 30-35 nanometers applied to 2017 phones, as part of efforts to reduce PCB size and improve energy efficiency. The analyst sees three SLP producers — Umimcron, ZDT and Ibiden — as gaining significant ground with this year's orders.