Apple on engineer hiring spree, with steady expansion since 2016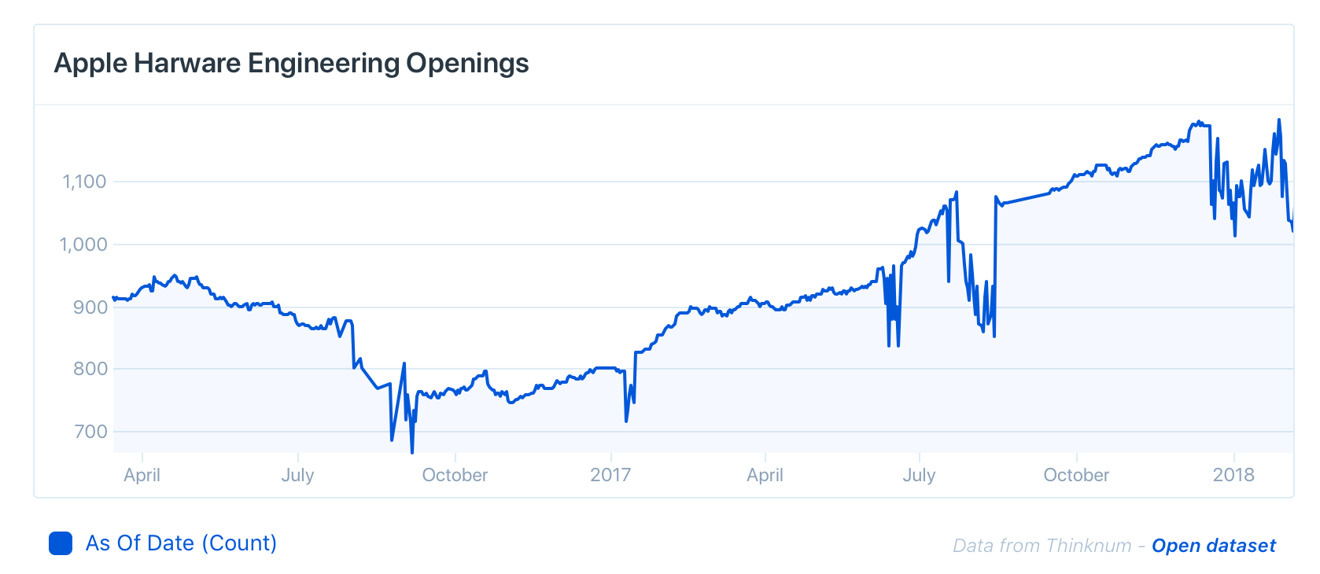 AppleInsider is supported by its audience and may earn commission as an Amazon Associate and affiliate partner on qualifying purchases. These affiliate partnerships do not influence our editorial content.
Data gleaned from Apple's job postings suggests that the company has amped up its hiring of hardware engineers, with an 80 percent increase in staffing needs from the fall of 2016 to the start of 2018.
Thinknum's Joshua Fruhlinger notes in the exposition to the graph that the "harware [sic]" positions being filled include Analog Layout Designer, Advanced Material Scientist (Electrolyte Development), 3D Perception/Computer Vision Algorithm Engineer, Sensor Design Engineer, Motion Sensing Hardware Engineer: Magnetics, and Flexible Display Technologists.
While Thinknum speculates that Apple is working on some revolutionary new product, there is nothing that can be determined from what appears to be a hiring spree, interrupted by periodic dramatic dips. The increase could signal work on a new product category as the analytical firm suggests, or it might simply be a planned buildout to bolster groups working on existing product lines.
The design staff increase included listings for product managers, motion scientists, product managers, optical engineers, touch ASIC digital architect, iPhone System Engineer, Siri engineers, iPhone product managers, plastic tooling engineers and prototype iOS Engineers.
Thinknum, the firm that collated the data, was formed to mine data trails for "unique insights" on internet-centric companies. The data is then sold to investors to provide "critical data points that others miss."