Third watchOS 4.3 developer beta available alongside iOS 11.3 and macOS 10.13.4 public test versions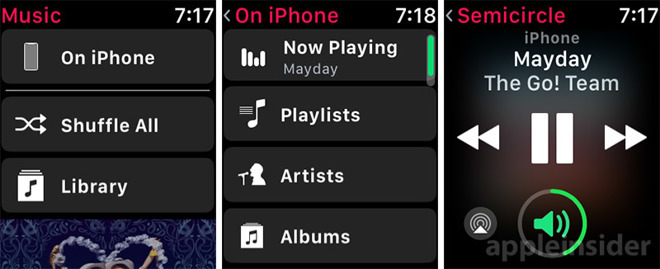 Apple has issued the third developer's beta test version of watchOS 4.3, and has released public beta test versions of iOS 11.3, and macOS High Sierra 10.13.4.
There remain no notes associated with the watchOS beta. Previous versions of the beta reimplemented the Apple Watch ability to browse an iPhone's music library, after being stricken from watchOS 4.
The new OS appears to fully reinstate media controls lost with watchOS 4, including the ability to "love" or "dislike" songs, delete tracks from a connected library and route audio to AirPlay devices.
The present watchOS build number is 15T5187e. At present, it is not clear what other changes have been included in watchOS 4.3.
Apple pre-announced the iOS 11.3 initial release the morning before it arrived. As heralded, it includes new features like Health Records and new Animoji. The initial implementation of the battery health feature arrived with the second iOS 11.3 beta, with enhanced notifications supplied to users if a phone is being throttled because of a worn battery.
The February 6 release of iOS had build 15E5178f, and the new one sports build number 15E5189f.
The new High Sierra 10.13.4 now incorporates Messages in iCloud, a feature that synchronizes a user's Messages "stack" between multiple devices logged in to the same iCloud account, and has assorted eGPU improvements.
High Sierra 10.13.4 is also the first one to warn users that they are running 32-bit apps. Apple has previously stated that High Sierra is the last Mac operating system that will run the older apps "without compromise."
The second High Sierra 10.13.4 beta changed the name of the iBooks app to "Books." It appears to be mirroring the rebranding, and potential re-design, of the app on iOS, but a timetable for changes beyond just the name aren't clear.
The previous High Sierra beta was build number 17E150g after a minor update a few days after the initial second beta release, with the latest having number 17E160e.