Apple's watchOS 4.3 revives ability to browse an iPhone's music library from Apple Watch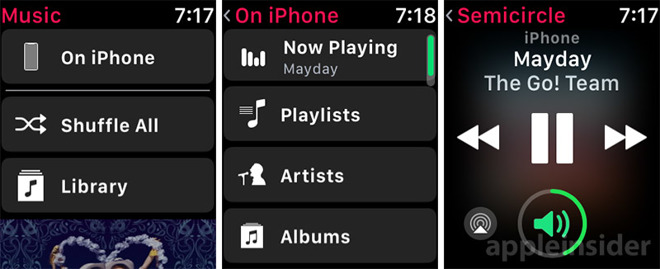 AppleInsider may earn an affiliate commission on purchases made through links on our site.
With Apple's watchOS 4.3 beta, released to developers earlier on Thursday, users can once again peruse their iPhone's music catalog from a connected Apple Watch, a feature curiously removed from watchOS last year.
As seen in the screenshots above, the first watchOS 4.3 beta allows Apple Watch users to access, browse and control playback of their iPhone's music library.
The new OS appears to fully reinstate media controls lost with watchOS 4, including the ability to "love" or "dislike" songs, delete tracks from a connected library and route audio to AirPlay devices.
Apple caused a bit of a stir when it removed support for browsing connected iPhone music libraries with watchOS 4 last September.
At the time, users were able to control songs being played on a connected iPhone via a "Now Playing" screen, but browsing was limited to tracks synced to or stored on an Apple Watch. The situation improved slightly when Apple Music and iTunes Match streaming arrived on cellular-enabled Apple Watch Series 3 devices with a subsequent update, but the inability to browse an iPhone's catalog was for some a glaring oversight.
In previous watchOS versions, like watchOS 3, Apple Watch users were able to search for songs on a connected iPhone by selecting their phone as a source in Watch's built-in Music app. This feature was integral for the storage-constrained device, which even in its current form is maxed out at 16GB of available space. Audio streaming alleviated the problem to a certain degree, but a restriction to cellular versions of the device left owners of GPS only models in the lurch.
Apple released watchOS 4.3 beta earlier today without notes, leaving developers to spelunk through the OS to find new features like iPhone music library browsing.