2018 iPhone lineup may include biggest ever with 6.5-inch screen, budget model with Face ID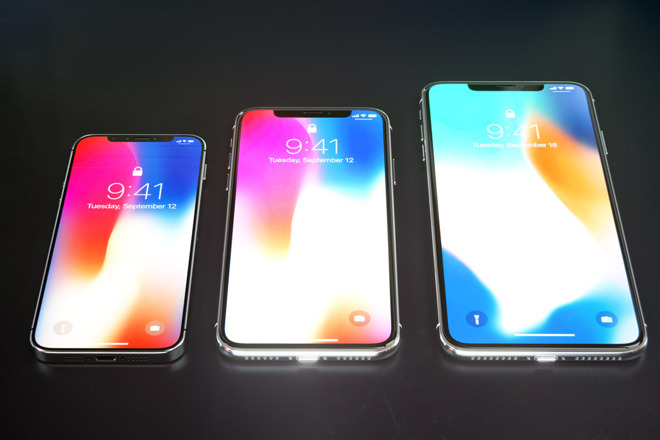 More rumors are circulating that Apple is planning a trio of iPhones in the fall of 2018, with one the largest ever produced by the company, and all three incorporating Face ID authentication technology.
A report from Mark Gurman at Bloomberg on Monday afternoon claims that Apple is looking at producing 6.5-inch screen, with a body about the same size as the iPhone 8 Plus. An edge-to-edge design in the so-called "D33," such as that in the iPhone X, allows for a large OLED screen without significantly increasing the size of the enclosure.
Allegedly, the new, large format iPhone has screen resolutions of 1242 x 2588, giving it approximately the same pixel density as the iPhone X.
Another model, said to be internally called the "D32" will be an "update to the regular-sized iPhone X" according to the report. A gold color is reportedly under development, with the report noting that "Apple may ultimately decide not to proceed with the color."
Both of the higher-end models are predicted by Gurman to include Face ID. Also expected is the "A12" processor and iOS 12 — a logical increment from the A11 and iOS 11 in 2017, and the A10 and iOS 10 in 2016. Possible inclusions in the new phones are either dual-SIM capability, or inclusion of the nascent E-SIM technology.
Gurman believes that a "low-end" model with Face ID will be released as well, using LCD screen technology with to keep the costs down. It is predicted to have aluminum edges and a glass back like the iPhone 8 — but Gurman does not delve into the size of the device.
Monday's report does not significantly deviate from previous rumors on the topic, nor does it predict anything extraordinary or outlandish that hasn't been discussed before.