Microsoft Soundscape app helps visually impaired iPhone users navigate with 3D audio cues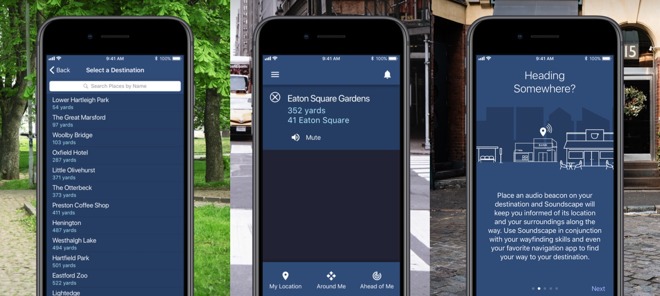 AppleInsider may earn an affiliate commission on purchases made through links on our site.
Microsoft has released a free iPhone app, Soundscape, which aims to help blind people and users with limited vision more of a bearing of their surroundings while outside, by providing 3D audio clues to where locations are in relation to the user's position.
As the user walks through an environment, Soundscape will provide audio cues that the user can hear with headphones, with the 3D audio technology giving the effect of the cue being broadcast to the user from where it is in the real world. The position of the cue will change as the user moves around, so the user can keep track of where their destination is in relation to their current position on their journey.
The app will automatically call out key points of interest to the user, including roads and intersections that may need to be navigated, with users able to adjust or turn this feature off if required. An audio beacon can be placed at a landmark, specifically highlighting that location.
There are also three soft buttons available to use at the bottom of the app's screen, providing more detail about the user's position. "My Location" describes where the user is standing and states which direction they are facing, while "Ahead of Me" will advise of points of interest in front of the user, like shops along a street.
The third, "Around Me," describes the nearby points of interest in each of the four cardinal directions, which Microsoft suggests could help with orientation after getting off a bus or at a train station.
The app requires an iPhone and a pair of headphones or earphones suitable for wearing outdoors, with Microsoft advising Apple's AirPods and on-ear open headphones as suitable accessories to use. It can also run in the background while another app is being used, including audio-based apps such as Podcasts.
While the app is intended to help its users get to a location by telling them which direction to travel, the app is not meant to provide navigational assistance for an immediate area, a task usually performed by service dogs, a cane, or another tool. While the service dog can help take its owner safely from one place to another, the app could help advise of where a specific store that the user wants to visit is located, something outside of the service dog's capabilities.
"Obstacle avoidance is not the problem, we have a dog, a cane, and our blindness skills for that," advises Erin Lauridsen, the Access Technology Director at LightHouse for the Blind, a non-profit that has worked with Microsoft on the app over its four-year development. "The gap is knowing where things are and being able to decide what's of interest."
Noting technology's role in helping users gain confidence and improve their self reliance, Lauridsen advises Soundscape "addresses a crucial need - a tool for efficiently exploring your surroundings. That is a game-changer."
The Microsoft Soundscape app is available as a free download in the App Store, weighing in at 447.1 megabytes of storage. The app is compatible with the iPhone 5s, iPad Air Wi-Fi + Cellular, iPad mini 2 Wi-Fi + Cellular, iPad Pro Wi-Fi + Cellular and later cellular-equipped devices, running iOS 10.0 or newer versions.