Google Lens visual search lands on Google Photos for all Android devices, update for iOS app expected soon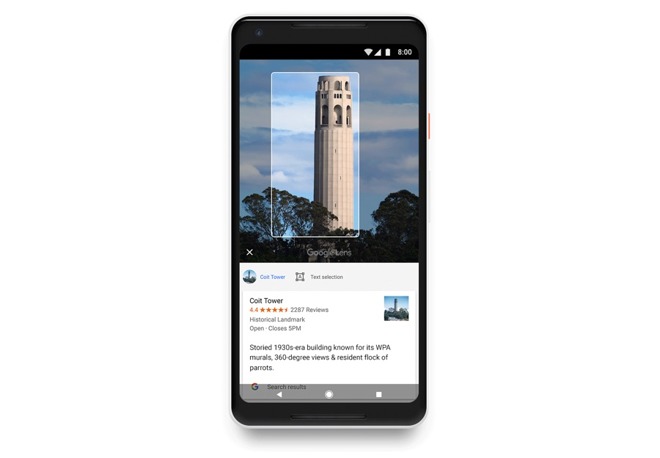 AppleInsider may earn an affiliate commission on purchases made through links on our site.
Google has started to roll out its visual search tool Google Lens to more mobile devices, expanding from its previous exclusivity to the company's Pixel smartphones, making the feature available to Google Photos users on Android before it arrives on the iOS version of the image management app.
Announced at Mobile World Congress, Google Lens is being made available in an Android app update for Google Photos, released in batches. Just as with the version included in the Google Pixel, Lens will also be accessible through the Google Assistant, though not all Android devices will be able to use the function in that way.
The search giant did confirm Lens will be added to Google Photos for iOS during Mobile World Congress, but did not specify when to expect it's arrival, aside from stating it is "coming soon" in a Twitter post.
Google Lens is a visual search feature following on from the company's earlier effort Google Goggles, which uses image recognition to provide more information about items in a photograph. If it spots a landmark, like a building or a store, it will offer up further details usually found on a card brought up in regular Google searches, including opening hours and a brief description of the structure.
The tool can also perform text detection on an image, which can be extracted and used for other purposes, like copying the visible words into a document in another app. Google Lens even includes the ability to create a contact from a photograph of a business card, automatically filling out details displayed on the card.
While Apple has yet to offer image-based searches in Siri in this way, the iPhone producer has included some similar elements in its own Photos app. Both the macOS and iOS versions of Photos feature object recognition technology, which can search for locations, identified people, and even objects not previously identified by the user.