Review: Elgato's Eve Button remote with Apple HomeKit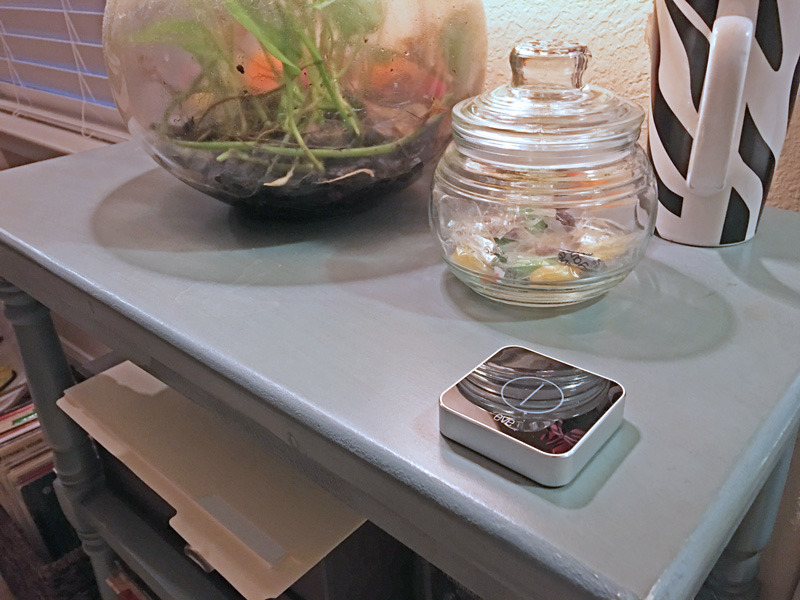 AppleInsider is supported by its audience and may earn commission as an Amazon Associate and affiliate partner on qualifying purchases. These affiliate partnerships do not influence our editorial content.
The Eve Button does what it says on the box, but ultimately proves to be a very niche accessory for people hooked into Apple's HomeKit.
A recurring problem with smarthome accessories is that even though they're meant to simplify our lives, they're often dependent on other high-tech devices for control. Unless you've managed to automate everything, chances are you'll be whipping out your iPhone or talking to a smartspeaker at some point to in order to turn things on.
The Eve Button joins a trend towards bringing lightswitch-like simplicity to HomeKit. As its name suggests, there's only one control button, used to trigger multiple HomeKit scenes depending on whether you use a single-press, double-press, or hold it down.
Setup is fairly simple, assuming you already have HomeKit scenes ready to go. After pairing the Button using the Elgato Eve app, the next step is to assign scenes to each command. In fact you can link multiple scenes to a single command, which in some cases may scrap the need to build new ones.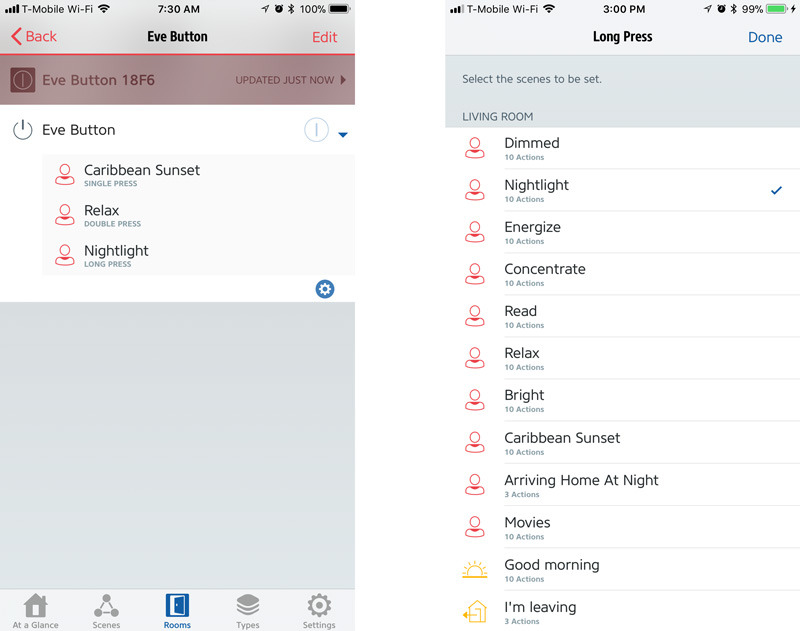 The most likely use of the Button is lighting. A basic example from Elgato posits a single press to turn room lights on, a double-tap to dim to 50 percent, and making the long press shut everything off. We went with a more complex arrangement, assigning those commands to a "Caribbean Sunset" theme, a warmer "Relax" mode, and finally a nighttime option that put the living room into a "Nightlight" scene while switching the upstairs office to "Gaming."
There's no reason why you can't control any HomeKit-ready accessory though, such as fans, blinds, locks, or power outlets.
We found few real problems with the Button in our testing. Initially it refused to trigger scenes properly, but it may have taken a few minutes to sync settings — we were up and running in short order without changing anything.
Lag seems to be an issue in general, since it can sometimes take a few seconds for a scene to kick in after the Button is pressed. If you're expecting that delay, though, it's perfectly fine.
More serious is the product's dependence on Bluetooth, like other Eve accessories, which means you'll want an Apple TV, iPad, or HomePod working as a Home hub when you're out of the house. That's slightly ridiculous given the Button's premise, and its $49.95 asking price — Elgato needs to bite the bullet and ship a Wi-Fi bridge, or go the LIFX route and put Wi-Fi in each unit.
An even deeper design question is why we got a single-button remote at all. If it supports three commands, why not use three buttons? The single-button system works well enough, but seems like more of a cost-cutting measure or a misguided attempt at "Apple-like" simplicity.
We appreciated Elgato's bundling of stickers to label the role of a particular Button. But realistically, roles are liable to change, and anyone except the person who configured a Button will probably have to experiment to remember what one does.
Conclusions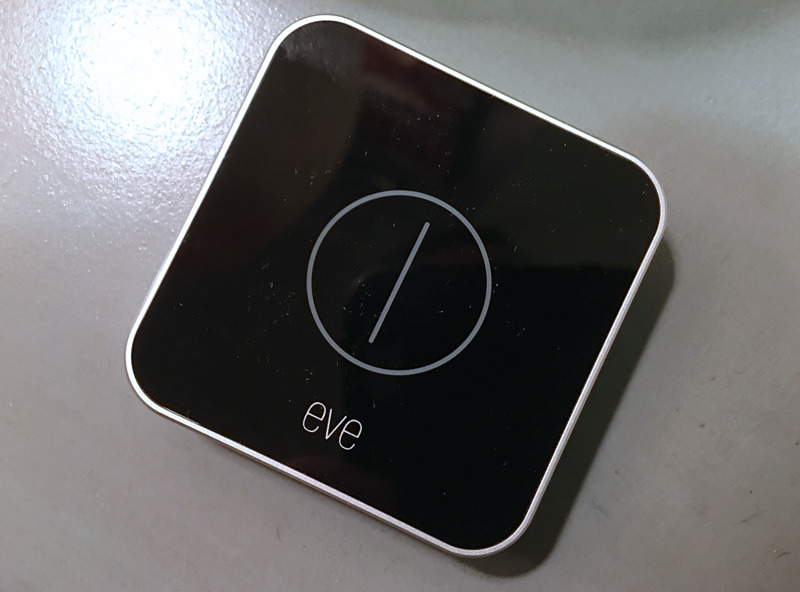 Make no mistake, the Eve Button is nice to own. If you, and the other people in your house, are willing to live with its quirks, it can provide a more elegant way of controlling a smarthome. Quieter too, and it's at least semi-practical if you want to help less technically-inclined guests or family members.
The thing is, few people really need this sort of remote. HomeKit allows multiple people to share ownership through their iPhones and iPads, and anyone seriously invested in smarthome tech may want to get an Amazon Echo Dot, Google Home Mini, or HomeKit-compatible smartswitch. None of those options require swapping out a battery every several months, either.
For these reasons, we'd probably recommend against the Button. It's not a bad product by any means, just superfluous.
Score: 3.5 out of 5

Where to buy