Supply chain sources expect Apple to source 270 million iPhone screens, nearly half OLED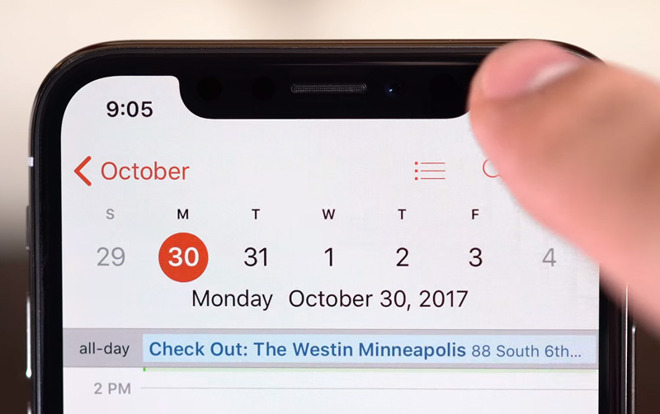 Apple is expected order for up to 270 million smartphone display panels throughout 2018, according to a supply chain report, with the volume of anticipated orders far exceeding Apple's best annual iPhone sales total by almost 40 million units.
Unnamed sources said to be from Taiwan's display panel industry informed DigiTimes Apple's supposed total acquisition of flat panels intended to be used in the production of iPhones in 2018 will be between 250 million and 270 million units across the whole of 2018. It is likely this number is derived from estimates based on current demand and previous ordering patterns, rather than confirmed orders from Apple.
The number of expected orders would suggest the industry believes 2018 will become a record year for iPhone sales, if accurate and if all panels were used in production. For comparison, Apple's quarterly financial results reveal the company sold 216.8 million iPhones in 2017, while the current annual sales record of 231.2 million took place in 2015.
Considering the loss of usable panels from low yields and from production issues, plus screens held back for service purposes, the number of iPhones that end up being sold to consumers will be lower than the number of panels ordered.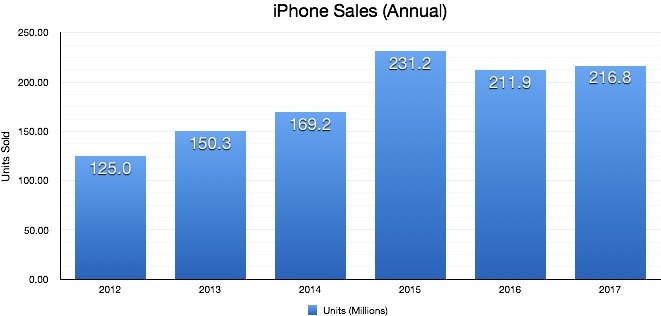 According to the report's sources, OLED devices will make up a large proportion of iPhones sold in 2018, with the suggestion that between 110 and 130 million units will be ordered. Of this, between 70 and 80 million 5.9-inch units for the current iPhone X and an upgraded model with the same size display are expected to be ordered, with the remaining 40 to 50 million made up of 6.5-inch OLED panels for a "less expensive model."
More conventional LCD panels will continue to be produced, with 60 to 70 million 6.1-inch LTPS panels for the fall 2018 iPhone tipped to be ordered, along with a similar number ordered in 4-, 4.7-, and 5.5-inch sizes for current iPhone 8, iPhone SE, and iPhone 7 production.
Samsung will apparently remain as the primary OLED panel supplier to Apple this year. Sources suggest LG Display could attempt to become a second supplier of the panels in the second half of 2018, but earlier reports from September last year indicate it may not be able to provide panels in sufficient quantities for Apple's needs until 2019.
For the LTPS panels, sources indicate Japan Display, Sharp, and LG Display will remain as the main suppliers for the display components this year.