The seven best iPhone or iPad apps for learning to play the guitar

Whether you're just learning, trying to get better, or looking to upgrade your equipment, the App Store offers a wide variety of apps geared towards guitarists, and after playing with a bunch of them, AppleInsider gives your our seven favorites.
Learning how to play guitar, and getting better at it, used to require in-person lessons, not to mention regular purchase of guitar magazines. I started playing more than 25 years ago, and that's how I learned to play- a few lessons, learning all the classic rock hits from my friends, the tablatures in each issue of Guitar World magazine and lots and lots of practice.
My eight-year-old son recently took up the guitar, taking lessons and practicing at home, and I've been revisiting the old habit along with him. And I'm in awe of the resources that modern technology has made available for the guitarists of today. These days, just about everything you need to play guitar is right there in your iPhone or iPad- whether it's learning chords, tuning your instrument or learning how to play just about every song that's ever been written.
Here are the most essential apps for guitarists, whether you're a beginner, or you're a seasoned pro looking to shred on your new favorite song.
Ultimate Guitar: Chords and Tabs

This app is the kind of thing that anyone who's been playing since the pre-Internet days likely wishes had been around back when they started. It offers chord and tablatures for over 1 million songs- it's extremely rare to look up a song of any significance and not find it in the database. The chords and tabs are user-uploaded and rated, giving the user lots of choices for which version of the song to use.
The song database is the bread-and-butter, and will remind older enthusiasts of the OLGA (Online Guitar Archive), a website from the mid-1990s that was ultimately shut down due to a record industry dispute that was a forerunner of the Napster Wars. But Ultimate Guitar offers much else, including the ability to read the chords while a song plays on your device, including a chord library, two tuners, and Top 100 lists for both today and all time- for some reason, Ed Sheeran seems to always take the top spot on the former list.
Ultimate Guitar requires iOS 9.3 or later, 71MB of storage space and is free, although the Tab Pro version unlocks various tablatures, as well as other features.
The Guitar With Songs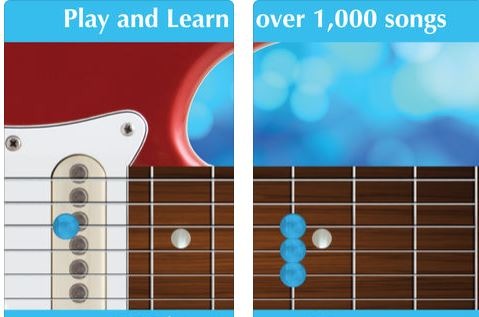 This one features pictures of a guitar and the fingerers necessary to play chords; it also offers a sizable database of over 1,000 songs while demonstrating to play them. Users can even choose what color and style of guitar they want to play.
The Guitar With Songs requires iOS 8.0 or later and 115MB of storage space and is free, although various upgrade options are available as in-app purchases.
Guitar!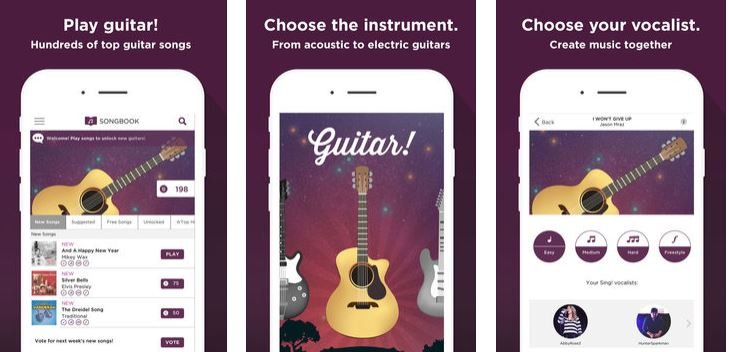 This one works as a companion app to Sing! Karaoke, allowing users to play along with various popular titles. It also lets you pick the guitar and style that you want.
Guitar! requires iOS 7.0 or later and 88.7MB of storage space and is free, with some premium features available as in-app purchases.
Guitar Center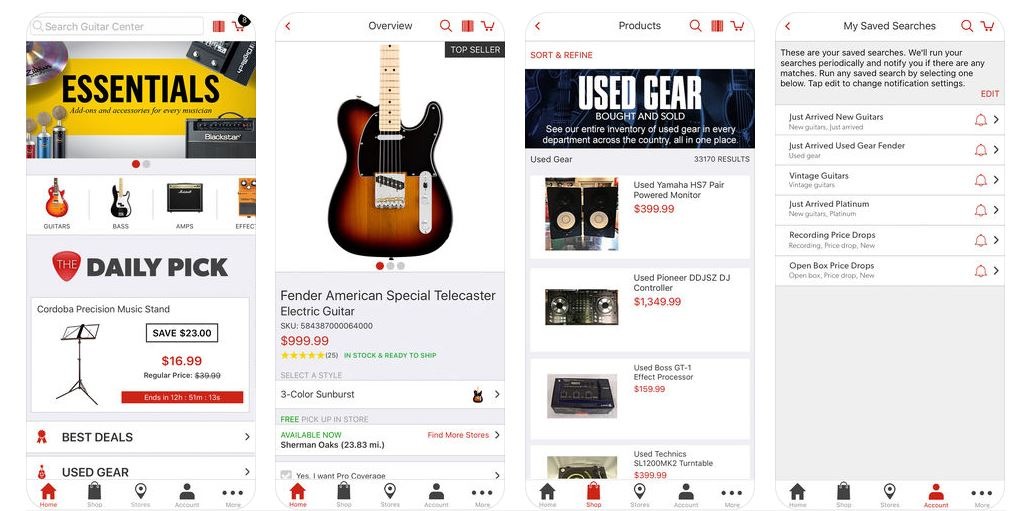 The official app for North America's leading guitar retail chain offers a whole lot: Direct purchase of guitars and other equipment, deals and setup of lessons. The app provides a fine overview of just about everything you need to play guitar, or at least how to buy equipment.
Yousician

This one isn't just for guitarists, with guitar just one of many instruments for which is offers tutorials, including piano and ukulele. But it does offer step-by-step tutorials, as well as listening to the user play while offering feedback.
Yousician requires iOS 9.0 or later and 205.7 MB of storage space. The download is free but a variety of premium plans are offered through in-app purchases.
Guitar Tuna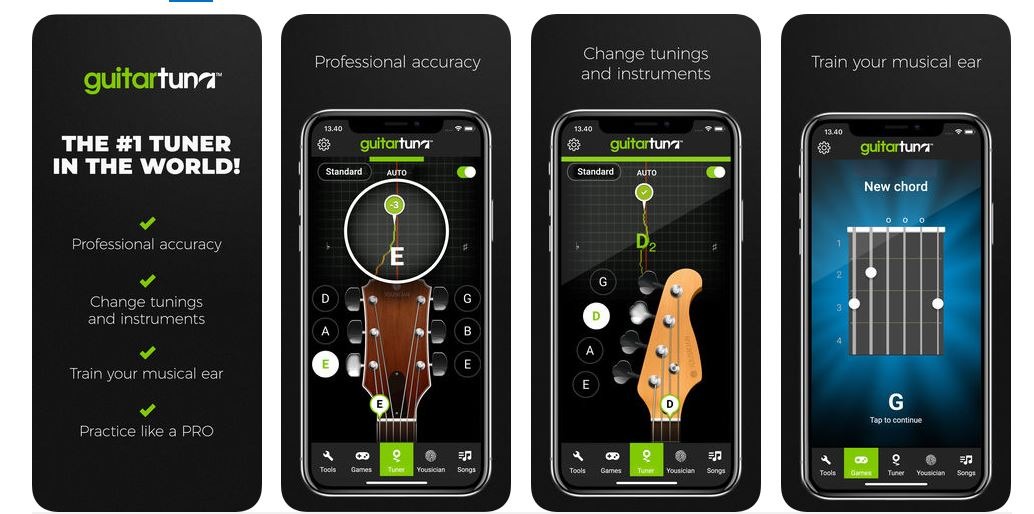 The name from the makers of Yousician may not be the greatest pun in the world, but this tuner gets the job done, providing the right sounds for each guitar note, while also offering a cool interface to let you just how flat or sharp you are before getting it right. Guitar tuners, like GPS devices and so many other things, used to require a standalone device, but now it's just an app.
Other features include nonstandard tuning, as well as games, via Yousician.
Guitar Tuna requires iOS 8.0 or later and 127.2 MB of storage space and is free, with in-app purchases available.
ChordBank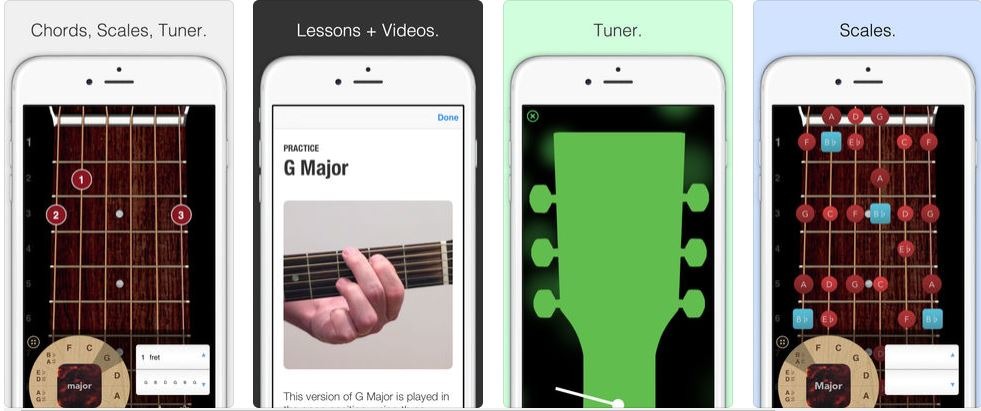 If you're a guitar beginner and want to learn chords, ChordBank is the one for you. It offers a nifty interface featuring the fingerings for each major, minor, 7th and diminished chord, and a lot more. Other apps on this list offer versions of this, but ChordBank provides the best and most essential one.
Other features include video lessons and a reverse chord finder.
ChordBank requires iOS 9.0 or later and 66.9 MB and is free, with a premium version that's available as an in-app purchase.