Facebook's Zuckerberg vows action on Cambridge Analytica debacle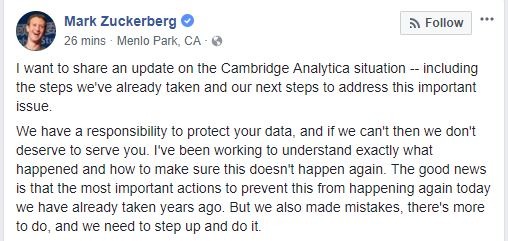 AppleInsider may earn an affiliate commission on purchases made through links on our site.
Following a week of terrible press, a battered stock, and threats of mass account de-activations, Facebook founder and CEO Mark Zuckerberg finally addressed the data scandal in a post to the network.
Zuckerberg attempted to explain what exactly happened, while vowing to better safeguard users' data in the future.
"We have a responsibility to protect your data, and if we can't then we don't deserve to serve you," Zuckerberg wrote on his official Facebook account Wednesday afternoon. "I've been working to understand exactly what happened and how to make sure this doesn't happen again. The good news is that the most important actions to prevent this from happening again today we have already taken years ago. But we also made mistakes, there's more to do, and we need to step up and do it."
Zuckerberg explained that Aleksandr Kogan, the researcher at the center of the scandal, had accessed data of 300,000 Facebook users — and millions more of their friends — when he created a personality quiz back in 2013, something apps were prevented from doing starting with an update the following year. However, Zuckerberg wrote, Kogan was found in 2015 to have shared that data with Cambridge Analytica, and media outlets reported last week that Cambridge Analytica did not delete the data even after promising Facebook that it had done so.
Zuckerberg went on to propose a series of steps: Facebook will investigate all apps that had access to large amounts of data before the changes in 2014, it will further restrict developers' access to data, even requiring them to "sign a contract in order to ask anyone for access to their posts or other private data." And finally, Facebook will show all users a tool, at the top of its Newsfeed, showing the apps they have used and how they can revoke permission for the apps to use their data.
"I started Facebook, and at the end of the day I'm responsible for what happens on our platform. I'm serious about doing what it takes to protect our community," Zuckerberg wrote. "We will learn from this experience to secure our platform further and make our community safer for everyone going forward."