Sharp reportedly prioritizing OLED & IGZO panel production to land iPad orders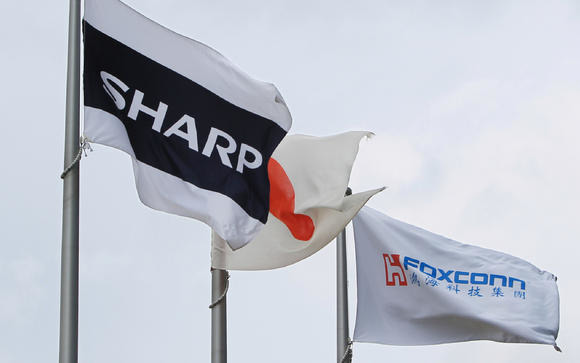 Sharp will be making changes to its display panel production lines, according to a report, moving to increase the manufacture of IGZO and OLED-based panels, possibly in an attempt to acquire more display orders from Apple for the iPad and other connected devices.
The production line realignment will take place over the course of 2018, industry sources of Digitimes claims, with the company reducing its LTPS and a-Si panel production capacity at the same time as ramping up its fabrication of IGZO and OLED panels. The IGZO-related changes will take place at the company's 6G and 8G facilities based in Kameyama, Japan.
According to the sources, the changes to the production ratio for the LTPS and IGZO panels will be adjusted based on market demand, but with the ultimate aim of securing IGZO panel orders for the iPad. It is unclear if Sharp has already made the deal with Apple to supply more panels, or if this is in anticipation of an agreement being made on the matter.
Apple has used IGZO based panels for iPad displays since 2015, with it first introduced in the iPad Pro in 2015. The Indium Gallium Zinc Oxide display panel technology can allow for high pixel density screens to be produced, as well as high refresh rates and low power consumption, making it a desirable technology to use.
The 6G plant is currently producing 25,000 substrates per month for use in LTPS panel manufacturing. By the fourth quarter of 2018, this is expected to reduce down to 15,000 substrates per month, with 10,000 substrates shifted over to IGZO panel production.
A similar change will be made at the 8G facility, with an expected drop in a-Si panels from 30,000 substrates per month to 20,000 substrates per month at the end of the first quarter, then a further reduction down to 15,000 by the fourth quarter. At the same time, the substrate production for IGZO panels at the 8G plant will increase from 30,000 to 40,000 units in the first quarter, and to 45,000 substrates per month by the fourth.
A third line in Taki, within the same Mie prefecture in Japan as the other two plants, will allegedly continue its move from LCD to OLED production. Previously capable of creating 90,000 substrates per month for LTPS panels destined for smartphones, Sharp previously shifted 30,000 substrates towards OLED panel production in 2017, and apparently intends to phase out the plant's entire LTPS panel production by the end of this year.
Sharp has been tipped as a potential OLED panel supplier to Apple for future iPhones, with some reports suggesting it could be added to the supplier roster for the component as early as the second quarter of 2018. The Foxconn-owned company is also thought to be preparing production of flexible OLED panels for premium smartphones expected to ship this year.