Video: 2018 sixth generation iPad with Apple Pencil support for only $329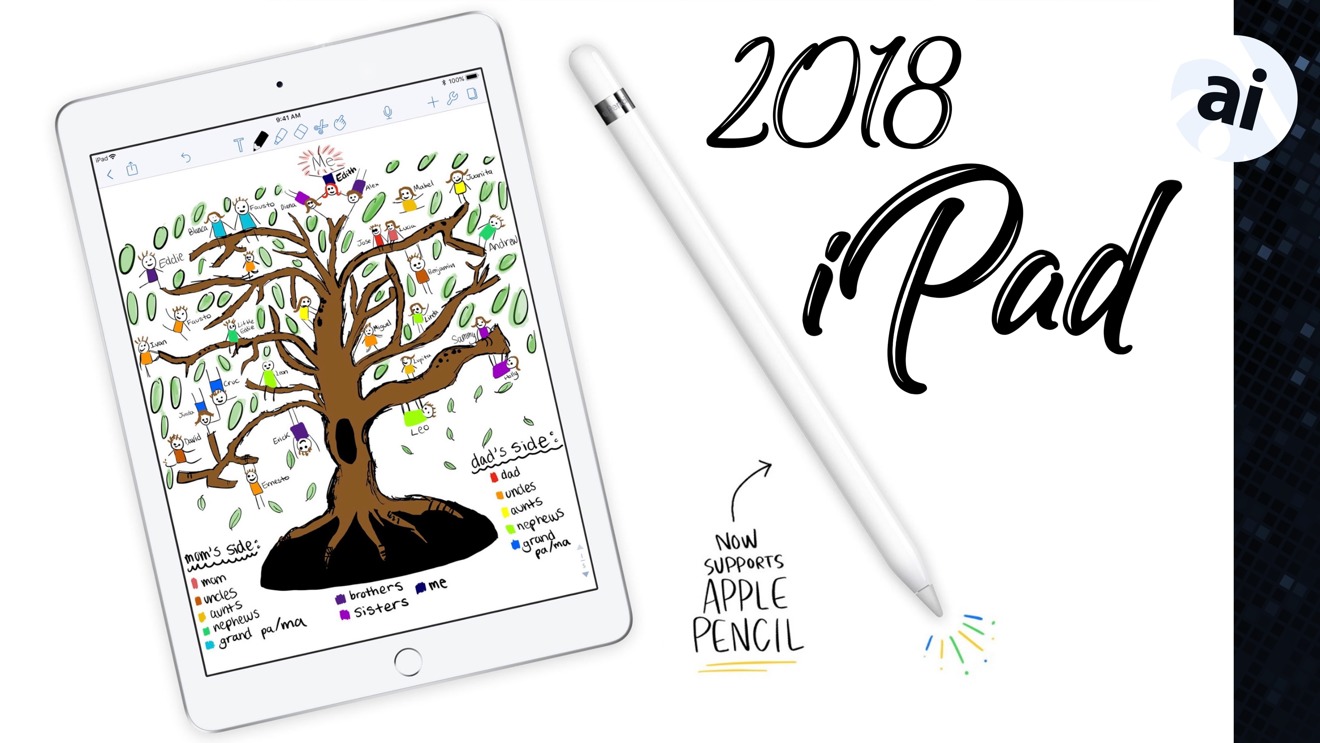 Apple just introduced a new 9.7-inch iPad at their "Field Trip" education-centric event in Chicago, with a huge focus on schools and student productivity.
The biggest change is added support for the Apple Pencil, a first for an iPad outside the iPad Pro line. Schools can also purchase the new iPad with a $10 discount over regular consumer prices.
Not only does the 2018 9.7-inch iPad support the Apple Pencil, but Apple also announced a new, cheaper Logitech-made stylus called Crayon, which will be available to schools for only $49.
Also announced was a new $99 rugged Logitech iPad case and keyboard combo, but it too will only be available to schools. The normal range of Apple Smart Covers will be available for $39 in charcoal gray, midnight blue, (RED), white and pink sand.
Inside the new iPad, the processor is upgraded from the A9 in the previous model to the A10 Fusion, previously used in the iPhone 7 and iPhone 7 plus. The 64-bit chip is said to provide 40-percent better processor performance and 50 percent graphics performance.
Apple has put a big focus on ARKit support with this new iPad, especially in the classroom, with apps like AR Anatomy allowing you to see things like an augmented frog and its organs, and then dissect it with an Apple Pencil. For additional content creation, Apple also unveiled the new Digital Books tool for creating media on the iPad. It'll be available in the Pages app and allow users to use the Apple Pencil to add photos, videos, illustrations and annotations directly to books.
They've also released a new ClassKit API, with older apps and frameworks being updated to support it, like Swift and GarageBand. The Classroom app is also coming to Mac, so teachers can control and monitor iPad usage. Classrooms can easily share an iPad and create Apple IDs for each student.
There's also a new cloud-based Schoolwork app for teachers to provide assignments and handouts to students.
Apple plans to release the Schoolwork app in June, giving teachers time to learn how to use it best for classes. Apple has sweetened the deal for schools by increasing the amount of free iCloud storage from 5GB to 200GB.
The cameras are the same as last year's release, except the FaceTime HD camera now has body detection as well as face detection.
This new iPad will now support new iOS 11 features that were previously only available on the iPad Pro, like marking up screenshots and making handwritten notes.
Apple touted faster wireless that can deliver Wi-Fi speeds up to 866 Mbps and LTE speeds up to 300 Mbps. The new iPad also includes Apple SIM technology, which gives you the convenience of choosing a cellular data plan from carrier partners right on your iPad. When you travel, Apple SIM gives you the flexibility to stay connected in more than 180 countries and regions.
Also released are new accessories like the electric blue Apple Pencil case and new colors for cases and bands on their iPhone X, iPad Pro, and Apple Watch devices.
You can order the new iPad right now on Apple's website for delivery on April 2nd or 3rd.
The 64GB model is priced at $329, and the 128GB model for $429. The Cellular models will cost an extra $130 on top of either Wi-Fi model. You can also buy AppleCare+ for two total years of coverage for an extra $59, and three years for $79.
Subscribe for more news and updates on the new iPad and more coming soon.