Apple's 2018 iPad includes 2GB of RAM, 2.2 GHz A10 processor; performance similar to iPhone 7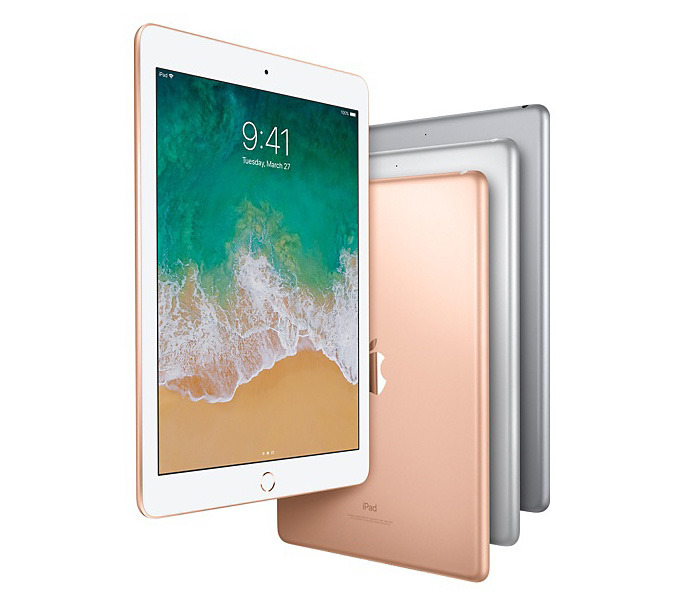 A rundown of the specifications for Apple's new "budget" iPad indicates that its performance is roughly comparable to the iPhone 7 line, which uses the same A10 processor — and that it has just 2 gigabytes of RAM, limiting its multitasking versus the iPad Pro.
The tablet can handle iOS 11's Split Screen mode, and Slide Over while keeping the original app in view, but trying to combine the two modes results in the Split Screen windows being dimmed, iMore's Serenity Caldwell noted. The 10.5- and 12.9-inch iPad Pros are able to run three apps simultaneously, thanks to having double the RAM.
The amount of memory was discovered through Geekbench Geekbench 4 benchmarks run in the process of testing. In terms of overall performance, the 2018 iPad managed a 3,254 single-core score, actually slightly below the iPhone 7. It reached 5,857 in multi-core however, making it faster than the iPhone 7 Plus — even though that device has 3 gigabytes of RAM.
In most respects the new iPad is identical to its predecessor, with a 9.7-inch, 2048-by-1536-pixel LCD display, an 8-megapixel, f/2.4 rear camera, and a 1.2-megapixel FaceTime HD camera. Unlike Pro models, there is no rear flash, though there is "Retina Flash" — temporary brightening of the screen — when shooting from the front.
The new iPad also lacks True Tone ambient color temperature matching, and ProMotion, Apple's term for the iPad Pro's 120-hertz refresh rate. Storage options are limited to 32 or 128 gigabytes, versus the 64-, 256-, and 512-gigabyte options for Pros.
Apple launched its latest tablet at an education-themed event in Chicago. It's already on sale with orders arriving as soon as April 2, starting at $329 for the public and $299 for schools.