Apple grabs 86% of global smartphone profits, iPhone X alone seizes 35%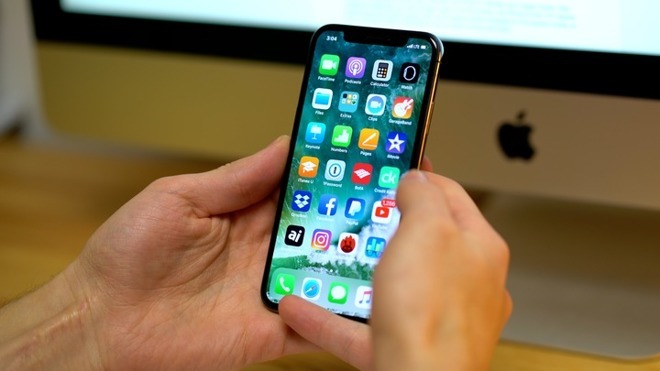 AppleInsider is supported by its audience and may earn commission as an Amazon Associate and affiliate partner on qualifying purchases. These affiliate partnerships do not influence our editorial content.
New research covering the last calendar quarter of 2017 suggests that not only did Apple once again command the lion's share of the smartphone market's profit, but the iPhone X was responsible for collecting more than one-third of it.
According to a study by Counterpoint Research seen by AppleInsider, Apple gained one percent of total profits year-over-year in a static smartphone market. Not only that, but the iPhone X itself generated five times the profit of combined profits of over 600 Android manufacturers during the fourth quarter of 2017.
"The share of iPhone X is likely to grow as it advances further into its life-cycle," said Counterpoint Research Analyst Karn Chauhan. "Additionally, the longer shelf life of all iPhones ensured that Apple still has eight out of top 10 smartphones, including its three-year-old models, generating the most profits compared to current competing smartphones from other OEMs."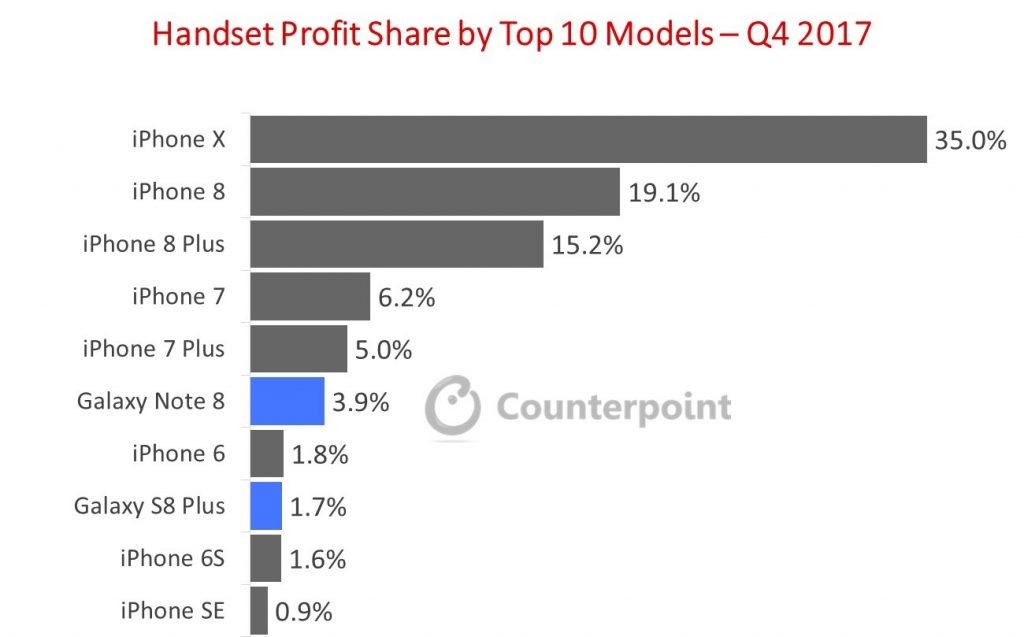 Counterpoint expects more stiff competition in the next year — but it has predicted the same for the last two years, and it has not yet materialized.
In Apple's quarterly earnings statement, Apple CEO Tim Cook declared that since it shipped to customers, the iPhone X was the biggest seller every week during the holiday season that was being examined by Counterpoint, outpacing the iPhone 8 and iPhone 8 Plus through November and December.
"[The] iPhone X surpassed our expectations and has been our top-selling iPhone every week since it shipped in November," Cook said. "We've also achieved a significant milestone with our active installed base of devices reaching 1.3 billion in January. That's an increase of 30 percent in just two years, which is a testament to the popularity of our products and the loyalty and satisfaction of our customers."
Clarifying his statement, Cook added during the question and answers session that the iPhone X popularity has continued to the early-February earnings announcement, and was not just limited to the holiday quarter.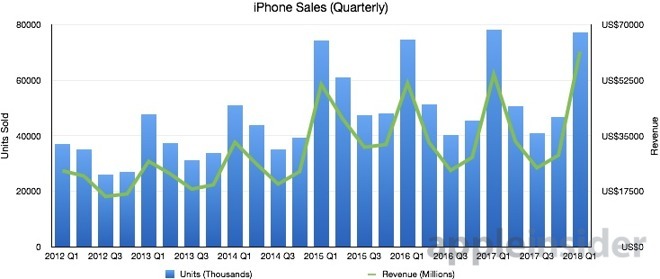 The iPhone 8 and iPhone 8 Plus which held the number two and three spots in the Counterpoint research, shipped to customers starting on Sept. 22. Rumors quickly started after the iPhone X commencement of sales on Nov. 2 that the iPhone 8 Plus was more popular than the iPhone 8 was, and manufacturing orders were being shifted to accommodate the balance, and the then stock-limited iPhone X.
The iPhone X pre-order process rapidly progressed to six-week back-orders. However, most if not all of the supply issues were resolved by mid-December, with the device readily found on store shelves the week before Christmas.
As of late, reports from the supply chain are predicting low demand for the iPhone X based on the supply chain, but all have questionable accuracy. Apple will report its earnings for the second quarter of its fiscal year 2018 on May 1 — but will not break out sales volumes for each model of phone.