Original Mac designer Susan Kare to receive prestigious AIGA medal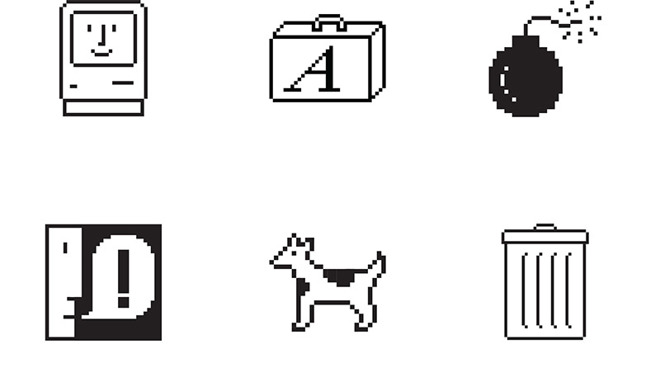 AppleInsider may earn an affiliate commission on purchases made through links on our site.
Susan Kare, a former Apple designer known to many as the "woman who gave the Macintosh a smile," will later this month receive an American Institute of Graphic Arts medal, an honor bestowed upon visual arts icons including Richard Avedon, Paul Rand, and Charles and Ray Eames.
Recently announced on AIGA's website, Kare is being recognized for the "bold and intelligent" icons, user interface graphics and fonts introduced with Apple's first Macintosh computers.
Originally accomplished in stark monochrome, and always under tight space constraints, Kare's often whimsical designs were among the first to humanize personal computing. Drawing from a wealth of cultural iconography, her work distills and conveys meaning through recognizable glyphs, from a trash can to a cherry bomb symbolizing a system crash to a paint brush and, of course, the infamous "Clarus the Dogcow."
Prior to Apple, Kare pursued a career in art after receiving a Ph.D. from New York University in 1982, according to a brief AIGA biography. She worked as a curator at the Fine Arts Museums of San Francisco before taking her craft to Palo Alto, a high-tech mecca where companies like Apple, Hewlett-Packard, Google and Facebook laid roots.
Kare was invited to apply for a graphic design job at Apple by former high school classmate Andy Hertzfeld. An original member of Apple's Macintosh team who helped develop the platform's operating system and other key software features, Hertzfeld was looking for a designer to imagine a user-friendly human-machine interface.
To accomplish the task, Kare pulled on her knowledge of mosaics, needlepoint and pointillism to create miniature artistic works that fit within the confines of bitmap graphics.
In a conversation with The New Yorker, published on Thursday, Kare said she brought a notebook with graph paper to her Apple job interview, on which was sketched draft versions of system icons. Blocking out a 32-by-32 grid allowed the designer to mimic pixel layouts that would ultimately end up on Mac displays.
"As soon as I started work, Andy Hertzfeld wrote an icon editor and font editor so I could design images and letterforms using the Mac, not paper," Kare said. "But I loved the puzzle-like nature of working in sixteen-by-sixteen and thirty-two-by-thirty-two pixel icon grids, and the marriage of craft and metaphor."
Kare is also credited with painting a pirate flag that flew above the Bandley 3 building at Apple's Cupertino, Calif., campus in 1983.
Following Apple, Kare established her own design firm, Susan Kare Design, and provided services to Microsoft, Facebook, Intel, IBM and other big-name clients.
Kare's work has been shown at a number of major museums including the National Museum of American History, Museum of Modern Art, SFMOMA and more. Most recently, her original Mac sketches appeared in MoMA's "This is for Everyone" exhibit in 2015. Kare also sells prints of her work — and hand-painted Mac pirate flags — at