Apple grew 32% YoY in China's shrinking phone market due to "strong performance of iPhone X"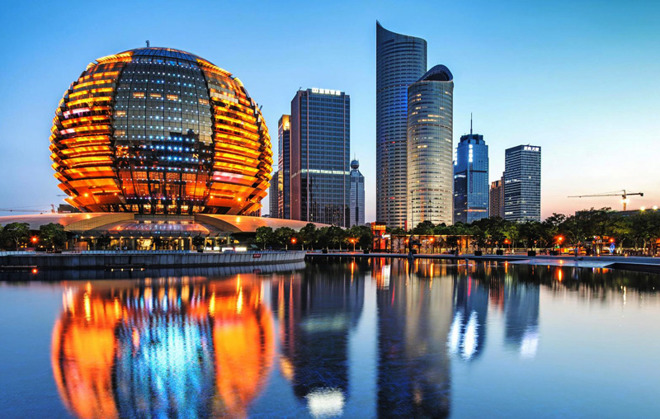 AppleInsider may earn an affiliate commission on purchases made through links on our site.
China's smartphone market suffered its worst decline ever in the March quarter— an 8 percent YoY drop in unit sales— but Apple still managed to achieve 32 percent growth, directly attributed to "strong performance of its iPhone X."
A new report by James Yan for Counterpoint Research notes that the world's largest smartphone market declined 8 percent over the year-ago quarter to dive below 100 million units, the first time sales have been so low since Q1 2013.
However, the drop in sales did not affect all vendors equally. Apple's 32 percent growth in a shrinking market was propelled by sales of its iPhone X featuring its modern "bezel-less" design. Meanwhile, budget vendors in the low-end and middle-tier were hit hard by competitive pressures.
China's Xiaomi experienced a surge in shipment growth, mostly driven by its "expansion in the offline segment with aggressive promotions" targeted at "budget-conscious consumers." Apple remained ahead of Xiaomi even in unit market share, despite Xiaomi spending heavily to generate sales of lower-end devices.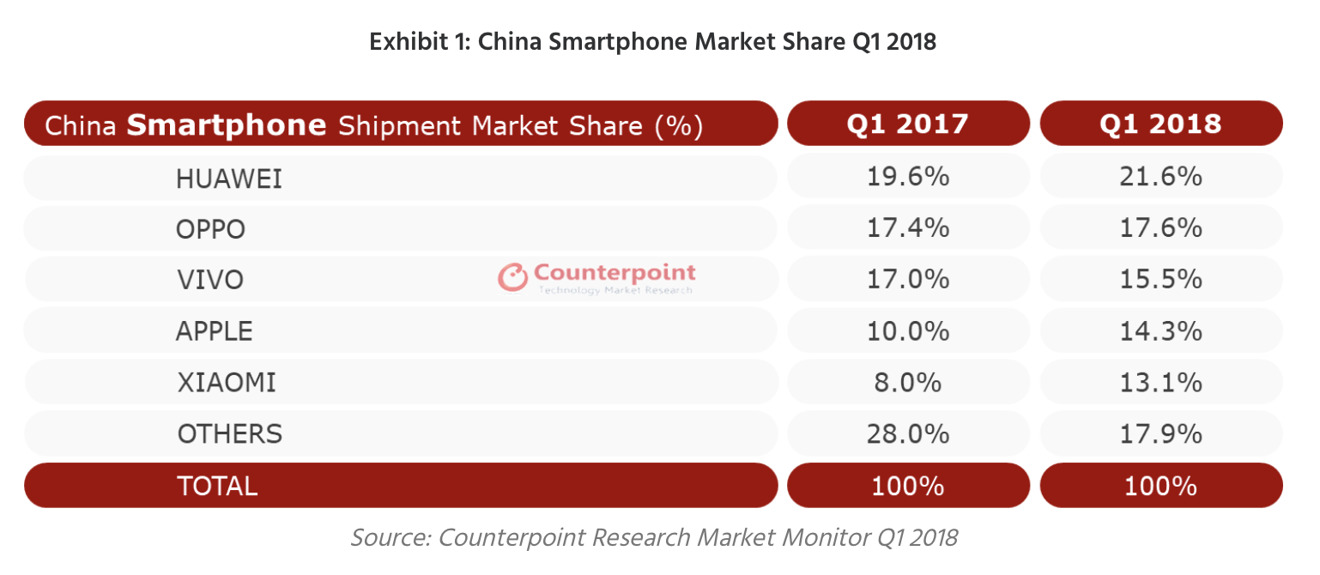 The report noted that Apple didn't have to "promote" sales of iPhone X, stating that, "while the promotions were not aggressive for the iPhone X, except in operator channels, its demand remains healthy in the market."
Apple's novel design for iPhone X was initially mocked by critics who sought to disparage its "Notch," but in China, vendors jumped to copy it, essentially advertising Apple as original and innovative.
"One of the key highlights during the quarter was the launch of notch display devices," stated Research Analyst MengMeng Zhang. "By the end of Q1 2018 four out of the top five smartphone OEMs had already launched their devices with notch displays in China."
Apple's sales in China have long been closely watched for signs of weakness, with little parallel acknowledgment that virtually no other Western companies have made any progress entering the Chinese market, even as domestic alternatives have gained an entrenched foundation that would make it essentially impossible for Google, Facebook or Microsoft to materially establish sales there.
Yet Apple's growth in China is just getting started. Beyond iPhones, customers in China are embracing iPad and driving Services growth.
"Apple still holds a large user base in China who haven't upgraded in the past two years," wrote Counterpoint Associate Director Tarun Pathak. "Apple is now back to YoY growth in the first quarter since Q1 2015, which is an indication that its older generation iPhone user base is now upgrading. This can set the set the tone for the vendor's full-year outlook. Furthermore, as Apple enters its seasonal cycle, promotions in the coming quarters will further drive upgrades."
The report comes just days after UBS analyst Steven Milunovich claimed in a note to investors that Apple was "fairly saturated" in China and predicted that iPhone sales in the country would likely remain flat, with relatively little long-term growth.