Chinese discount phone makers were supposed to rival Apple's iPhone globally. Instead, they're dying off within China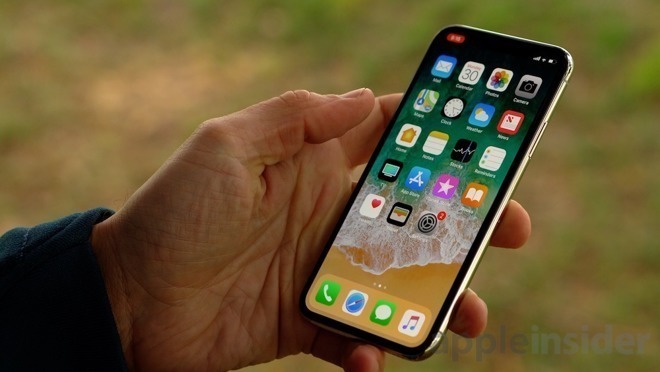 Ever since iPhones officially went on sale in China back in 2009, pundits have claimed that local production of cheaper smartphones would not only block Apple's growth prospects in China but also invade smartphone markets globally. They were wrong, here's why.
China's phone threat was a crank call
Three years ago, there were 300 Chinese companies selling cheap knockoff smartphones. Pundits claimed that their "percentages of growth" in unit shipments and their ambitious global expansion plans were a dire threat to Apple, especially as they started bringing cheap products to the United States.
One of these, LeEco, made waves in 2016 after it bought up Yahoo's old offices in Silicon Valley and announced plans to sell everything from VR Headsets to electric vehicles, Android-based TVs and smart bicycles.
LeEco— along with many other aspiring Chinese firms— is now also facing problems back home in China. Cheap phone makers are being hit by the same problems that were only supposed to have an impact on Apple: a longer replacement cycle for smartphones, a "lack of innovation" driving new sales and intense competition from other cheap commodity makers.
At this year's Mobile World Congress being held next week in Barcelona, a variety of Chinese brands that formerly showed off phones won't even attend, including LeEco, Meizu, Gionee and Coolpad. Huawei and Vivo will attend, but won't be showing off new models.
"In 2017, the minor upgrades that Chinese smartphone companies made to their offerings were not enough to move consumers to splurge on new models, resulting in a general slowdown in the market," noted IDC analyst Tay Xiaohan.
Outside of Apple's premium growth: commodity death
China is the world's largest market for smartphones. Last year, however, the nation's consumption of new phones followed a global trend of retracting sales. Gartner just reported a nearly 6 percent drop in global smartphone shipments in the 2017 holiday quarter. In China, weak sales led to a nearly 5 percent annual shortfall in new sales over the last year, according to IDC.
While Apple has weathered the storm to report solid growth in China in the most recent quarter, many smaller Chinese makers have been unable to stay in business.
A report by the South China Morning Post cited IDC's Tay as stating that "more of the smaller smartphone players will be forced to exit the market in 2018 as we expect handset shipments in China to continue declining."
One hundred phone makers are already gone, and the majority of new sales in China are increasingly going to the top five brands: Huawei, Oppo/Vivo, Apple and Xiaomi. That leaves just 23 percent of China's sales for the remaining 200 firms to fight over, even as the size of that pot is also shrinking.
Apple's sales pace in China grew by nearly 20 percent
That contraction was supposed to hit Apple. Instead, the company's chief executive Tim Cook reported that over the December quarter, Apple's sales in Greater China increased 11 percent, despite the quarter being compared against a year-ago quarter that included an extra week of sales.
Cook noted, "on an average weekly revenue basis, we were up 19 percent [in Greater China]. We had an all-time record for revenue in mainland China and of course a key part of that was iPhone.""Everywhere I look I feel really good about how we're doing in China" - Tim Cook
Apple's iPhone sales in China are not directly competing against cheap brands targeting lower-income buyers; they're focused on affluent consumers in top-tier cities where Apple has been building new retail stores. That's why Cook could note that "Kantar reported that the top five selling smartphones in urban China were all iPhones."
Cook added, "we could not be more pleased with how we're doing," further noting that Apple's success in China wasn't just limited to phones. "We obviously grew share for iPhone in the quarter, but we also grew share in iPad and Mac during the quarter and wearables were extremely strong there in the quarter. And so you know everywhere I look I feel really good about how we're doing in China."
Cook had previously pointed out that 70 percent of all iPad sales in China were new to Apple, while 90 percent of Mac sales were to new buyers or PC switchers. So Apple isn't just selling iPhones; it's introducing millions of new buyers in China to a broad ecosystem of its iOS products, Macs and wearables. That has helped (and will help) to keep buyers loyal to Apple.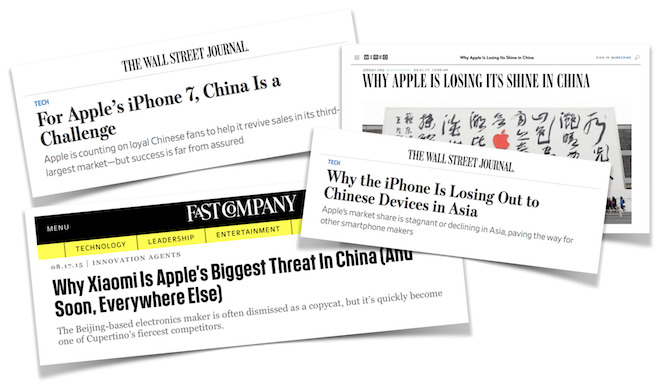 Loyalty is turning Chinese knockoffs into training wheels for iPhone
Chinese brands have proven popular among younger buyers, with nearly half of all Oppo sales going to buyers between 16 and 25. However, a report by Counterpoint noted last year that only a quarter of Oppo and Vivo buyers chose to repurchase the same brand again, while more than half (53.4 percent) of all iPhone buyers chose to get another iPhone. Conversely, just 7.2 percent of Samsung buyers opted to get another Samsung phone.
Samsung has been the largest producer of smartphones globally. However, at the launch of iPhone X and other new models including iPhone 8, 8 Plus and a new low entry price for iPhone SE, Apple's total sales of iPhones exceeded Samsung's in the winter quarter, despite the fact that Apple's Average Selling Price for iPhones reached within five dollars of $800, while Samsung and other Android makers were offering handsets at an ASP of less than $250.
Incessant reports of iPhone X supposedly experiencing "weak demand" due to its price— as Tripp Mickle claimed in his thin, poorly researched article for the Wall Street Journal— were totally wrong. Apple's stand-out, premium-priced iPhone X was, in fact, the company's best selling model every week it was on sale during the quarter, as Apple confirmed in its quarterly earnings call.
Meanwhile, commodity sales of cheap Chinese brands (including BKK's formerly fast-growing Vivo and OnePlus; LeEco; Coolpad and scores of others) collectively tanked by 22 percent, with total shipments falling from 193.6M in the year-ago holiday quarter when iPhone 7 debuted, to just 150.2M in the most recent holiday quarter, according to Strategy Analytics.