Another January, another misleading iPhone supply cuts story from Nikkei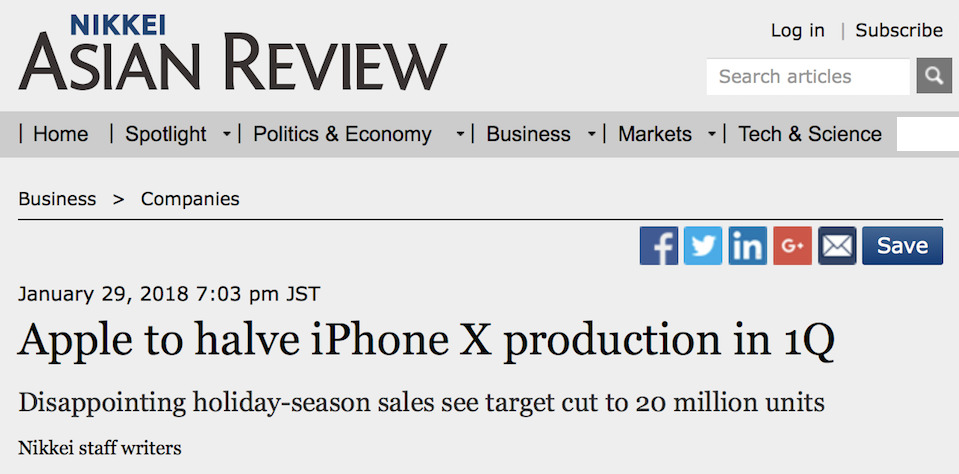 Everyone in the industry should know that "channel checks" of Apple suppliers offer largely worthless data. But every January, Japan's Nikkei newspaper unloads a report suggesting that Apple is scrambling to slash production of its newest iPhone because of disappointing sales. Every year that report has been false, and every year the tech media falls for it.
This year, Nikkei has claimed Apple is slashing production orders for iPhone X due to "slower than expected holiday sales" the U.S., China, and Europe. The report comes right after CIRP noted that iPhone X outsold iPhone 8 Plus, and that both larger models outsold the standard sized iPhone 8. iPhone X by itself outsold the now very attractively-priced iPhone 7, as well as the combined sales of all iPhone 6s, 6s Plus and SE models— despite being on sale for five fewer weeks than all of those other models.
Yet Nikkei reported that it thinks Apple's production targets for previous models is unchanged, while iPhone X production is supposedly being slashed in half. This is being reported after months of stories that suggested Apple couldn't build enough iPhone X components.
Additionally, the Nikkei report, credited only to "staff writers," claimed that Apple's production slashing was down "from the figure of over 40 million units envisaged at the time of its release in November."
Apple has previously sold 50-60 million iPhones in total in its January quarter. Imagine launching three new flagship iPhones at the highest prices ever asked, while also introducing the widest array of new, cheaper options, and then "envisaging" that the vast majority of customers would all buy just one of those models: the most expensive iPhone X.
That's simply insulting to Nikkei readers, and it explains why such an important sounding "insider report" wasn't attached to the reputation of any specific writer. The article actual claimed that iPhone X "has failed to catch on globally," and then, in a sort of desperate attempt to boldly state the most preposterous horseshit possible, stated "iPhone X features facial recognition and wireless charging, but unlike previous models, is widely regarded as lacking any groundbreaking new technology."
The report ended noting that "Apple did not comment on production plans for the iPhone X in response to The Nikkei's inquiry," knowing full well that Apple does not ever comment on specific production rumors, and that it could freely run with anything in the piece, even the notion that iPhone X has nothing really new in it.
At the same time, Apple suppliers including Austrian component maker AMS AG, which makes optical sensors to adjust brightness and color and support facial recognition— a feature component unique to iPhone X— just raised its revenue outlook on rising demand for its sensors in phones, according to a new report by Thyagaraju Adinarayan for Reuters.
"The increase," the report noted, "will likely allay concerns that weak iPhone X orders are likely to persist through the first half of 2018."
At odds with the assertions of the unsourced, unclaimed story published by Nikkei, there is no consensus among analysts that iPhone X sales are underperforming or disappointing.
Q4 results for Apple are strong, especially iPhone (and lesser extent iPad). iPhone X hit numbers at the high end of the industry range.

— Ryan Reith (@ryanreith) January 22, 2018
This all happened before: iPhone 7
If the story sounds familiar, it's because Nikkei reported similar woes for iPhone 7 a year ago. It claimed Apple was cutting orders by ten percent due to "sluggish sales." Yet there was nothing sluggish about iPhone 7 sales, and actual shipments didn't fall by anywhere near ten percent. During the quarter that Nikkei reported sluggish sales, iPhone shipments grew by 4.7 percent, reaching a new highest ever peak in sales.
The following quarter, facing strong competition from Samsung's Galaxy S7, iPhone sales remained steady year-over-year, with less than one percent change in sales. And across the rest of 2017, iPhone sales continued to remain above their year-ago quarters. If Apple did indeed cut any orders by 10 percent, it had no apparent effect on actual sales.
This all happened before: iPhone 6s
The previous year, Nikkei reported that Apple had cut supplier orders for iPhone 6s models by "30 percent," based on channel checks at unnamed "Japanese and South Korean parts suppliers."
The paper did note that "output will be scaled back to let dealers go through their current stock. Production is expected to return to normal in the April-June quarter, once inventory adjustment is complete. Apple's products and brand have not lost their appeal, and older models have continued to sell."
That indicates that the authors knew that rumored supply cuts have no real relevance on overall iPhone demand or unit sales for the last quarter or the coming quarter, and instead only pertain to internal inventory adjustments. At the time, Apple analyst Ben Bajarin noted on Twitter "My data and checks confirm the same."
Piper Jaffray analyst Gene Munster similarly characterized the channel check rumors as production estimates that would have little to do with final reported sales.
Channel check interpretations in a changing product mix
Interpreting the meaning of changes in Apple's vast supply chain would require an in-depth understanding of the company's inventory management, its production ramp and how early production began compared to the previous year.
This year was Apple's first-ever production of three different sizes of new flagship iPhones, and the largest spread in iPhone pricing ever, from the most expensive iPhone X to the least expensive model ever offered: iPhone SE.I would suggest it's good to question the accuracy of any kind of rumor about build plans. And I'd also stress that even if a particular data point were factual, it would be impossible to accurately interpret the data point as to what it meant for our overall business - Tim Cook
This year, Apple is also selling the largest array of different generations of new pairs of flagships, meaning that the company is again learning how many of its customers will opt for the latest and greatest 8/8 Plus/X models, the newly discounted 7/7 Plus, or the least expensive 6s/6s Plus/SE models.
Apple never comments on Nikkei rumors, but Apple's chief executive Tim Cook has previously addressed supply chain rumors in general, starting in January 2013 when he noted, in an earnings call transcript by MacWorld, "I know there's been lots of rumors about order cuts and so forth, and so let me just take a moment to make a comment on these.
"I don't want to comment on any particular rumor, because I would spend my life doing that, but I would suggest it's good to question the accuracy of any kind of rumor about build plans.
"And I'd also stress that even if a particular data point were factual, it would be impossible to accurately interpret the data point as to what it meant for our overall business, because the supply chain is very complex, and we obviously have multiple sources for things. Yields might vary, supplier performance can vary, the beginning inventory positions can vary, I mean there's just an inordinately long list of things that would make any single data point not a great proxy for what's going on."
This all happened before, again and again, since 2013
Cook made those comments five years ago in January 2013 because of reports issued just prior to Apple's earnings release which claimed that the company had slashed its display orders "in half."
That report came from the same Nikkei paper that is now claiming Apple's iPhone X supplier orders may be cut by "50 percent." The Wall Street Journal also followed up with its own version of the channel check story in 2013, centering its attention on iPhone 5c. However, that paper first backpedaled its story, and ultimately was proven wrong as iPhone 5c turned out to be not only popular but strategically important in inciting Android switchers and a major smartphone success story.
As Cook noted, even if there had been any element of truth to Apple's reported internal supplier changes, it had no impact on the number of iPhones Apple actually sold back in 2013. Apple reported sales of 47.8 million iPhones in the holiday quarter, representing a 29 percent increase over the previous year.
The following quarter, Apple reported sales of 37.4 million iPhones in its historically slower post-holiday March quarter. There was no indication of any supply cut, and no possible way Apple could have been hoping to sell twice as many iPhones in the March quarter, as the Nikkei report implied.
Report everything, some of it might be true
Just as in other years, the original Nikkei rumor in 2013 also included an alternative explanation of the rumored supply chain cuts, that time from analyst JoAnne Feeney of Longbow Research.
"Our checks with supply chain contacts close to the situation identified a very different cause: a slower ramp in the manufacturing of iPhones and iPads (reflecting some quality control issues) and insufficient production lines," Feeney was cited as saying.
"Rather than ordering more components and having inventory build up further, Apple put component suppliers on notice to hold off, for the time being, on further shipments until it expanded its production lines - which it plans to complete by the end of the quarter."
Nikkei, along with the Wall Street Journal, chose to instead focus on the potential of weak demand for iPhones being behind the supply chain inventory adjustments. As Cook later noted, interpretations of the meaning of rumored supply chain changes have regularly been wildly inaccurate.
After the past couple of years, people really ought to have learned that supply chain production volume rumours for iPhones are worthless

— Benedict Evans (@BenedictEvans) October 12, 2013
Previous supply channel check rumors were wrong in 2012, independent supply channel checks from other sources (including Piper Jaffray analyst Gene Munster and Jefferies' Peter Misek) were wrong in 2013, and over the following quarter a series of supply channel check rumors (including regular reports issued by Credit Suisse analyst Kulbinder Garcha) also failed to result in any real insight on how many iPhones Apple will actually report, at the time or in future quarters.
Channel check rumors have, however, resulted in driving Apple's stock price down dramatically, just as they did in 2013 when the Nikkei and the Wall Street Journal reported them. And the best time to seek to manipulate Apple's stock price is right before earnings, which this year will be released later this week.